---

Ride Date: September 30, 2023

---

---
Pedal the Petrified 2023 is a non-competitive cycling tour ride that takes place in the beautiful Petrified Forest National Park to raise funds for NPC student scholarships. 
Pedal the Petrified 2023, registrants can choose their ride option: a 50 km (approximately 31 miles) one-way trip, from the north entrance of Petrified Forest National Park to Rainbow Forest in the south, with a free shuttle for themselves and their bikes back to the ride start, or a 100 km (approximately 62 miles) round trip. 
Each registered rider receives admission to the park, a ride tee-shirt, access to all support, sag stops, and shuttle service. Five sag stops, located approximately five miles apart throughout the route, provide water (please bring your own bottles) and healthy snacks. You can download a ride description below, with information about elevation, elevation changes, and distances between stops. 
It's a truly singular experience!  Take your time, and enjoy the beautiful scenery of the park, from the picturesque Painted Desert on the north end to the fascinating petrified wood in the south. Several sag stops feature short walks that take you right into the setting. Sag stop volunteers will be happy to mind your bike and take photos of you and your ride partners! Please join us on September 30, 2023, for Pedal the Petrified! 
Read About Pedal the Petrified from a rider's perspective!
---

We're counting on YOU! Your generous support will allow NPC students to continue their education!
Event Details
RIDE DATE: September 30, 2023
COST: $125 per rider to support student scholarships - includes commemorative rider t-shirt
LOCATION: Petrified Forest National Park, Arizona - Entrance located off Interstate 40 between Holbrook, AZ and Gallup, NM at Exit 311.
RIDE OPTIONS: 50 km one-way, from the north park entrance to Rainbow Forest, with a free shuttle back to ride start, or a 100 km round-trip ride. (Riders who want to cover the entire 100 km must ride the Blue Mesa Loop in both directions.)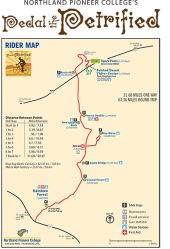 All participants must sign a legal waiver.
Riders are responsible for their own safety.
NOTE: Pedal the Petrified 2023 Registration is full!
---

---




Order Your Pedal the Petrified Bike Jersey: $70

The STORE IS NOW OPEN for orders!




---
Thank you to our amazing sponsors who have supported the Pedal the Petrified event for many years. 
---

Questions   
Call Betsyann Wilson, (800) 266-7845, ext. 6245, or send her an email.