The art gallery is located in the
Aspen Center
on the
Northland Pioneer College
campus in
Show Low
and stages a variety of visual arts exhibitions throughout the year. Shows feature work from area high school students, NPC students and local artists.
See NPC's Event Calendar for gallery show information.
Now Featuring - Locally Grown
November 4 - December 6, 2019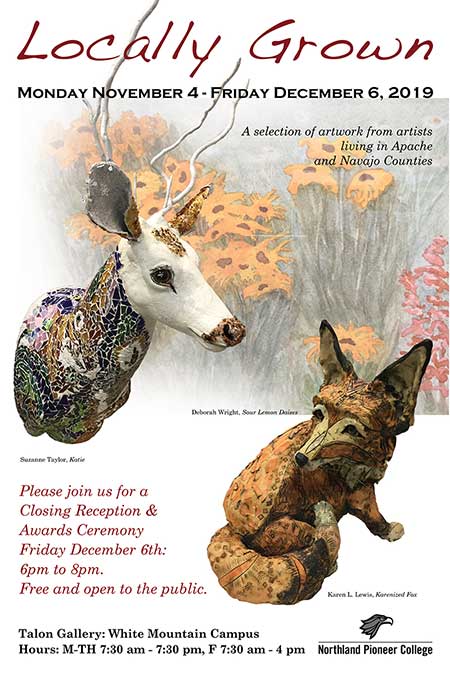 Locally Grown is an annual exhibition featuring a selection of original artwork from artists living in Apache and Navajo counties. Any artist over the age of 18 may enter artwork in any media.
This year, the exhibition was juried by Jason Bohnert, professional potter and Senior Lecture in the School of Art at Northern Arizona University in Flagstaff, AZ.
"Upon reviewing the entries for this Locally Grown exhibition, I immediately noticed a connection to nature in each and every entry. Animal forms, mountain imagery,
 floral motifs, people in nature, as well as a connection to natural materials (raw clay, gourds, natural fibers, etc.) all appeared to show a strong connection to the natural world. When curating the selections I made, craftsmanship, a demonstrated mastery of materials, and overall composition were my first criteria. Choosing a variety of 2D and 3D works to create an engaging and balanced exhibition in the gallery space was my next focus. I hope the works selected for this year's exhibition are a fantastic representation of the wonderful talent and strong community in the NPC region and campus community.
Much credit goes to everyone who entered and participated in the show.
In the end, I selected from images, rather than actual work, and my hope was to select a well-rounded variety of entries that work together as a whole.
Thank you for allowing me the honor to view and jury your work!"
-Jason Bohnert 
If you are interested in participating in next year's Locally Grown exhibition, please contact Magda Gluszek (magda.gluszek@npc.edu) for more information.  
High School Art Expo
A juried exhibition every spring semester showcasing a selection of artwork from high school students in Apache and Navajo counties. By entering, student artists in their senior year of high school have the opportunity to win awards in the form of NPC Art Tuition Scholarships.Annual High School Art Show
NPC Student Art Show
A juried exhibition held at the end of every spring semester that offers a selection of artwork from NPC students. A variety of awards are presented at a closing reception where students, faculty, friends and family celebrate the artistic accomplishments of NPC students.