TO ORDER TICKETS, call the PAC box office at (928) 536-6250, or place your order online.  |  Directions
NPC Movie Night - Knives Out (2019)
Friday, January 24, 2020 • 7:00 p.m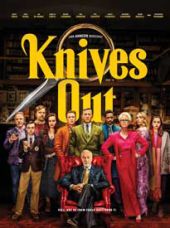 Acclaimed writer and director Rian Johnson (Brick, Looper, Star Wars: The Last Jedi) pays tribute to mystery mastermind Agatha Christie in KNIVES OUT, a fun, modern-day murder mystery where everyone is a suspect. When renowned crime novelist Harlan Thrombey (Christopher Plummer) is found dead at his estate just after his 85th birthday, the inquisitive and debonair Detective Benoit Blanc (Daniel Craig) is mysteriously enlisted to investigate. From Harlan's dysfunctional family to his devoted staff, Blanc sifts through a web of red herrings and self-serving lies to uncover the truth behind Harlan's untimely death.  Top critic Joe Morgenstern of the Wall Street Journal writes: "An entertainment that's as smart, witty, stylish and exhilarating as any movie lover could wish for."   Free movie admission with reasonably-priced concessions available.  *Rated PG-13* (for thematic elements including brief violence, some strong language, sexual references, and drug material).
---
NPC Movie Night - Dark Waters (2019)
Friday, February 21, 2020 • 7:00 p.m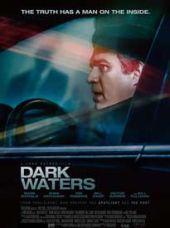 Inspired by a shocking true story, a tenacious attorney (Mark Ruffalo) uncovers a dark secret that connects a growing number of unexplained deaths due to one of the world's largest corporations. In the process, he risks everything -- his future, his family, and his own life -- to expose the truth.  Film critic Dustin Chase of the Galveston Daily News writes: "Dark Waters is an unconventional horror film that affects 99% of all humans, you just don't know how or why until you see the film."  Top critic David Edelstein of the New York Magazine/Vulture adds: "The bad guys have all the money but at least we have indie filmmakers and movie stars like Ruffalo."  Free movie admission with reasonably-priced concessions available.  *Rated PG-13* (for thematic content, some disturbing images and strong language).
---
NPC Movie Night - A Beautiful Day in the Neighborhood (2019)
Friday, March 13, 2020 • 7:00 p.m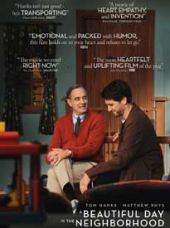 Tom Hanks portrays Mister Rogers in a timely story of kindness triumphing over cynicism, based on the true story of a real-life friendship between Fred Rogers and journalist Tom Junod. After a jaded magazine writer (Emmy-winner Matthew Rhys) is assigned a profile of Fred Rogers, he overcomes his skepticism, learning about empathy, kindness, and decency from America's most beloved neighbor.  Alci Rengifo, film critic at Entertainment Voice, observed: "In a world where being crude and mean are the norm, where everyone feels stressed, here is a film with a wonderful lead performance to remind us that kindness can be the most radical act of all."  Free movie admission with reasonably-priced concessions available.  *Rated PG* (for some strong thematic material, a brief fight, and some mild language). 
---
Student Government Association Talent Show
Friday, March 27, 2020 • 7:00 p.m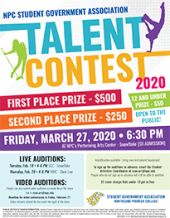 The NPC Student Government Association invites you to come out for an evening of entertainment you won't soon forget. Big cash prizes will be awarded to Adult and Youth division winners, and you have the fun of cheering on the contestants as they do their best to earn your admiration, as well as the approval of a panel of judges who select the winners.  You never know what fun will walk out on stage as past winners have included singers, dancers, comedians and even a bag-pipe ensemble.  Don't miss out on the fun this year!
All tickets $5.00 (Sorry, no discounts).
---
The Subject - by Carolyn Kras
Friday, April 24 • 7:00 p.m | Saturday, April 25 • 7:00 p.m. | Thursday, April 30 • 7:00 p.m. |
Friday, May 1 • 7:00 p.m. | Saturday, May 2 • 2:00 p.m. & 7:00 p.m.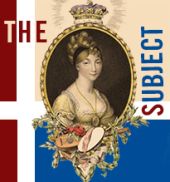 Sophia's dysfunctional royal family includes notoriously mad father King George III, drug-dependent mother Queen Charlotte, sex addict brother Ernest, and five eccentric sisters (a confident stutterer, an agorophobe, an artist, a bossy fashion plate, and an ardent teen). When Sophia is raped and fights to bring the criminal to justice, her family seeks to mastermind a cover-up of the secret for fear of losing the throne. With its timely themes and strong roles for women, The Subject has been a popular new play with 21 readings (and counting). The Subject was commissioned by the U.S.-U.K. Fulbright LUSK Award, had a United Nations Orange Day reading in London, and was developed in Antaeus Playwrights Lab.  Northland Pioneer College will have the distinction of giving the play its Academic Theatre World Premiere.  The Subject examines the contemporary global crisis of sexual assault cover-ups through dramatizing one of history's most hushed-up rapes. The play contains mature themes and brief adult language.  The script is produced through a licensing agreement with the playwright.
Advanced Tickets: $7.00* | Day of Show Tickets: $9.00*
*$1.00 discount for NPC students, staff, and senior citizens
ABOUT The Playwright: 
Carolyn Kras is a writer for screen and stage based in Los Angeles.  She was named to ISA's List of "Top 25 Screenwriters to Watch in 2020." Academy Award winner Melissa Leo headlined the reading of Carolyn's screenplay MAGNETIC at the Hamptons International Film Festival Screenwriters' Lab.
---
Disney's Frozen Kids!
Thursday, June 11 • Noon | Friday, June 12 • Noon & 6:00 p.m.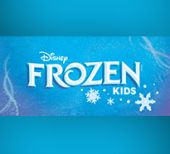 Do you want to build a snowman? Frozen KIDS is a 30-minute adaptation of the 2018 Broadway musical, which was based on the 2013 Walt Disney Animation Studios film, written by Jennifer Lee and directed by Chris Buck and Jennifer Lee. The production features all of the songs from the animated film, with music and lyrics by the creators of the film score, Kristen Anderson-Lopez and EGOT-winner Robert Lopez.
You'll love this fanciful and heartwarming stage adaptation of the celebrated animated film. Join Anna, Elsa, Olaf, Sven, and all of your favorite characters as they embark on an epic, ice-filled journey of self-discovery, camaraderie, and the real meaning of true love. Adapted for young performers, this musical includes favorite Frozen songs such as "Love Is an Open Door," "Do You Want to Build a Snowman?," and "Let It Go," as well as wonderful new songs from the Broadway production. This production of Frozen KIDS is sure to prove that "some people are worth melting for." Produced through special arrangement with Music Theatre International (MTI).
ABOUT The Children's Theatre Project
It's our 15th year of offering children, ages 8-14, the opportunity to experience live theatre as performers.  Children enrolled in the camp are each cast in a role and learn skills like acting, singing, and dancing that culminates in the excitement of performing in 3 public performances before a live audience. This year's Theatre camp will be held June 1-12 at our NPC Performing Arts Center on the Snowflake Silver Creek Campus. Enrollment begins on Friday, May 1. Space is limited. The Children's Theatre Project is part of NPC's Kids College Program.