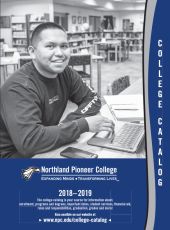 The NPC College Catalog is printed once per year in May/June for the following academic year. Print copies are limited and may be obtained at any academic advising office on a first-come, first-serve basis. Any corrections needing to be made to the print version will be changed in the PDF version provided here.
You can view, search, download and print the PDF version of the catalog. You'll need a free copy of Adobe Acrobat Reader installed on your computer.
Not sure what section contains what you need? Look at the Table of Contents (in General Information) or the Catalog Index to get a better idea of where to find the information you need.
2018-19 College Catalog By Section

| PDF of Section | Pages | Revised from print | Subjects Covered |
| --- | --- | --- | --- |
| General Information | Front Cover  - Pg. 8 | No | Front Cover, Table of Contents, Welcome Letter, About NPC, Business & Community Services, Frequently-Called Telephone Numbers |
| Admission Information | 9 - 22 | Yes | Admission Requirements, Registration Information, Student Orientation, Academic Calendar, Tuition, Fees & Payments, Refunds |
| Student Services | 23 - 48 | Yes | Academic Advising, Financial Aid Information, GED, Library, Records Office, Transcripts, Textbook Information/Bookstore, Tutoring, Veterans Services, NPC Alert System |
| Programs and Degrees | 49 - 104 | Yes | General Education Values, Degrees and Certificates Offered, Graduation Requirements, University Transfer, Grades, Scholastic Honors, Course Delivery Methods, Specific Degree Requirements |
| Course Descriptions | 105 - 162 | No | A brief description of what is covered in each class. Not every class listed is offered each semester, nor at every location. |
| Governing Board, Emeriti, Administration, Faculty | 163 - 174 | No | NPC governing board, retired faculty and meritorious service staff, administrators, and full-time faculty |
| Student Rights and Responsibilities | 175 - 194 | No | Student Rights & Responsibility Polices & Procedures, including Student Conduct Code |
| Index | 195 - 208, Back Cover | No | Searchable to find the page you need. Also For the Record information |
College Catalog Archive
Questions   Please contact Hallie Lucas at (928) 532-6129  |  email
Corrections   Please contact Everett Robinson at (928) 532-6174. | email