Did you attend NPC?
Northland Pioneer College is extremely proud of the thousands of students who have studied at and graduated from NPC since its founding in 1972. Our goal is to expand minds and transform lives and our alumni are proof that we are doing that. We encourage you to take the time to read about NPC alumni who are using their education and skills to make a difference in the world. And, if you know someone who attended NPC and deserves to have their accomplishment recognized you can nominate them for the Outstanding Alumni award.
Nominate an Outstanding Alum!
Know someone who attended NPC and is very successful in their career, using their education to help others or giving back to their community? We would love to hear about their success. Just complete the short
Nomination Form
and they may become the next recipient!
NPC's Outstanding Alumni Award
NPC salutes outstanding graduates who have used their degree or training to succeed in the pursuit of a career or educational goal and who support and promote lifelong learning. The alumni award is given twice annually, once in the spring and fall semesters and recipients are recognized at regular meetings of the Navajo County Community College District Governing Board.
Current Recipient:
Cindy Stirling – Fall 2018
An Open Personality with a Small Town Heart that is Rare to Find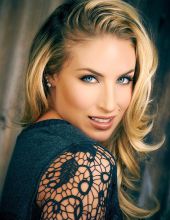 Article by Dennis Durband,
NPC Marketing Staff Writer
Cindy Stirling has been acknowledged as one of the premiere traveling makeup artists and licensed hairstylists in the U.S. and internationally. Working with high-profile production organizations for television and film and alongside top-tier photographers and weddings, she is considered among the elite in her field and is consistently booked for high-end private lessons, photo-shoots and weddings. Living the dream of a young girl in Lakeside who had a passion for cosmetology and who got her start at Northland Pioneer College (NPC), Stirling is the recipient of the NPC Outstanding Alumnus Award for the fall 2018 semester.
"Clients say Stirling is not only talented, but her genuine and caring nature creates a memorable experience because she is a pleasure to work with. She has an open personality with a small town heart that is rare to find," says the person who nominated Stirling for the award, Chloe Fagotti, her former instructor and the current chair of the NPC Cosmetology Department.
Among Stirling's clients are the Daytime Emmy Awards program, a Sesame Street Documentary to be aired in theaters 2019, on HBO and 20/20; Nancy Cartwright (the voice of Bart Simpson); Freddie Prinz Jr.; CBS Sports sportscasters; CBS Corporation; 20th Century Fox; Xbox live; The Simpson's at Comic Con-San Diego; reality TV celebrities; published fitness cover models for Women's health and fitness magazine; and a VIP experience concert tour by Taylor Swift, just to name a few. Stirling's work has taken her to Italy, France, Fiji, Mexico and locations around the U.S. and Canada.
"Cosmetology is my passion, and I always knew what I wanted to be when I grew up," Stirling says. "I knew that someday I would move to California to follow that dream." But first she needed the right education. During her last two years at Blue Ridge High School (2002-2004), she studied cosmetology at NPC as a NAVIT (Northern Arizona Vocational Institute of Technology) student.
Stirling rates her NPC education and the cosmetology faculty as "incredible." Instructors Fagotti, Stormi Finch and Theresa Parker all had a profound impact on her. "Because of their devotion to education, I can proudly hold up this Outstanding Alumnus Award as a mark of my achievement. They've inspired me to continually strive to improve in my craft and to inspire future students to follow their dreams," she says.
As a young cosmetologist, Stirling started her career at a Scottsdale salon. At the age of 20 she ran her own salon studio business while also working part-time at MAC Cosmetics. In 2008, Stirling transferred with MAC Cosmetics to San Diego. Then in 2012 she took a leap of faith and Cindy Stirling Makeup & Hair was born. With the help of two supportive clients — photographer Steven Wetherbee and San Diego/Los Angeles TV personality Taylor Baldwin — the business skyrocketed.
Now, Stirling's services are in high demand and clients book her well in advance. "I'm literally working every single day in the summer, and during wedding season I maybe get one day off a month," Stirling says.
Giving back and supporting higher education are major priorities for Stirling. She has done volunteer work at a girls' orphanage in Nepal for the Unatti Foundation. And she's been a guest instructor for NPC cosmetology students. "NPC students reach out to me on social media, and it feels wonderful knowing that I'm giving back and hopefully inspiring them. None of my success would have been possible without the education I received from the NPC Cosmetology Department through the NAVIT program. I have the utmost love and gratitude for each stage of my education and career. Without it I wouldn't be where I am today. My message for current students is this: what you want exists, don't settle until you get it."
Stirling also thanks her parents, Gene and Valerie Stirling, of Lakeside (owners of Stirling Fence Inc.) and her late grandmother Elaine Stirling. "They instilled in me what it means to be an entrepreneur and business owner."
Stirling will be out of the country on November 20, when NPC's District Governing Board will recognize her during its next regular meeting in Holbrook. Accepting the award on her behalf will be her parents. Cindy will receive a plaque, a certificate for three free credits at NPC and a one-year pass to all events at the college's Performing Arts Center.