Did you attend NPC?
Northland Pioneer College is extremely proud of the thousands of students who have studied at and graduated from NPC since its founding in 1972. Our goal is to expand minds and transform lives and our alumni are proof that we are doing that. We encourage you to take the time to read about NPC alumni who are using their education and skills to make a difference in the world. And, if you know someone who attended NPC and deserves to have their accomplishment recognized you can nominate them for the Outstanding Alumni award.
Nominate an Outstanding Alum!
Know someone who attended NPC and is very successful in their career, using their education to help others or giving back to their community? We would love to hear about their success. Just complete the short
Nomination Form
and they may become the next recipient!
NOMINATE AN OUTSTANDING NPC GRADUATE!
NPC's Outstanding Alumni Award
NPC salutes outstanding graduates who have used their degree or training to succeed in the pursuit of a career or educational goal and who support and promote lifelong learning. The alumni award is given twice annually, once in the spring and fall semesters and recipients are recognized at regular meetings of the Navajo County Community College District Governing Board.
Current Recipient:


Morgan Black PT, DPT, ACSM EP-c - Fall 2022
Finding success healing with heart
~ NPC honors local physical therapist and business owner Dr. Morgan Black as outstanding alumnus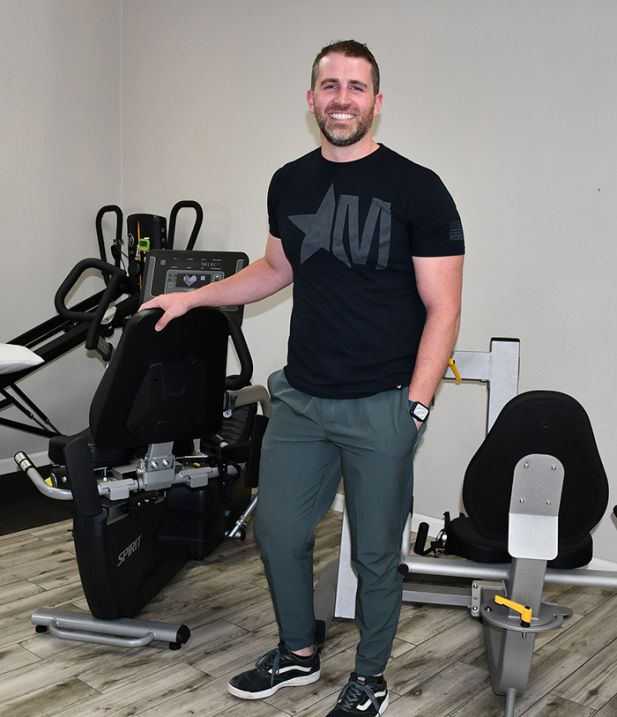 Northland Pioneer College (NPC) has recognized Morgan Black PT, DPT, ACSM EP-c, with the prestigious Outstanding Alumnus award. Black is a local physical therapist and recently opened his own clinic, In Motion Physical Therapy, in Holbrook, AZ. Although Black is not originally from Northeastern Arizona, his journey to build a career as a physical therapist has brought him to a community that he and his family now endearingly call home.
Originally from Utah, Black came to NPC through the Western Undergraduate Exchange (WICHE) program, which offers students at participating two- and four-year colleges outside their home state a reduced tuition rate. Black's interest in physical therapy was fueled by a conversation he had while serving as a missionary for the Church of Latter-Day Saints in Wisconsin. "A group of us were sitting around talking about what we wanted to do when we grew up and a buddy of mine told me about physical therapy. I was like, hmm, that sounds pretty cool. I think that's what I would really like to do. I have always been drawn to the workings of the human body and loved the thought of helping heal through conservative methods," he explains. And so, his journey began. 
Black learned about NPC after meeting and marrying Tess McGee, a young lady from Holbrook. Knowing that his end goal was to one day become a physical therapist, he decided that NPC would be a good place to start. "I didn't even realize there was a college in Holbrook," he said. "When I found out about NPC it was a perfect fit."
Black began to take classes to earn his associate of science degree and worked as a work-study student in NPC's records and registration department. He then moved up to become assistant to the Registrar. He took full class loads every semester and maintained an exceptional grade point average. Due to his strong work ethic and high academic standing, Black was later selected to NPC's All-AZ Academic Team and received a full tuition waiver to attend Northern Arizona University (NAU). Black also stayed busy building a family. He and Tess had three young children by then. He continued to work for NPC where he took on the role of a recruiter for the northeastern district area of the college. He took classes full-time both at NPC and then at NAU, driving back and forth from Holbrook to Flagstaff. He used his resources wisely, providing for his family by working for the college with local high schools and other entities to encourage enrollment at NPC. In 2019 he completed his bachelor's degree at NAU, which he earned with distinction, and then moved his family to Knoxville Tennessee to attend South College physical therapy school. Upon earning his doctorate, he moved the family again and begin his first round of clinicals in Utah. With his heart guiding him, Black decided to move his family back to northeast Arizona. He began doing rotations at White Mountain Physical Therapy where he then became employed. In 2021 he obtained board certification as his wife simultaneously brought their fourth child into the world. In June of 2022, he opened In Motion Physical Therapy clinic in Holbrook, where he is half-owner. In three short months, the business has grown from being open half days to 3 days a week full-time. Black explains, "There is a need for this service in the Holbrook community to minimize travel and wait time for necessary medical care that can be addressed through skilled physical therapy services. Physical therapy provides a way for individuals to take control of their pain and ailments through proper movement and exercise. It can help, and in some cases eliminate or diminish the use of pain medications. I am not a miracle worker." He notes, "but I love developing connections with my patients and helping them feel heard and understood. As a physical therapist, I end up spending multiple hours a week with patients that would otherwise not have medical providers. The community has humbled me with how much support they have provided, and I feel it is the least I can do to give back."
According to NPC Director of Student Services Josh Rogers, "Morgan is a great example of what NPC can do to help a student get started on a successful career. It was great to watch him work hard to obtain his degree while at the same time serving as a recruiter helping local high school students see the value of NPC. He was able to tell them because he was living the journey," Rogers explains. "He really is someone that you wish you could keep forever as a recruiter, but you are happy they have reached the goals they have set out to reach. He is just a good dude."
NPC Community Recruiter Rebecca Hunt, who worked with Black, said "he was really smart." Black was able to obtain his education debt free with the support network at NPC backing him. He knew the end goal, and he took advantage of scholarship opportunities, financial aid resources, and everything we have to offer our students at NPC. "He was very driven," she explains. "He was great with students because he set such a good example."
Black credits his colleagues, family, friends, the community, and NPC as the place that fostered his growth and success. He notes that without his wife Tess's loving support, none of his endeavors would have been possible. "I have a really awesome wife; her support was the only way I made it through."
A well-deserving recipient of the Outstanding Alumnus Award, Dr. Morgan Black is an example of how NPC improves lives and brings continual economic and educational growth to communities in northeast Arizona. As a champion for education and constant self-improvement, Black can be found providing physical therapy services at the In Motion Physical Therapy clinic, located in Holbrook AZ at 2120 Navajo Blvd. Suite A.
The Outstanding Alumni award was presented to Dr. Black during the October 18, 2022, meeting of the Navajo County Community College District Governing Board in Holbrook.