Event Location
Talon Gallery located on NPC's Show Low (White Mountain) campus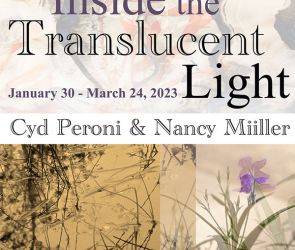 Inside the Translucent Light is an exploration of relationships between two artists, light and shadow, movement and stillness, human and landscape, spiritual and physical.
Inside the Translucent Light can be viewed at the Talon Gallery located on NPC's Show Low (White Mountain) campus and is open to the general public Monday through Thursday, 7:30 a.m. to 7:30 p.m., and Fridays, from 7:30 a.m. to 4 p.m. The gallery will be closed March 13 – 17, during NPC's spring break.
Closing Reception and Demonstration: In addition to the exhibition, Miiller and Peroni will talk about their individual works and the collaborative process. They will also present a demonstration of their processes. Since parts of the process involve exposure to chemicals, they will bring prepared "stages" of the technique to show attendees how it all comes together. Information for purchasing starter kits for those interested in pursuing the techniques on their own will be provided. (The artists do not create the kits or benefit from their purchase. They only wish to communicate a resource to interested participants). 
• The artist talk and demonstration will be held on Friday, March 24 from 4-6 p.m. at the Talon Gallery and is free and open to the public.