Three Easy Steps to Receive Accommodations
3

Step 3 - Request
STEP THREE: fill out the
Request an Accommodation form.

This form needs to be filled out for EVERY class
you need accommodations for, EVERY semester.
---
NPC's
Office of Accessibility and Inclusion (OAI)
is responsible for coordinating support services for students with disabilities under the
Americans with Disabilities Act
(ADA) 
and
Section 504
.
A wide variety of support services are available through the OAI office to facilitate equal access to NPC classes and activities for students with disabilities.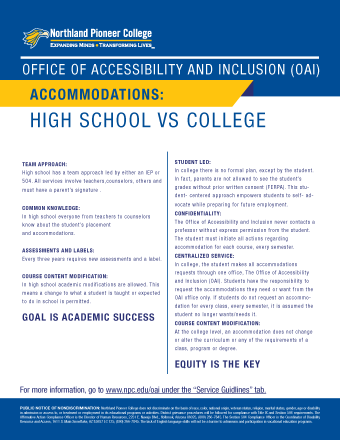 Services are determined on an individual basis and are provided at no charge for eligible students. Be sure to read about the differences in services for students with disabilities in high school and college.
Examples of services that may be provided:
Assistance and advocacy with NPC faculty and staff;
Referral and coordination of services with appropriate local, state, and federal agencies/programs;
Adaptive equipment and materials;
Note-takers, scribes, and use of audio recorders;
Extended time on exams and other testing accommodations;
Assistance with class registration;
Campus/center orientation;
Sign language interpreters for students who are Deaf or hard of hearing;
Printed materials in audio or alternative formats.
 

Questions   Contact Catherine (Kate) Buckhorn Office of Accessibility and Inclusion, Interim Coordinator, at (928) 536-6246  |  FAX: (928) 532-6199  |  email
Students interested in receiving academic accommodations can start by submitting these 5 forms before meeting with the OAI Coordinator.
Application for ADA Services Form: Web-based, or Printable PDF
Request an Accommodation (Webform)
---
Additional OAI Forms & Resources
Northland Pioneer College embraces both the letter and the spirit of the Americans with Disabilities Act, its amendments and Section 504 of the Rehabilitation Act. The purpose of these laws is to create an environment of equal access for students with disabilities.
Students become eligible for services by:
Completing a OAI application and releases of information (See Application Materials & Forms tab on this page);
Submitting disability documentation;
Meeting with an academic adviser and enrolling for classes;
Meeting with the OAI Coordinator (contact information above) each semester to discuss accommodation needs.
This image is of a student who is blind, and with the help of his sight guide, hiked to Phantom Ranch at the bottom of the Grand Canyon in October 2010. The hiker had to trust that his sight guide would keep him on the trail. The accomplishment was all his, but the trust in his sight guide was as essential as sturdy hiking boots. NPC's service guidelines are our way of providing accurate information so that you can trust that the services provided by NPC embrace both the spirit and the letter of disability law in higher education.
Each link provides information and guidelines regarding OAI services.
How often should a student meet with the OAI Office?
Typically, a student should meet with the OAI Office each semester or whenever a change is made to their classes in which they are receiving academic accommodations.
What documentation is considered disability documentation?
Disability documentation is any document that includes your diagnosis and current limitations. If your disability, such as a learning disability, changes over time, then you will need to have documentation that is less than three years old.
What if an instructor believes that one of their students has a disability?
Instructors can inform students about the Office of Accessibility and Inclusion. It is up to the student to decide if they want to utilize any academic accommodations. An instructor cannot provide any accommodations until receiving an accommodation contract from the OAI Office.
Is it okay for a student with a disability to not utilize OAI Services?
Yes. The student has the right to choose whether or not to use academic accommodations but must meet the same expectations as any other student.
Do OAI Accommodation Contracts cover every class for the length of the time the student attends NPC?
No. The accommodation contracts are only valid from the date they are written to the end of the semester for that one class. Students need to meet with the OAI Coordinator each time their classes or their accommodation needs change.
---
Northland Pioneer College does not discriminate on the basis of race, color, national origin, veteran status, religion, marital status, gender, age or disability in admission or access to, or treatment or employment in its educational programs or activities. District grievance procedures will be followed for compliance with Title IX and Section 504 requirements. The Affirmative Action Compliance Officer is the Chief Human Resource Officer, 2251 E. Navajo Blvd., Holbrook, Arizona 86025, (928) 524-7471. The Section 504 Compliance Officer is the Coordinator of the Office of Accessibility and Inclusion, 1611 S. Main Snowflake, AZ 85937, (928) 536-6246. The lack of English language skills will not be a barrier to admission and participation in vocational education programs.