Three Easy Steps to Receive Accommodations
_______________________________________________________________________________________________________________________________________________
NPC's Office of Accessibility and Inclusion (OAI) is responsible for coordinating support services for students with disabilities under the Carl Perkins Vocational Act and the Americans with Disabilities Act (ADA).
A wide variety of support services are available through the OAI office to facilitate equal access to NPC classes and activities for students with disabilities.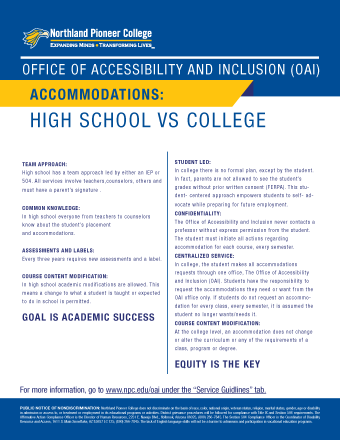 Services are determined on an individual basis and are provided at no charge for eligible students. Be sure to read about the differences in services for students with disabilities in high school and college.
Examples of services that may be provided:
Assistance and advocacy with NPC faculty and staff;
Referral and coordination of services with appropriate local, state, and federal agencies/programs;
Adaptive equipment and materials;
Note-takers, scribes, and use of audio recorders;
Extended time on exams and other testing accommodations;
Assistance with class registration;
Campus/center orientation;
Sign language interpreters for students who are Deaf or hard of hearing;
Printed materials in audio or alternative formats.
 

Questions   Contact Sandy Manor, Office of Accessibility and Inclusion Coordinator, at (928) 536-6246  |  FAX: (928) 532-6199  |  email
---
Northland Pioneer College does not discriminate on the basis of race, color, national origin, veteran status, religion, marital status, gender, age or disability in admission or access to, or treatment or employment in its educational programs or activities. District grievance procedures will be followed for compliance with Title IX and Section 504 requirements. The Affirmative Action Compliance Officer is the Chief Human Resource Officer, 2251 E. Navajo Blvd., Holbrook, Arizona 86025, (928) 524-7471. The Section 504 Compliance Officer is the Coordinator of the Office of Accessibility and Inclusion, 1611 S. Main Snowflake, AZ 85937, (928) 536-6246. The lack of English language skills will not be a barrier to admission and participation in vocational education programs.