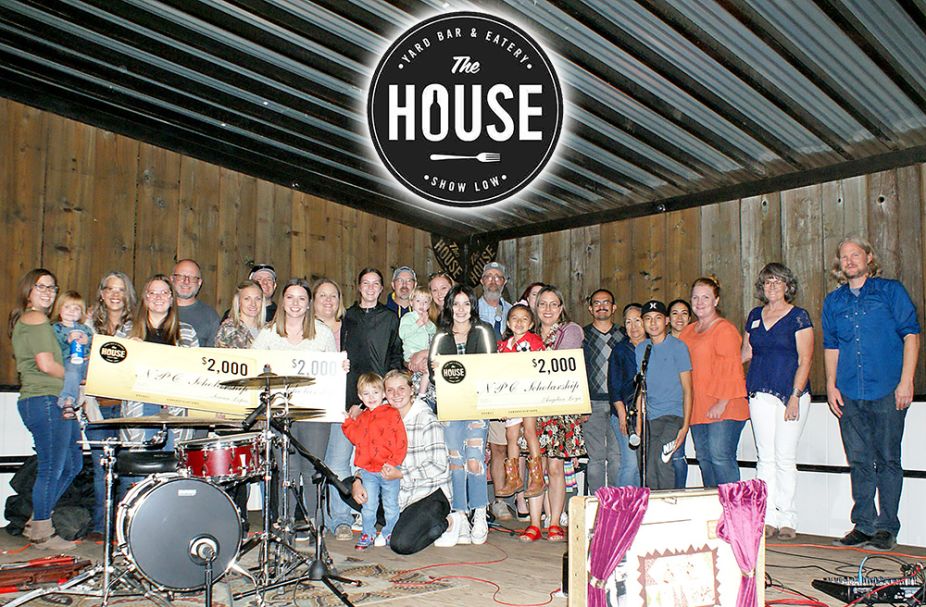 In 2020, Chris Corbin, owner of the popular Show Low eatery, The House restaurant, was brainstorming with his former partner, Matt McGowan, on ways to give back to the communities who have supported them with their patronage. A native of the White Mountains, Corbin was particularly interested in supporting students in their pursuit of a college education. He and McGowan reached out to NPC Friends and Family Executive Director, Betsyann Wilson, with an offer of three $2,000 scholarships for local high school grads. The NPC On The House Scholarship Fund was born.
Now, for a second year, three high school graduates, one from Show Low, one from Blue Ridge, and one from Snowflake High School, were awarded the valuable scholarship, providing each with $1,000 per semester for the 2022-23 academic year.
Snowflake High School graduate Angelica Loya is a full-time student in Northland Pioneer College's (NPC) Cosmetology program. She began taking college classes while enrolled in high school through the Northern Arizona Vocational Institute of Technology (NAVIT) program. Angelica noted in her scholarship essay, "Making people feel special is something that has always been important to me. I also believe being confident with oneself is one of the most powerful things." Cosmetology satisfies Angelica's love for creativity and for helping people, while also advancing her self-confidence. She will earn her Associate of Applied Science Degree in Cosmetology in 2024 and plans to one day open her own salon.
Sara Chevalier of Show Low High School aspires to be a nurse. She is in the process of completing the prerequisites for NPC's Associate Degree in Nursing (ADN) program. Sara has leveraged her enthusiasm for education, her passion for the nursing profession, and her excellent grades to help her pursue scholarships that will help fund her ambitions.
Like Chevalier, fellow scholarship awardee, Serena Lopez also took classes at NPC while still enrolled in high school. The college's TALON dual-enrollment and NAVIT programs positioned them to complete their associate degrees within the year, with great cost savings. Both students plan to use their experiences in the nursing program to discover the specialty they would like to focus on in their careers.
Corbin's desire to give back to the community by nurturing the efforts of local students took on a special quality with this year's scholarship awards. He has known the parents of Blue Ridge awardee Serena Lopez since they all attended kindergarten together. Serena's mom, Amber laughed jokingly, "I've known Chris since I was taller than he was!" Corbin and the Lopezs have remained lifelong friends. Amber shared that when her daughter learned that she had been selected by the scholarship review committee to receive the award, Serena "…called Chris in tears to share the news."
Corbin and The House recognized these students for their academic accomplishments, Saturday, September 17 treating each awardee, along with their families and guests to dinner at The House.  Everyone enjoyed terrific food and the ambiance of reserved seating in The Yard. Musician Ryan David Orr provided excellent entertainment, and the early fall evening was clear and cool. The awardees and their families were invited onto the stage for a check presentation where the students received honorary "big checks" and introduced themselves. The students expressed gratitude to their families, Northland Pioneer College, and especially to Corbin and The House restaurant. NPC Friends and Family's Betsyann Wilson shared, "Their eagerness and appreciation were a heartwarming testimony to the support of their families, the backing of their high school teachers, NPC professors and staff, and particularly to the kindness and generosity of a mountain native (Corbin) whose desire to give back to his communities will continue to enrich local students for years to come."