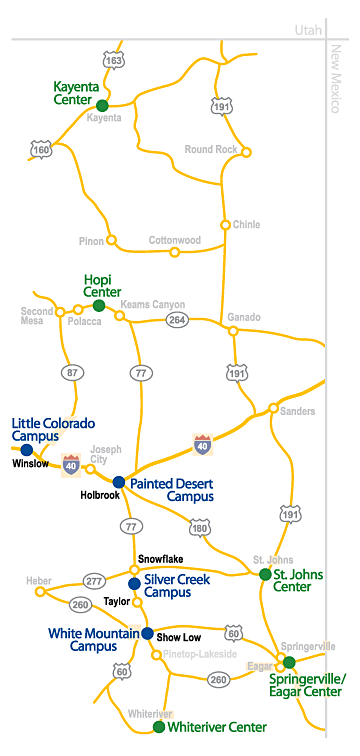 The AndyVon Transportation Grant for Native American Students is available once again for the fall 2022 semester. The award amount has increased to $1,500 per student - $500 more than the prior award year. The grant provides indigenous students at Northland Pioneer College (NPC), who reside on tribal lands, with assistance in traveling to their classes at the college. Founded by two anonymous philanthropists, the grant will be available for up to twenty eligible students.
NPC offers classes at four campuses and five center locations across Navajo and Apache counties, including the tribal homelands of the Navajo, Hopi, and Apache peoples. NPC serves about 6,000 students annually and is the nation's second-largest community college service area – 21,158 square miles. The Navajo, Hopi, and White Mountain Apache Indian Reservations occupy more than 60 percent of the total land in NPC's service area. This grant recognizes the distance many of these students need to travel to be able to take essential courses necessary for them to complete their educational goals is significant.
Applicants must be registered for six or more credit hours at NPC for the fall 2022 semester, with a cumulative GPA of 2.5 or better. At least one class must require the applicant to attend in person. Applicants also must reside on tribal lands and be at least thirty miles, one way, from the campus or center at which they need to attend in-person classes. Before applying, students must complete the FAFSA at https://studentaid.gov/ and either have paid for all their classes in full or have a payment plan on file with the NPC Business Office. Applicants must also provide documentation of their physical address. Complete application details and a fillable cover letter and application form can be found online at https://www.npc.edu/scholarships/andyvon-transportation-grant-native-american-students.
Grants will be awarded based on the number of miles the student must travel to classes each week. The application deadline for Fall 2022 is Thursday, July 14th at 12:00 noon MST. If you have questions about the application process or the Transportation Grants, please contact NPC Friends and Family executive director, Betsyann Wilson, at betsy.wilson@npc.edu or 928-536-6245.
Since fall 2014, NPC Friends and Family has awarded over 500 scholarships to NPC students, making a tremendous difference in their pursuit of post-secondary education. Over 95% of awardees have either completed an NPC degree or certificate program or are still enrolled at the college. To learn more about NPC Friends and Family, and how you can help to transform a student's life, contact Betsyann Wilson at 928-536-6245 or betsy.wilson@npc.edu. You can also make a tax-deductible donation at www.npcfriendsfamily.org