NPC's 2022 Student Art Show showcased a selection of unique work created by NPC students. The exhibit closed with an awards ceremony held at the Talon Gallery on Friday, May 6, 2022. In this, the first in-person ceremony since the onset of COVID in 2019, over fifty student participants, awardees, and NPC staff gathered to express their admiration of the art and of the students who created it.
"The artistic passion and skill of students at NPC is evident in this year's student art show, states NPC Talon Gallery Director, Magda Gluszek. "This is a curation of the best artwork produced at the college. It is an honor to be involved."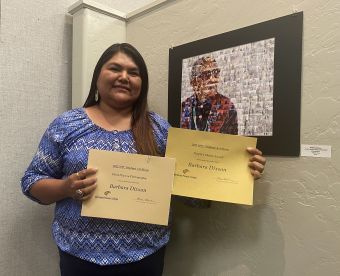 The NPC Student Art Show is juried by members of the NPC art faculty and recognizes student accomplishments in the visual arts. All NPC students (not only art students) are encouraged to participate. A panel of jurors reviews submissions and selects the pieces that will appear in the show. Not all entries are exhibited. "Acceptance to a show that has been juried is an honor. It is a distinction that can be listed on a resume and is the type of professional recognition that is essential to any student pursuing an art career," Gluszek explains. "We put a lot of effort into the selection process. Successful composition, craftsmanship, mastery of the medium, and originality are all evaluated."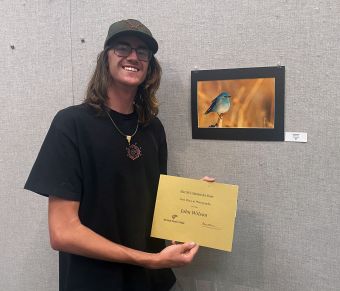 This year's collection displayed just that. The winner of this year's "People's Choice Award" went to a current NPC student and staff member Barbara Dixson for her photographic artwork titled "Great Grandma Eskey (1906 – 2022). Votes for the "People's Choice Award" are submitted by members of the community and are collected throughout the duration of the exhibit. "Great Grandma Eskey," is a collection of photographs of Dixson's 115-year-old great-grandmother who passed away earlier this year. The compilation blends photos to create a single image of her great grandmother wearing a fashionable pair of dark sunglasses (which Dixson said she often wore to protect her eyes), peering out of the frame. "Great Grandma Eskey's hair is traditionally tied back in a Navajo bun like she always wore it," Dixson explains. "She's also wearing her favorite scarf and turquoise jewelry. You will see that same scarf featured in many photos taken of her. It was her favorite."
Dixson is a second-semester student at NPC and currently works as secretary to the Dean of Arts and Sciences. She also took home a third-place award for "Great Grandma Eskey" in the photography category.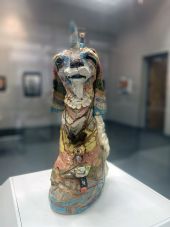 Fellow NPC student John Wilson placed first in photography for a photo of a mountain bluebird titled "Azure Skies." Kaylie Hancock took second place with "Breath of a Soul," a black and white photo featuring a woman with her arms stretched above her head as she takes in a breath of air through an open window. Honorable mention in the category went to Tiffany Plympton for "The Silent Storm" and Thomas Tomlinson for "After the Storm."
In the ceramics category, Karen Lewis placed first for her unique "Confused Unicorn – Angel – Mystic Mountain Goat," piece. Stuart Holmes placed second for "Number 42," and Lorin Pope took home the third-place award for "Tenderly Encircled."
In the drawing category, the first place went to Susanna Wauneka for "My Journey," a unique combination of colored pencils and sharpie art that depicts the many paths of her life thus far and cultural traditions. Second place went to Naomi Stuart for her "Foundation of Art," which was created using charcoal, sharpies, and colored pencils. Third place in the category went to Kaylen Wilson for her colored pencil piece depicting her tomcat "Chase." Cierra Long rounded out the drawing awardees with her charcoal and colored penciled "Hibiscus."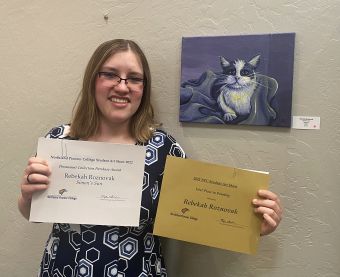 In painting, first place went to Rebekah Roznovak for her "Simon's Sun" acrylic painting. The piece features her workplace buddy, a resident cat at the veterinary clinic where Roznovak works. Second place went to Lorin Pope for a watercolor titled "Portal," and Sonia Craig took the third-place award for her "United Sanctuary" acrylic. Naomi Stuart's watercolor/sharpie piece "Hamlet," and Karen Lewis's acrylic "Some Donkeys Have Forelocks" received honorable mentions.
"All of you deserve a round of applause," states Gluszek. "It is an honor to experience your work."

For more information on this and upcoming NPC art exhibitions, please contact Magda Gluszek at (928) 532-6176 or (800) 266-7845. ext. 6176 or email magda.gluszek@npc.edu.