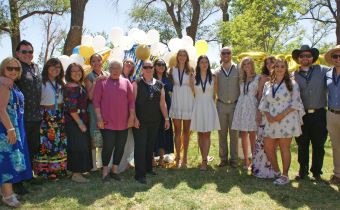 Friends, family, and NPC administration and faculty celebrated sixteen NPC nursing graduates from the college's Little Colorado, Winslow campus. The students were recognized for their outstanding achievement in a ceremony held at the historic La Posada Hotel in Winslow, AZ, on Friday, May 13, 2022.
The Nursing Professional's Pledge
With full knowledge of the responsibilities l am undertaking,
I pledge to care for my patients with all of the knowledge,
skills and understanding that I possess, 
without regard to race, color, creed, politics, or social status.
I will spare no effort to conserve meaningful life, 
to alleviate suffering and to promote health. 
I will refrain from any action which might be harmful 
to the quality of life or health of those l care for. 
I will respect, at all times, 
the dignity and religious beliefs of patients under my care,
and hold in professional confidence 
all the personal information entrusted to me. 
I will endeavor to keep my professional knowledge and skills at the highest level,
and give my support and cooperation to all members of the healthcare team.
With full awareness of my qualifications and limitations, 
I will do my utmost to maximize the potential of the nursing profession
and to uphold and advance its standards. "
NPC's Little Colorado Nursing Class of 2022
Ivan Bonilla - Flagstaff
Lyndsey Crowther - Flagstaff
Sarah Dehart - Joseph City
Cassidy Demelt - Flagstaff
Travis Hurt - Flagstaff
Katie Huser - Pinetop
Jerrimashae Jordan - Holbrook
Michael Leary - Winslow
Gina Mueller - Flagstaff
Britainy Pennington - Winslow
Audriana Quezada - Holbrook
Kerry Redhorse - Winslow
Haven Romney - Snowflake
Jaclyn Serna - Joseph City
Elaine Shafer - Flagstaff
Rhiannon Weishan - Winslow