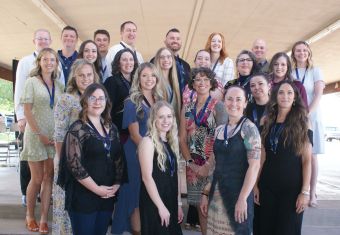 Twenty-three NPC Nursing Graduates were recognized for their achievements in a ceremony held Thursday, May 12, 2022, at the pavilion at Taylor's Rodeo Park.
Student class representatives Breanna Adams and Kariah Stewart kicked off the ceremony with a fun "candy award," presentation, giving heartfelt awards to each member of the class. NPC nursing faculty and keynote speaker Melinda Klug, addressed the graduates, encouraging them to "think back to what made you want to be a nurse." Think back to your why she said. "Compassion, empathy, advocacy, the desire to help others, and yes, to change the world - even if it's just one patient at a time." She continued, "Whatever is your driving force, don't let the winds of the harsh world of healthcare dim your fire. You guys are on fire right now. You are burning bright - you can remain bright for years to come if you take care of you. Nurture yourselves. You are ready for this. I am so very proud of you. You should be proud of you."
Congratulations to the Show Low nursing class of 2022! 
NPC's White Mountain Campus Nursing Class of 2022
Breanna Adams - Show Low
Tyler Allen - Show Low
Mckenna Ault - Snowflake
Myles Caldwell - Snowflake
Robert Case Iii - Taylor
Janella Czech - Snowflake
Preston Flake - Overgaard
Alyssa Frost - Taylor
Jordan Jeans-Hancock - Taylor
Brandi Kakavas - Show Low
Brigitte Kennison - Overgaard
Maria Laszlo - Eagar
Kylie Launiuvao - Springerville
Sunnie Mccray - Taylor
Lynessa Mcneil - Snowflake
Aubrey Mikeworth - Globe
Nathan Mills - Snowflake
Jens Nielson - Snowflake
Jamie Ortega - Lakeside
Heather Petersen - Snowflake
Jacob Starkey - Lakeside
Kariah Stewart - Eagar