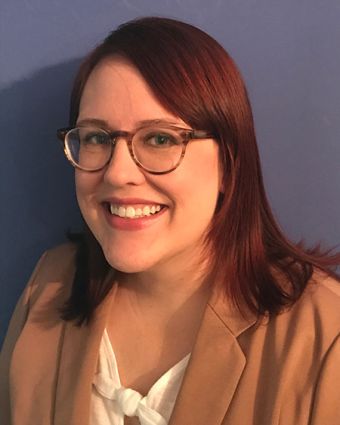 Northland Pioneer College (NPC) has recognized former student and adjunct faculty Dr. Tabitha Stickel for the college's prestigious Outstanding Alumnus award. Stickel is a current research fellow at Georgia State University's Adult Literacy Research Center and recently received her Ph.D. from Penn State in the Lifelong Learning and Adult Education program.
Stickel began her journey and developed a passion for teaching adult education while assisting adult students enrolled in NPC's College and Career Preparation program (formerly known as the Learning Cornerstone). She obtained her bachelor's degree in liberal art studies from Oregon State University. She worked as a data analyst and adjunct faculty member for NPC, traveling several times a week to teach developmental reading, writing, and math classes at locations throughout the Hopi Tribe and Navajo Nation.
During her tenure, Stickel helped establish the college's Eagle Club, a student organization that promotes awareness of multiculturalism at NPC. NPC Faculty in College and Career Preparation Shandiin Deputee, reflects that Stickel's first words to students were, "NPC needs to hear your voice. She continues, "Tabitha is an excellent educator who has always put the needs and voices of students first. She always approached students in and outside of the classroom by listening first."
Stickel's work with NPC's Adult Education and College and Career Preparation program helped her develop a deeper interest in studying how a student's sense of belonging within the classroom and in educational programs affected their drive to complete their academic program. "Her published research is incredibly well written. Her work allows other educators to understand the impact an instructor, classroom environment, and support staff play in a student's sense of belonging," notes Deputee.
Working with NPC students inspired Stickel to go on to teach immigrants and refugees pursuing high school equivalency degrees and drove her to continue her education. Stickel says, "There are two key mentors in my life that helped me believe in my academic capacity. The first was my middle and high school teacher, Margaret Wingate. I was a shy high school student lacking confidence. Margaret fostered an important sense of possibility in me, allowing me to achieve more than I ever thought I could." The other mentor, and one familiar to the NPC community, was the late Dr. Eric Henderson, a former anthropology professor and dean of the arts and sciences department at NPC. "He not only encouraged me to apply to graduate school but pushed me to think about competitive programs. Due to his encouragement and support, I applied to Columbia University for my master's degree – and to my surprise, I was both accepted and awarded financial aid, making attending the school possible. My dissertation is dedicated to both of these individuals."
Mrs. Henderson (wife of the late Dr. Henderson) has known Tabitha for about ten years. "She is a delightful human being, and our family has happily continued our friendship with her. I know that she derives great satisfaction from working in the adult education program and helping people achieve and learn what their high schools failed to teach them. She made that her life's mission," said Mrs. Henderson. 
Stickel continues her research in adult education to that end, working with future adult educators in her fellowship with Georgia University. In addition, she guest lectures for adult education programs and colleges throughout the United States. In fact, she took time out of her busy schedule to hold an open forum for NPC administration, staff, and faculty. NPC Associate Dean of Education and College and Career preparation Gail Campbell, reiterates, "The work that she has done has reinforced the activities that we're trying to highlight and emphasize and it's great to have her quality research to help move that forward."
When asked about what advice she might give to those embarking on similar educational journeys, she exclaimed without hesitation, "We are capable of so much more than we might think. Don't be afraid to push yourself into the unknown and the scary. My greatest growth – personal, academic, and professional, came when I put myself outside of my comfort zone. Big things happen a step at a time. The big picture can keep you inspired, but breaking it down into smaller steps helps maintain sanity, creates a sense of progress, and keeps us from getting overwhelmed and bogged down. Celebrating the small victories and accomplishments can be as important as achieving the big goals," she explains.
A well-deserving recipient of the spring '22 Outstanding Alumnus Award, Dr. Stickel is an example of how NPC transforms lives, not only her own but the lives of the many she has touched in her journey. The Outstanding Alumni Award was presented to her during the April 19, 2022, meeting of the Navajo County Community College District Governing Board in Holbrook.