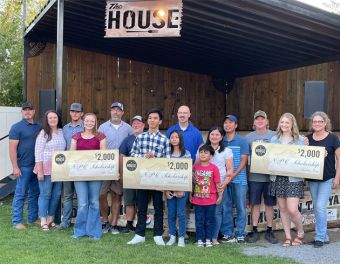 From noon MST on Tuesday, April 5, through noon MST on Wednesday, April 6, NPC Friends and Family will join hundreds of non-profits across the state for a 24-hour online giving event to raise money for Northland Pioneer College (NPC) student scholarships on Arizona Gives Day. This year's event highlights the memory of the lives of multiple individuals who have made an important impact on our local communities. There are eight memorial scholarships and the foundation's general Eagle Fund that donors can support. Every dollar raised goes to scholarships for local NPC students.
NPC has had loyal support from many locally over the past seven years. Those who have participated in this event in the past may know that some very exciting bonus prizes are awarded each year. Last year, NPC Friends and Family won FIRST PLACE for Most Dollars Raised by a Small Non-Profit, earning a bonus prize of $6,500.00!
NPC Friends & Family is asking for your help to earn AZ Gives bonus cash this year. "We are competing for two prizes," notes Betsyann Wilson, executive director of NPC Friends and Family. Most dollars raised by a small non-profit through prescheduled donations: Prize = $1,500 (any donations scheduled between now and April 5) and Most Dollars Raised by a Medium-Sized Non-Profit: Prize = $6,500 (any donations made between noon on April 5 and noon on April 6).
"No gift is too large or too small to help an NPC student achieve their dream of a college education," states Wilson. "You can make an early donation today, or join us in giving between noon April 5 and noon April 6 and help us vie for bonus prizes. Whether you donate now, or during the 24 hours on April 5-6, all donations will count toward the total this year."
NPC Friends and Family will be visiting BoJo's in Winslow, Bienvenidos in Holbrook, and The House Restaurant in Show Low during the 24-hour April 5 and 6 "clock is ticking" event. The House restaurant of Show Low has pledged a $6,000 matching gift donation. So if NPC Friends & Family raises $6,000 between noon and 3:00 p.m. on Tuesday, April 5, The House will match it, dollar-for-dollar!
Please consider donating to support local students by donating to NPC Student Scholarships at https://www.azgives.org/npcfriendsfamily.