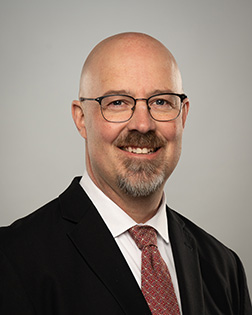 Dr. Chato Hazelbaker, became the ninth President of Northland Pioneer College (NPC) in July 2021. Over the past twenty-three years, Dr. Hazelbaker has held positions of increasing responsibility in higher education most recently at Carroll College (Helena, MT) where he served as the Vice President of Enrollment Management and Marketing.
With a passion for strategic planning and innovative solutions, Dr. Hazelbaker has led efforts to expand student access and champion student success. He has served at both public and private institutions as a member of the senior executive team in Communications/Marketing, Recruiting, Information Technology, Fundraising, Financial Aid, Public Information, and Legislative Affairs roles.
Education:
Doctor of Education in Organization Development from the University of St. Thomas in Saint Paul, MN
Master of Arts in Leadership from Crown College in St. Bonifacius, MN
Bachelor of Arts in English from Rocky Mountain College in Billings, MT
Prior to coming to NPC, Dr. Hazelbaker served as:
Vice President of Enrollment Management and Marketing, Carroll College (Helena, MT)
Chief Communication Officer and Interim Chief Information Officer, Clark College (Vancouver, WA)
Director of Marketing and Interim Director of Graduate Marketing, University of St. Thomas (St. Paul, Minnesota)
Other roles at Crown College, Montana State University-Billings, and Dickinson State University
Publications:
Dr. Hazelbaker has published three academic book chapters and been published in peer-reviewed journals on topics related to Organization Development which is the area where he earned his doctorate.
Working as an adjunct faculty member, Dr. Hazelbaker has taught extensively in communication and organization development at both the undergraduate and graduate levels. He has taught both online and face-to-face courses.
Hazelbaker currently serves on the:
Arizona Community College Coordinating Council (AC4)
---
Northland Pioneer College
is a tax-supported, comprehensive community college serving about 5,000 students annually in both Navajo and Apache counties; an area of 21,158 square miles, roughly the size of the state of West Virginia. The Navajo, Hopi, and White Mountain Apache reservations occupy more than 60 percent of the total land in the district service area, and also account for 60 percent of the population.
Campuses
are located in four of the largest Navajo County communities: Holbrook, Show Low, Snowflake/Taylor, and Winslow. Five centers are located in Hopi, Kayenta, Springerville/Eagar, St. Johns, and Whiteriver.