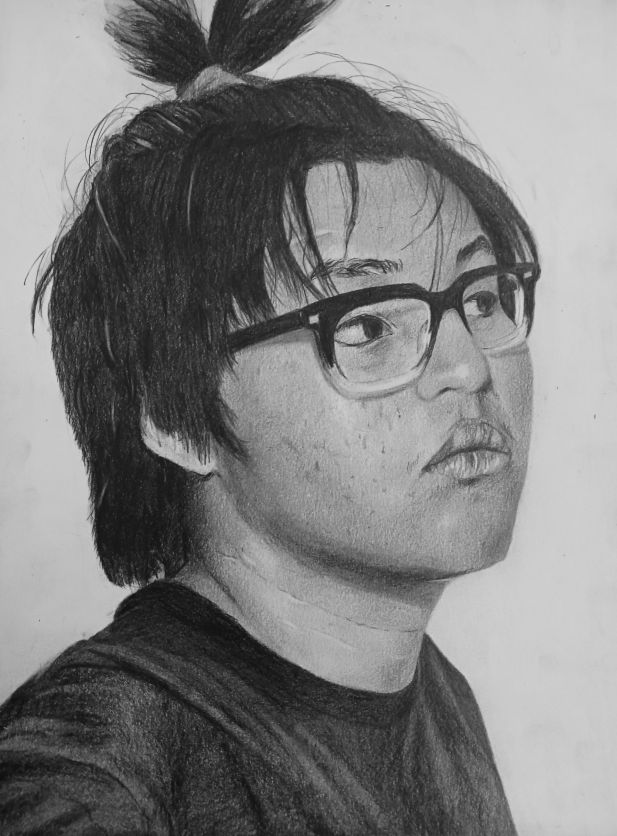 Seniors Allessio Cosen Hill, of Blue Ridge High School; Micah Olayvar, of Dishchiìbikoh High School; and Zoey Juan, of Many Farms High School, are the top awardees in Northland Pioneer College's (NPC), Talon Gallery's 37th Annual Juried High School Art Exhibit. These students captured Best of Show art scholarships for the 2023-24 academic year in the exhibit which can be enjoyed virtually on the NPC Talon Gallery webpage npc.edu/talon-art-gallery/current-exhibition.
Receiving Gold Recognition awards were Wyonia Curtiss, a sophomore at Ganado High School, and two juniors at Many Farms High School, Jevon Thompson, and Kirsten Parrish. Gold awards also went to Snowflake High School freshman Isabella Sachse, and Taya Ashcroft, a senior at Round Valley High School. Three other Round Valley High School students, junior Addi Martin, sophomore Catalina Williams, and senior Spur Udall received Silver Recognition awards. AvaRose Nieto-Begaye, a freshman at Chinle High School, and Moraes Woody, a senior at Many Farms High School also took home silver awards. Honorable mention went to Danielle Gould of Blue Ridge High School, Eliana Smith of Ganado High School, Trichell R. Bedonie of Many Farms High School, and Brian Harper of Round Valley High School.
Jurying this year's show were NPC Art Faculty and Talon Gallery Director, Magda Gluszek, NPC Art Faculty Peterson Yazzie, and NPC Film and Digital Video Faculty, Nathan Kosub. "We always enjoy being able to jury the show and see all of the wonderful artwork that is being made by high school students in our region," says Gluszek.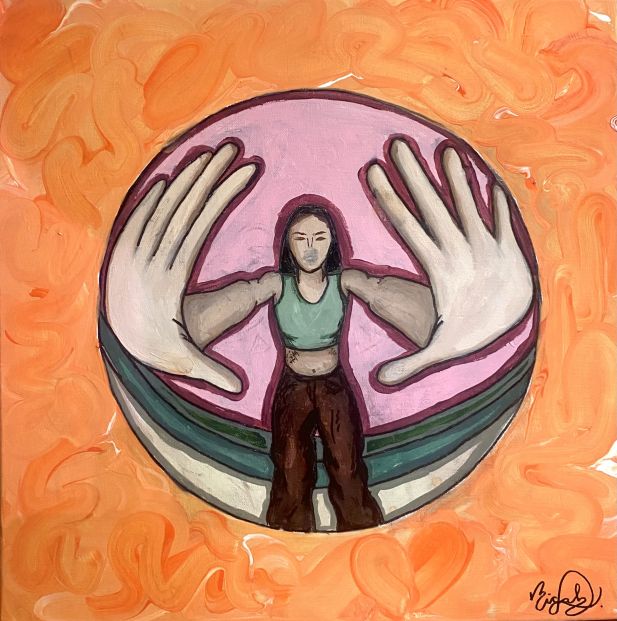 Commenting on one of this year's winning entries titled "And I Love Her" by Round Valley senior Allessio Cosen Hill, juror Peterson Yazzie notes, the visual textures captured throughout the graphite drawing particularly stand out. "It's a challenge for any artist to approach the human form, the human figure in any medium," he explains. "This is sincerely one of the top pieces of the show this year."
Micah Olayvar, of Dishchiìbikoh High School's "Totally Aware," acrylic painting also took top accolades. Juror, Nathan Kosub describes it as "a powerful image that makes creative use of the short focal length lens, or 'fisheye' perspective." He explains that this winning piece's expressive brushwork and vibrant colors "project a portrait of centeredness and strength."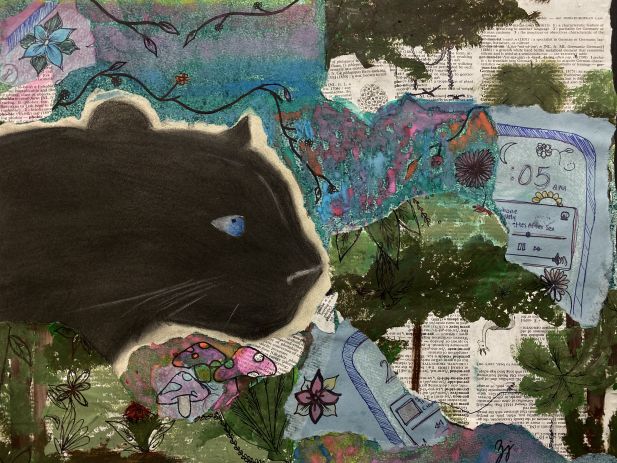 A mixed media piece "The Jungle," by Zoey Juan, of Many Farms High School, also received top honors. Juror Magda Gluszek explains that the jurors were "taken by the artwork because of the multiple layers present in the work." She says the jurors really enjoyed that "some of the text and even some of the imagery of the printed text has been included in the background in this piece." She explains, "There's a nice sense of separation between background and foreground and the clear focal point of this image is the jaguar that really comes to the foreground," she says. The bright blue eye stands out in the piece, and "we really appreciated some of the interesting imagery that was included throughout. We really enjoyed this piece."  
Additional comments on these teen artists and the pieces mentioned above and the selection of student entries are available for public viewing on the Talon Gallery's webpage at npc.edu/talongallery/current-exhibition.

For more information on this and upcoming NPC art exhibitions, please contact Magda Gluszek at (928) 532-6176 or (800) 266-7845. ext. 6176 or email magda.gluszek@npc.edu.