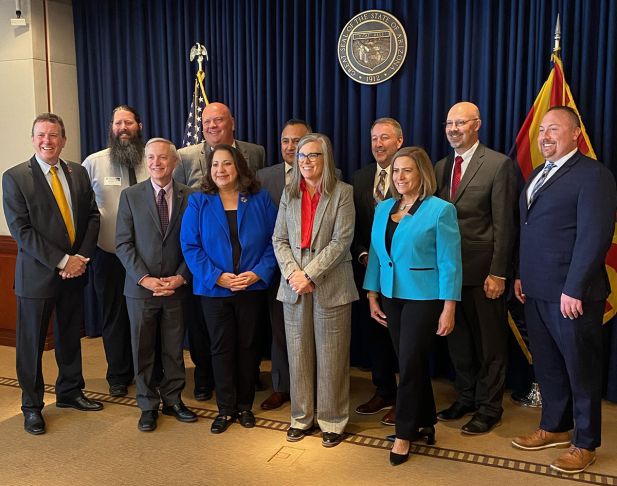 Phoenix, AZ – The leaders from all ten of Arizona's Community College Districts met with Governor Katie Hobbs on Wednesday, November 1, 2023, to share highlights of the work that colleges are doing.
The discussion centered around the impact that Community Colleges provide as an economic driver for Arizonans.
Arizona's ten Community College Districts include Arizona Western College, Central Arizona College, Cochise College, Coconino Community College, Eastern Arizona College, Maricopa Community Colleges, Mohave Community College, Northland Pioneer College, Pima Community College, and Yavapai College.
Connected through shared goals of access and service, Arizona's community colleges assure open admissions and affordable tuition as a common mission. They provide the primary gateway to higher learning and various educational opportunities serving today's diverse student body. Fully accredited by the Higher Learning Commission, Arizona's community colleges prepare students to be job-ready more quickly and train or retrain workers to fit employer needs. Arizona's community colleges are the most traditional entry point for underserved students and bring economic vitality to communities that embrace their mission and services.
For more information on Arizona's Community Colleges, visit www.arizonacommunitycolleges.org.