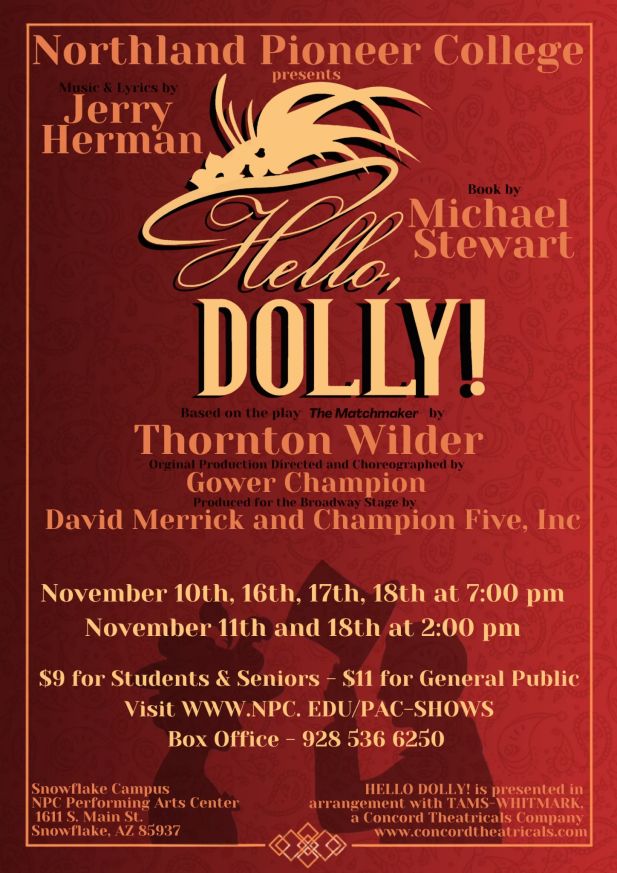 Northland Pioneer College Performing Arts Department is proud to present the charming musical theatre hit, "Hello, DOLLY!" beginning Thursday, November 10, 2023, at the college's Performing Arts Center, located in Snowflake, Arizona. Additional performances will be held on November 11, 16, 17, and 18.

The 1964 musical, "Hello, DOLLY!" is based on Thorton Wilder's book The Matchmaker, with music and lyrics by Jerry Herman and a book by Michael Stewart. The story follows matchmaker widow Dolly Levi, a professional meddler, who sets her sights on catching a match of her own - the well-known miserly, and wealthy bachelor Horace Vandergelder. Set in New York City at the turn of the century, the theatrical production includes a variety of memorable songs such as "Before the Parade Passes By," "Put on Your Sunday Clothes," and the title number, "Hello, DOLLY!." Music for NPC's production will be directed by Mindy Flake, with choreography by Becky Eagle.
The production's Director, NPC Faculty in Theater, Carson Saline, notes that he chose "Hello, DOLLY!" as the college's fall production as it provided him the ability to cast a sizeable variety of local talent. There are forty-seven artists involved in NPC's production, making it one of the largest theatrical events the college has orchestrated to date. "Because of the response to audition calls for last season, I wanted to do something that would allow more opportunities for more people," Saline explains. "Hello, DOLLY! is one of my favorite shows, and is one of the funnest shows to do from the ensemble perspective."
Including talent ranging across Northeast Arizona, from Pinetop to Joseph City, the ensemble is rich with local entertainers. "We have an incredible group of people," states Saline. The female lead, Dolly Levi, is played by Colleen Marsh, of Holbrook, who also recently joined NPC as a new employee. Saline says, "Colleen was like a gift from the Heavens. She is just a joy to work with and has such an ability to embody the character she plays. She fits so well and makes it look easy. It's incredible."
The irascible Horace Vandergelder is played by Craig Wiley of Show Low, who recently moved to the area and has prior experience performing in several theatrical productions and operas. Vandergelder's clerk, Barnaby Tucker, is played by Ransom Hiatt of Snowflake. Saline says, "He adds so much charm to his youthful naïveté of the character." Minnie Fay is played by KJ Palmer of Taylor who as Saline describes, "adds an innocence to the character that is wholesome and lovely." Irene Malloy, the intended "match" for Horace, is played by Kellen Nicholson of Pinetop/Lakeside, who as Saline notes, "makes good choices and asks questions. She is truly a dream to work with."
Concerning the sheer size of the production as well as the "big talent," of the cast and crew, Saline says NPC's Hello, DOLLY! will be a "Magnum Opus," of theatrical events and one you won't want to miss.
Showings will run on Thursdays, Fridays, and Saturdays for two consecutive weeks, Nov. 10, 16, 17 and 18, beginning at 7 p.m. Two additional 2 p.m. matinee performances will be held on Saturday, November 11and 18. Advance tickets are $11, with a day-of-admission rate of $16. Get your tickets early. Senior citizens 60+, and NPC students and staff receive a $1 discount. All shows will be held at the Performing Arts Center, 1611 S. Main in Snowflake. Tickets must be purchased online at www.npc.edu/tickets, and an additional transaction fee applies.
NPC's production of Hello, DOLLY! is presented through a special arrangement with Tams-Whitmark, a Concord Theatricals Company, www.concordtheatricals.com. The original production was directed and choreographed by Gower Champion, and produced for the Broadway stage by David Merrick and Champion Five, Inc. Questions can be addressed to Carson Saline, at (928) 536-6247 or by email at carson.saline@npc.edu.