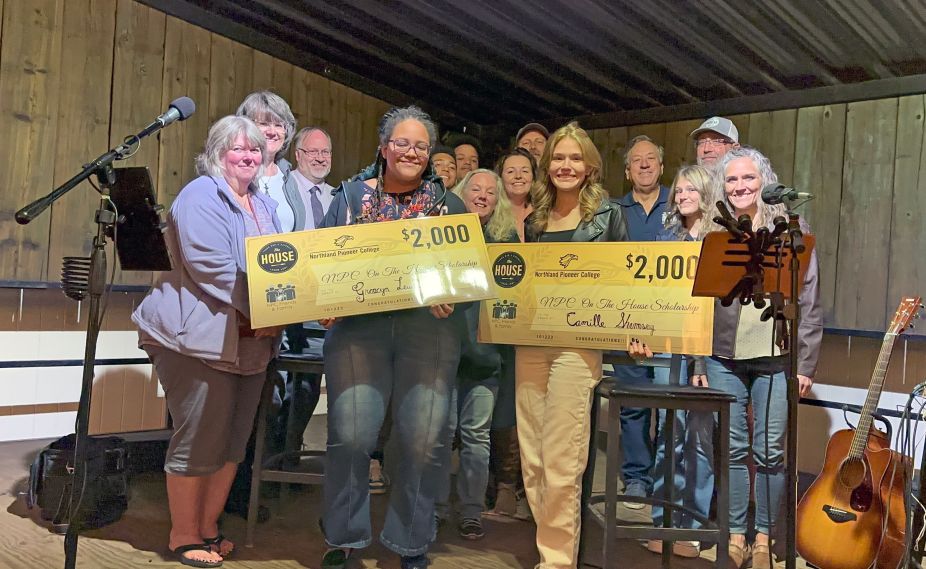 For the third year in a row, scholarships of $2,000 each went to local high school grads attending Northland Pioneer College (NPC), to provide $1,000 per semester for the 2023-24 academic year. Chris Corbin, owner of The House restaurant, a popular Show Low eatery, recognized the students for their academic accomplishments, on Thursday, October 12. Corbin treated the awardees, along with their families and guests to dinner at The House, on The House.
It all started in 2020, when Corbin brainstormed with his former partner, Matt McGowan, on ways to give back to the communities who have supported them with their patronage. Corbin, a native of the White Mountains, is particularly interested in supporting students in their pursuit of a college education. Corbin reached out to NPC Friends and Family Executive Director, Betsyann Wilson, and the NPC On The House Scholarship Fund was born.
This year's NPC On The House scholarship awardee, Graecyn Lewis began taking classes at NPC her sophomore year while she was attending Show Low High School. She was able to take college classes through NPC's TALON program. She plans to go into the field of hospitality and will eventually transfer to Northern Arizona University (NAU) to pursue her bachelor's degree in hotel and restaurant management. The hospitality industry has always interested Lewis, who, in her spare time, says she loves to watch hotel and restaurant fix-it shows like Bar Rescue, Kitchen Nightmares, and Hotel Hell. While she is excited about the idea of fixing something that is broken, she is even more passionate about the result. "Building a space for community, where people and families can gather, excites me," she said. "Creating a way of life for people, from single mothers to large families, to those just starting, improves lives," she explained. From the simple act of creating a space for people to gather and enjoy a great meal together to generating jobs, the thought of owning, and running a hospitality business excites her. Her former high school teacher and Academic Decathlon Team coach Tonya Butler joined Lewis and her family to celebrate her accomplishment during the scholarship night. She explained, "Lewis was among the top of her class at Show Low High School, and is extremely dedicated and talented," she said. "She's a great young woman and has a supportive family. I know she is going to do amazing things in the future."
Fellow scholarship awardee, Camille Shumway, started taking classes at NPC as a freshman. She is from the Snowflake area and was homeschooled beginning in her 6th-grade year. In Shumway's scholarship application essay, she related that at first, it was difficult for her to take her education seriously. But that all changed, she explained. "The summer of the year I was going into 9th grade, my mom took me to the NPC campus in town and had me take placement tests. I signed up for my first college course, Psychology 101." She said, "I slowly began to love learning through that NPC course." She graduated with her high school diploma this past May. She has excellent grades and is on track to graduate from NPC this spring with her Associate of Arts Degree. Although she has not yet decided what direction her future will take her, she is interested in dental hygiene and even law. She plans to transfer to NAU to pursue a bachelor's degree and see where her hunger for continued education takes her.
During The House's scholarship evening, the awardees and their families were invited to the stage for a check presentation where the students received honorary "big checks" and introduced themselves. The students expressed gratitude to their families, NPC, and especially to Corbin and The House restaurant. NPC Friends and Family's Betsyann Wilson shared, "Their eagerness and appreciation were a heartwarming testimony to the support of their families, the backing of their high school teachers, NPC professors and staff, and particularly to the kindness and generosity of a mountain native (Corbin) whose desire to give back to his communities will continue to enrich local students for years to come."
Watch a video of the scholarship night at The House on NPC's YouTube channel @NpcEducollege.