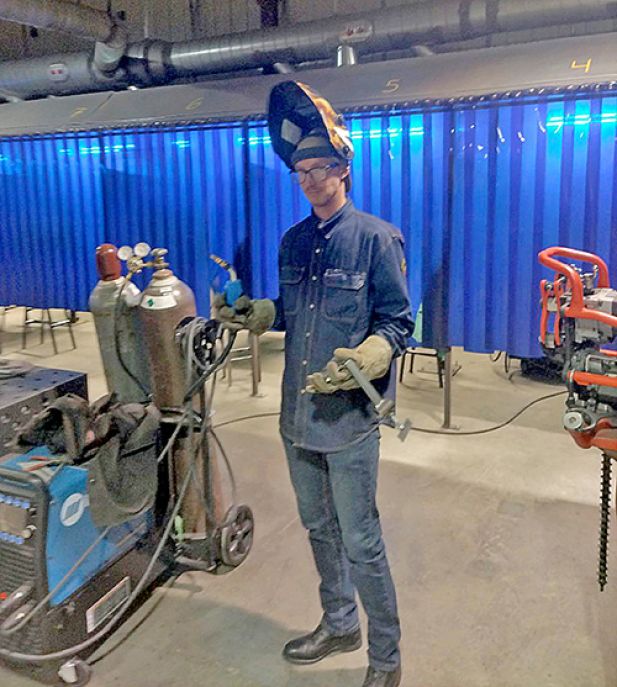 "Rock bottom became the solid foundation on which I rebuilt my life." – J.K. Rowling
I have come to know Northland Pioneer College Welding student, David Cummins, through his pursuit of scholarships from NPC Friends and Family. He is bright, talented, artistic, creative, and truly pleasant to be around. His instructors think highly of him for his work ethic as a student and as a welder. He has won several scholarships over the past semesters, and he will complete his Associate of Applied Science degree in the spring of 2024.
I always appreciate reading David's scholarship essays. He never just dusts off and re-uses an essay; he writes each one anew. To me, this shows respect for the people who donated to provide his scholarships. Each of David's essays reveals a little something about him: He grew up in a family that lived off the grid, and he learned multiple skills related to construction by helping his father and siblings build their home. He loves art and draws regularly. He adores being a husband and father. He is the kind of person you pull for because he's doing it all right. He has desire, motivation, and integrity, and he is going to succeed, whether he wins a scholarship or not. He is a good son, husband, father, and college student.
And he is an alcoholic. 
The Martin Lucas Memorial Scholarship was established by the family and friends of Martin Lucas, in honor of his servant's heart, dedication to the community, and special empathy for those whose lives are affected by disabilities. Students who apply for the scholarship are required to address in their essays how disability has affected them. The Americans with Disabilities Act recognizes alcoholism as a disability, but David did not recognize it until it nearly took his life. He wrote starkly of the insidious hold alcohol began to assert over him as a very young person:
"At the age of four, I was drawing pictures of owls and characters from cartoons; by eleven I was writing my own stories. I took every art class I could get into during my school years. At age fifteen I was introduced to alcohol; alcoholism had run in my family for many years. I began to contend with depression and hopelessness and enjoyed the relief alcohol provided. I eventually developed a dependency, though quite unaware at the time. In truth, it is a progressive disorder, a physical and mental impairment that severely limits major life activities, such as caring for oneself, sleeping, eating, learning, or operating bodily functions such as respiratory, or neurological brain function. By eighteen I had been hospitalized for the first time and would already experience symptoms of this disorder…Throughout the years I would lose jobs, relationships, my ability to operate a vehicle… I had been hospitalized multiple times [when] at twenty-seven I experienced heart problems and acute organ failure. By twenty-eight I started the long process of recovery, which included physical therapy, daily counseling, and an accommodating lifestyle for a mental disability."
Admittedly, I was shocked. I also felt a deep sense of wonderment and admiration for David, yet I was apprehensive about how the scholarship review committee would view his story. The scores they awarded his application erased that concern.
One of the best parts of processing scholarship applications is to read about our amazing NPC students and learn their stories, and to see how they are succeeding, despite incredible odds against them. I relish sharing those stories with the donors, sponsors, and event participants who so generously provide NPC Friends and Family scholarships. But David's story was so raw and personal, and I was seriously afraid of exposing him to cruel judgment. So, I called him and talked about my concerns.
True to the character I have come to know, David was quiet and thoughtful. Then he said that his journey was not – should not be – a secret. He told me that maybe by sharing his story, others who were struggling as he had, might be reached.
Courage. The playwright, August Wilson, wrote, "Confront the dark parts of yourself, and work to banish them with illumination and forgiveness. Your willingness to wrestle with your demons will cause your angels to sing." By having the courage to share his story with others, I think David is also inviting them to confront the dark parts… and banish them with illumination and forgiveness. And David's angels are singing:
"My story does not end there…soon afterward my son was born. I also became a stepfather to two amazing children. At the age of twenty-nine, I married my best friend and started back at school. I now compete in 5k races and obstacle courses; I have a home with a beautiful garden and chickens. My life is unimaginably beautiful and beyond comparison. Though alcoholism is a lifelong condition, I have a new sense of hope and purpose that I built with a connection to those around me."
Thank you, David, for having the courage to share your story. You are a credit to the memory of another good man, who had a home with a beautiful garden, and who married his best friend and had three beautiful children. Congratulations on being awarded the Martin Lucas Memorial Scholarship.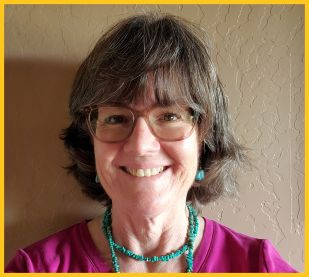 About the Author:
Betsyann Wilson is a long-time facilitator of NPC student scholarships and advocates for the success of others. She has mentored and overseen the procurement of thousands upon thousands of dollars to aid students who would otherwise have no option to pursue higher education – her efforts with this and other F&F scholarships help dozens of students attend college each semester and her work with fundraising events such as the Pedal the Petrified bicycle tour are well received and successful.
About NPC Friends & Family:
Since Fall 2014, NPC Friends and Family has awarded over 1,200 scholarships to NPC students, making a tremendous difference in their pursuit of post-secondary education. To learn more about NPC Friends and Family, including how to apply for scholarships, contact Betsyann Wilson at 928-536-6245 or betsy.wilson@npc.edu. You can also make a tax-deductible donation at www.npcfriendsfamily.org.