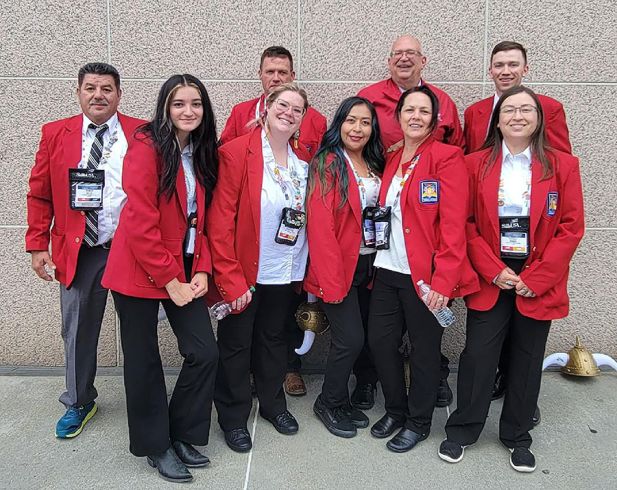 Adriann Gardner, a cosmetology student at Northland Pioneer College (NPC), recently earned a third-place, bronze medal in the job skills category at the SkillsUSA national competition, held in Atlanta GA, June 19-24.
Gardner earned a gold medal in the category of job skills-open, at both the regional and state levels, earning her a spot at SkillsUSA nationals. The competition required performing a detailed demonstration with a clear explanation using displays and practical tasks. She impressed judges at the highest level, competing against students from across the nation. This was Gardner's first time attending SkillsUSA nationals.
The SkillsUSA national event is the ultimate recognition of excellence in technical skills and showcases the nation's best career and technical education students. Three NPC students joined Gardner in representing NPC. Fellow cosmetology student Sierra Hernandez, of Winslow, and Tate Lewis (construction), and Ashley Sisco (welding), of Holbrook also competed during the weeklong event. They each placed among the top 30 within their respective competitions. They joined a total of 395 competitors from across Arizona and thousands of others from 54 U.S. states and affiliate territories. SkillsUSA competitions sharpen student participants' high-level technical skills while ensuring they meet current trade and industry standards.
Gardner moved to Eagar, AZ, from Phoenix a little over a year ago, and is currently studying cosmetology at NPC's Show Low campus. She balances a full school load, a job, and raising her 20-month-old son. Garder will graduate with her Associate of Applied Science degree this fall. She plans to practice cosmetology at a salon, continue her education, and earn her instructor's license from NPC. She hopes to eventually open her own salon one day. For Gardner, competing and earning a medal at the national level "solidified" that she is on the right path in her career choice. She encourages fellow students to compete in the SkillsUSA events. Gardner explains, "Competing helped me hone my skills. It just made me get better and better and I gained confidence in myself and in what I am doing."
According to Frank Pinnell, SkillsUSA coordinator, and NPC Director of Career and Technical Education (CTE) Program Development & Sustainability, NPC students took their competitions very seriously. "They excelled in communicating with people they didn't know and spent time networking with other students, the judges, and industry leaders to learn more about their trade and how to better themselves," he explains. "What impresses me most about these events, is how students get to see the big picture of how their skills affect the world," he says.
Northland Pioneer College will host a one-day leadership training event this fall. The event will prepare and engage students from around the region for SkillsUSA activities for the upcoming academic year. In addition, NPC's Show Low campus will host the SkillsUSA Regional Competition on February 8 and 9, 2024. The state SkillsUSA competition is scheduled for March 28and 29, in Phoenix.
For more information on SkillsUSA, or for more information on NPC's Career and Technical Education programs, contact Frank Pinnell at frank.pinnell@npc.edu or visit www.npc.edu.