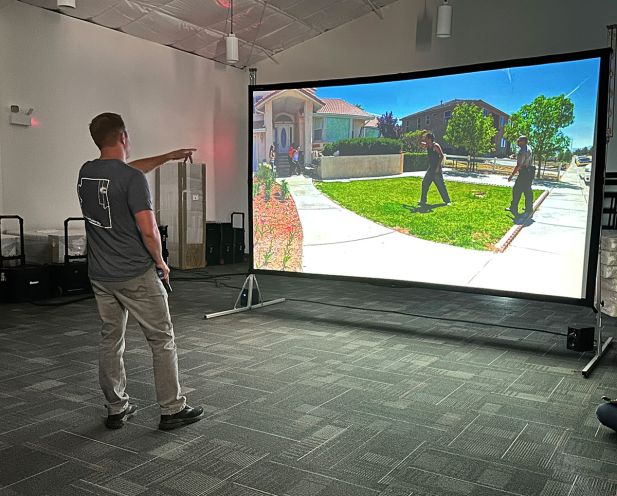 In partnership with Northland Pioneer College (NPC), the Northeastern Arizona Law Enforcement Training Academy (NALETA) located at the Northern Arizona Training Center (NATC) in Taylor AZ, held a dedication ceremony for a new VirTra V-300 simulator building at the location Wednesday, June 21, 2023. The debut of the new facility and the software it houses is the culmination of outgoing NATC/NPC Director of Public Education, Jon Wisners' leadership in NPC's law enforcement and wildland/urban firefighting programs.
Local law enforcement agencies and first responders from around Northeastern Arizona joined NPC administration, faculty, and staff for a tour of the simulator building and six of nine tiny new homes at the site which will house law enforcement cadets going through the academy. Participants were able to witness first-hand demonstrations of the new VirTra simulator technology and its capabilities.
The simulator allows officers and recruits to complete realistic scenario training using intense video simulations. It involves the use of five 300-degree wraparound screens and a network of fine-tuned sensors that take account of every detail during a training scenario. The state-of-the-art technology was created to bring the men and women of law enforcement safely home after every shift. Officers and cadets use special laser-altered firearms to respond to a variety of lifelike law enforcement situations ranging from domestic violence to active shooter scenes. Trainees are tested on weapon use and marksmanship as well as their judgment in use-of-force situations. The simulator forces trainees to keep their heads on a swivel as they watch the scenario unfold based on their interactions. From pre-attack indicators to cognitive overload stimuli, an officer's decision-making and judgment process is examined to train, test and sustain trainee and seasoned officers' knowledge and skills.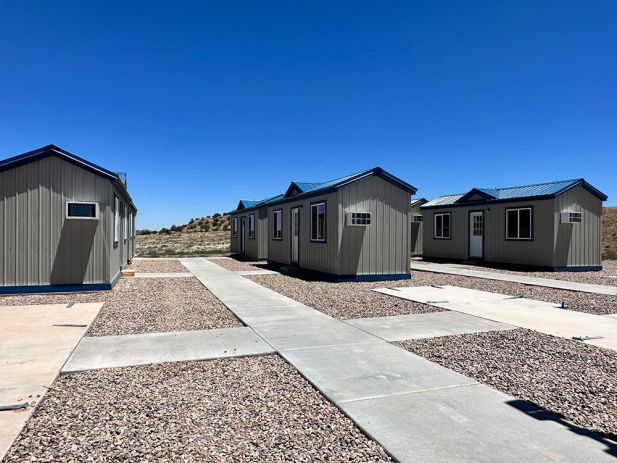 The launch of the new simulator and the opening of the tiny homes comes as NPC announces the expansion of the college's police academy program. Beginning with the fall 2023 semester, students who complete the 20-week intensive police training academy at NATC can continue their professional growth in support of career promotions or branch out into new areas of study. NPC's new Administration of Justice Studies program builds on the basic skills to become a peace officer in the state and is designed for students who are interested in completing an associate degree and transferring to a four-year institution. Police officers who have completed a police academy at another training center can transfer that training to NPC and complete the remainder of their associate degree program online. The new program provides additional education for various career fields including corrections, patrol officers, deputies, park rangers, fish and game wardens, and court officers. Students who graduate with NPC's new Associate of Applied Science in Justice Studies can then use their training and education to continue their pursuit of advanced law enforcement careers.
In addition to the public tour and dedication, director Wisner introduced NPC and NATC's new incoming Director of Public Safety Education Chad Kreuger. Upon Wisner's forthcoming retirement, Kreuger will assume coordinating activities at NATC, including the police academy, fire science, and the new Administration of Justice Studies program. Kreuger comes to NPC with over 28 years of law enforcement experience including that of a patrol officer, detective, sergeant, and SWAT negotiator in Prescott Valley, and most recently as District Patrol Lieutenant/Deputy Commander for Navajo County Sheriff's Office.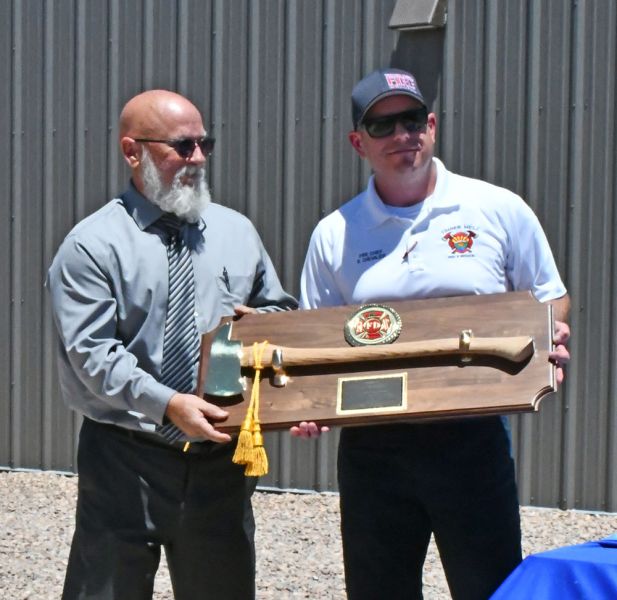 "It's been a true joy of mine to serve our law enforcement and fire science students, first responder partners, and the community over the years," states Wisner. "We treasure the partnerships we have built with local agencies, NPC, the town of Taylor, Navajo County, and others. Thank you for your support." Wisner was presented with a plaque from the Northeast Arizona Fire Chief's Association (NAFCA). Randy Chevalier, Fire Chief of Timber Mesa Fire and Medical District gave Wisner a folded American flag in gratitude for his service and contribution to the district. "Having this facility to train locally is crucial to our business and our community. It's crucial to the recruitment, and retention of all our employees," explains Chevalier.
NATC is the base for the Northeastern Arizona Law Enforcement Training Academy (NALETA). In addition to the new VirTra V-300 simulator and tiny home structures, the facility features a 10-acre defensive driving course, shooting range, 6-story burn tower, flash chamber, roof ventilation simulator, and numerous props for confined space training. To learn more about NATC visit www.npc.edu/natc or contact NPC's new Director of Public Safety Chad Kreuger at chadley.kreuger@npc.edu. Those interested in pursuing a career in fire science or law enforcement or wanting to learn more about NPC's new Administration of Justice Studies program should visit www.npc.edu/law-enforcement-training.