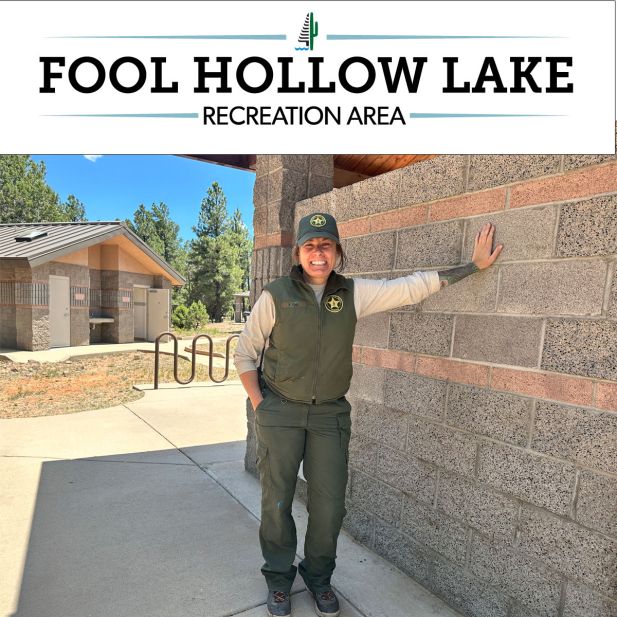 In partnership with Fool Hollow Recreation Area, Northland Pioneer College's (NPC) art department is offering a new outdoor mural painting class in Show Low, AZ this upcoming fall semester. The one-credit ART 199 Introduction to Mural Painting course will meet Thursdays from 1 p.m. to 4:45 p.m., from September 7, through October 12, 2023. The course will be led by NPC Art Faculty Magda Gluszek and Peterson Yazzie.
The class will be held on-site at the Fool Hollow Lake Recreation area and students should be prepared to work outdoors. Previous art, drawing, and painting experience are suggested but are not required to enroll. Over the six-week course, students will learn how to propose, plan, design, and create a public mural work of art at the site. Students will develop and present design ideas for approval and execute the murals on location.
"This is a unique opportunity for students to create a series of paintings on the walls and structures in the park," states Gluszek. Students will be provided with research related to the park's history, flora, and fauna, to gain an understanding of the land and the lake where they will create their pieces. This class will give individuals a chance to learn about the local landmark and experience the process of proposing, designing, and executing a piece of public art," Gluszek explains. The class is open to anyone but space is limited to 15 spots and seats are filling fast.
Fool Hollow Park Assistant Manager, Fran Frei is excited about the partnership with NPC. "I've wanted to add artwork to the park for a while now," she says. "Murals will bring some life and color to the park." She explains, "Fool Hollow is such a popular place, it's located in the middle of town and there's just so much to see and do here. The park is so unique in itself that I think bringing in murals will be eye-catching and will add character." She adds, "People can have fun with them, take selfies, and get inspired to learn about the unique habitat and species that live here."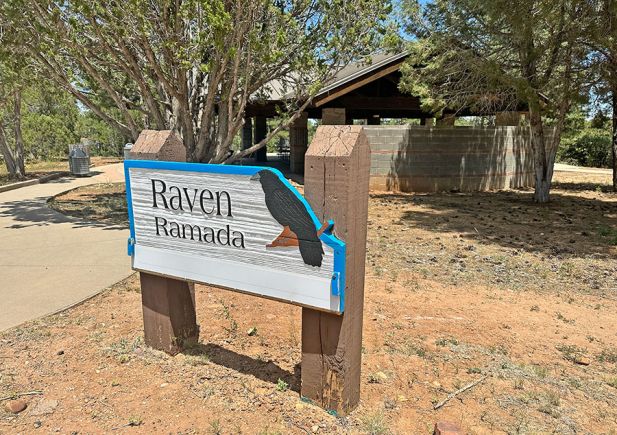 Fool Hollow Lake was developed in 1994 as a partnership between Arizona State Parks, Arizona Game and Fish, the U.S. Forest Service, and the City of Show Low. The park is a wildlife sanctuary developed to protect the animals and various species that rely on the park for habitat. "We would like the artwork to tie into the environment," Frie notes. The art spaces will consist of five ramadas, two large kiosks, walls surrounding propane tanks and bathrooms, as well as the parks' amphitheater and fish cleaning areas. Each area of the park is distinctively named after the area's numerous species including local birds, water foul, and raptors. The camping areas consist of Mallard Loop, Redhead Loop, Bald Eagle Loop, Osprey Loop, and the like, while the day-use areas bear names of Bluebird, Raven, and Meadowlark, among others.
The park is taking donations of paint for the student art projects. Paint of any kind (other than spray paint) will be accepted. Donations can be dropped off at the Fool Hollow Lake ranger station located at the entrance to the park, during regular park hours. The park will also take donations of canopies for use in the student work areas.
Those interested in participating in the outdoor mural art project should contact an NPC academic advisor at www.npc.edu/advising or visit www.npc.edu/fall-classes-2023 to register. For more information about the Introduction to Mural Painting ART 199 course contact NPC Art Faculty Magda Gluszek at magda.gluszek@npc.edu or Peterson Yazzie at peterson.yazzie@npc.edu.