NPC's 2023 Student Art Show showcased a selection of unique works created by NPC students. The exhibit closed with an awards ceremony held at the Talon Gallery on Friday, May 5, 2023. Student participants, awardees, and NPC staff gathered to express their admiration for the art and the students who created it.
"The artistic passion and skill of students at NPC is evident in this year's student art show, states NPC Talon Gallery Director, Magda Gluszek. "This is a curation of the best artwork produced at the college. It is an honor to be involved in this exhibit."
The NPC Student Art Show is juried by members of the NPC art faculty and recognizes student accomplishments in the visual arts. All NPC students (not only art students) are encouraged to participate. The judges review submissions and select the pieces that will appear in the show. Not all entries are exhibited. "Acceptance to a juried show is an honor. It is a distinction that can be listed on a resume and is the type of professional recognition that is essential to any student pursuing an art career," Gluszek explains. "We put a lot of effort into the selection process. Successful composition, craftsmanship, mastery of the medium, and originality are all evaluated."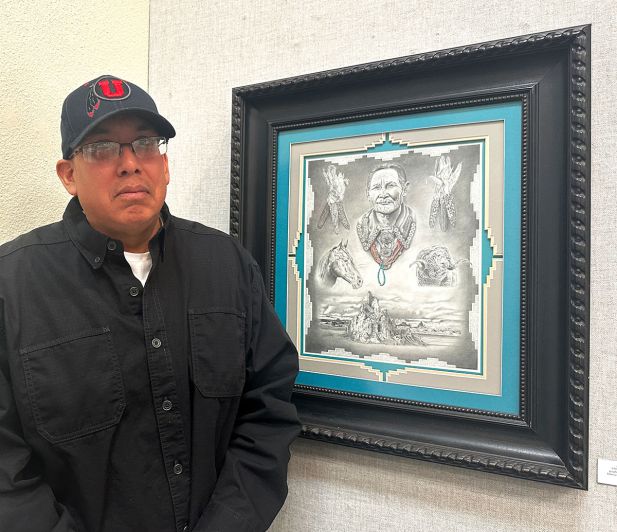 This year's collection displayed just that. The winner of this year's "People's Choice Award" went to a current NPC welding student and Diné artist who has entered his work and won awards in NPC art shows in the past. Aldean Billy's graphite-colored penciled piece "Childhood Memories" depicts intricately detailed visions from his childhood, with particular emphasis on his grandmother and his tribal heritage. In the piece, the traditional dried corn, a sacred plant symbolizing the mother, enabler, transformer, and healer in the Diné culture, is aptly featured abreast of his grandmother's image. A realistic horse and a big-horned sheep, both of which hold significance for family, clanship, and emotional balance in the Diné culture follow. Agathla Peak, a well-known landform located along Route 163 north of Kayenta, Arizona, lies beneath the elements as if indicating that from the earth all things are born, and eventually return. Aldean notes that he may spend months completing a single piece. "Aldean is an extremely patient, detail-oriented, focused, and hard-working artist. He puts a lot of time and effort into his pieces and it shows," explains NPC Art Faculty Peterson Yazzie, who was a juror for this year's show. The piece also received an honorable mention award. Aldean has a degree in art and has taken every art class possible at NPC. A lifelong learner, he has worked as an artist with just about every artistic medium, including stone, and has now undertaken welding as an interest. Yazzie explains, "Aldean just believes in trying something new all the time."
Aldean is not the only one with artistic talent in his family. He currently is taking one of Yazzie's art classes with his father, Bahe Billy. Bahe has a rich and deep-rooted history of lifelong learning and service to others that spans decades. Born and raised in the Navajo Nation, he was self-taught and worked his family's land raising sheep as a child and young man. He eventually went to pursue his education in Utah, earning a degree in horticulture, and was the very first Navajo student to graduate with a Ph.D. from the University of Arizona. Bahe is now retired and currently serves in a role with the tribal government for the Navajo Nation. His piece titled "Busy Day," earned elite distinction by being selected as a special purchase by NPC and will be among the college's official permanent art collection.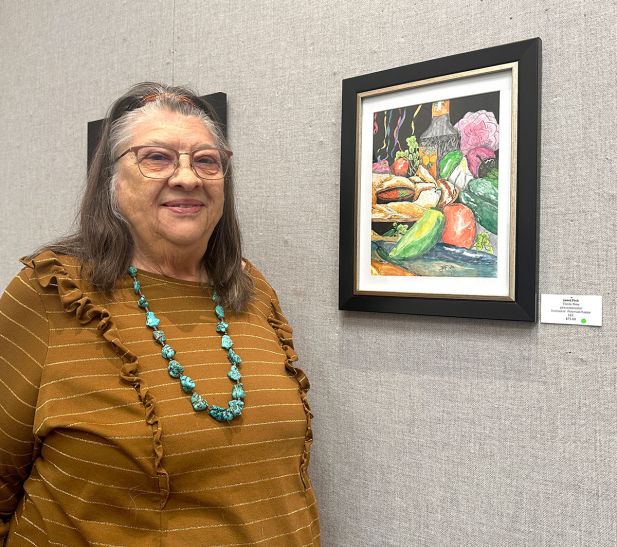 Artist Dorrie Mighton's charcoal "Dreams" also earned a place among NPC's curated artworks. The charcoal piece is an example of "following the instructions for once," she laughs. Having taken multiple art classes at NPC since 2018, she says she tends to always go outside the box when it comes to assignments. Dorrie also earned a first-place award for her watercolor piece titled "Give and Receive." She explains that "Give and Receive" was inspired by family gatherings and how the hands give so much throughout life. "I just feel like they give, give, give, so I just thought, what gives back to me? It's my walks and the sunsets," she says. This piece incorporates both.
Janet Fish, whose penned watercolor titled "Fiesta Time" also earned the distinction of special purchase by the college is another one of NPC's lifelong learners. Having participated in children's theater projects with NPC for many years, she is well-known among the NPC community. She laughingly says, "I've always thought I have to be the oldest student on campus." She says she loves to paint with a lot of vivid colors and her work depicts that. "I can't stand to waste paint," she laughs.
NPC student Jocelyn Hatch took ceramics and art for the first time this past semester and brought home multiple awards. Her 3D ceramic piece "Identity Crisis" placed first in the category. A second watercolor-penned piece, "The Blues" took an honorable mention in 2D art. Jocelyn describes her "Identity Crisis" as a visual depiction of the journey of finding oneself. The female figure is topped with a large question mark begging the question "Who am I." It is wrapped in vines representing feeling entangled and trapped with whatever might constrict you, she says. "The lilies at the base symbolize death, rebirth, and change," she explains.
A first-place award also went to Daelyn Nez, who lives on a small ranch in Indian Wells, AZ, and is studying animal science at NPC. As a lone horse wanders through a meadow under a wild sky, her photograph titled "Maverick," shows her passion for animals and for the beautiful broad landscapes and powerful skies of rural ranchland.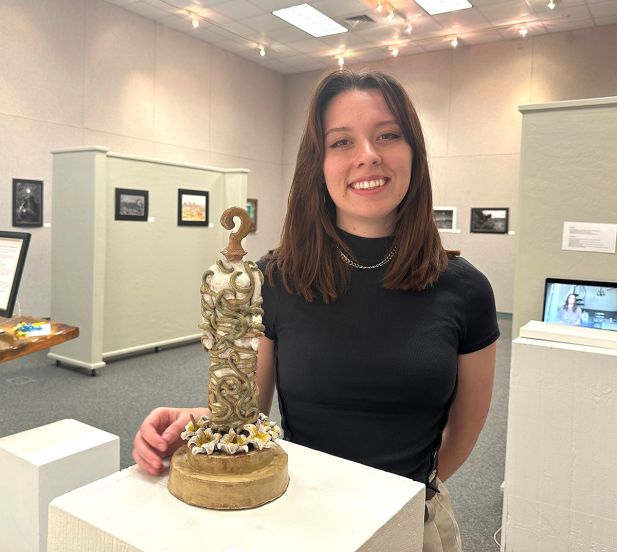 First-place awardee Gideon Brimhall, who is also a very talented actor with recent performances in lead roles for several NPC theatrical productions, received a first-place award for "Color - A Stop Motion Film." This was the first year that film and performance entries were introduced to the show. A fellow talented theater student Savannah Penrod took first place for her Monologue from Dreams in Captivity by Gabriel Davis. Cruz Denetso placed second in the performance category for a Monologue from The Ghosts of Detention by D.M. Larson.
Awards also went to 3D NPC student artists Ashlyn Dighans for her second-place ceramics piece, "Ode to an Activist." Art student Layla Cisco took home a third-place award in 3D art for her dramatic ceramic "Ivy McFly" mannequin which is based on the Monster High character. Honorable mention went to Teri Prokes in the 3D category for her intricate ceramic "Bronze Keeper" keepsake chest. In the 2D category, NPC cosmetology student Adriann Gardner took second place for her "Seahorse" watercolor and Kayce Mehl took third place for "Evening Rain." Photography student Raysha Nosie took second place for "Nightly Walk."
"All of you should be very proud of the artwork you've created and entered in this show. It is an honor to experience your work," Gluszek stated as she announced the awards. "You deserve a round of applause."
For more information on this and upcoming NPC art exhibitions, please contact Magda Gluszek at (928) 532-6176 or (800) 266-7845. ext. 6176 or email magda.gluszek@npc.edu.