Tuition waivers, valued at over $20,000, have been awarded to four students from Northland Pioneer College (NPC), to complete their bachelor's degrees at one of Arizona's three public universities. The Arizona Board of Regents awards waivers, for up to 60 credits, to encourage the state's top scholars to finish their educations as members of the All-Arizona Academic Team.
Two students from each NPC campus and center location may be nominated to the All-USA team which automatically places the nominees on the All-Arizona Team. To be eligible, a student must have a cumulative 3.5 or higher grade-point average, be working toward an associate degree, and demonstrate college or community volunteerism and leadership.
Receiving tuition waivers will be NPC students Ashlyn Dighans (Holbrook nominee), Deedra DeWitt and Emily Harris (Show Low nominees), and Paige McKenna (Snowflake nominee). The students will also receive scholarships from NPC.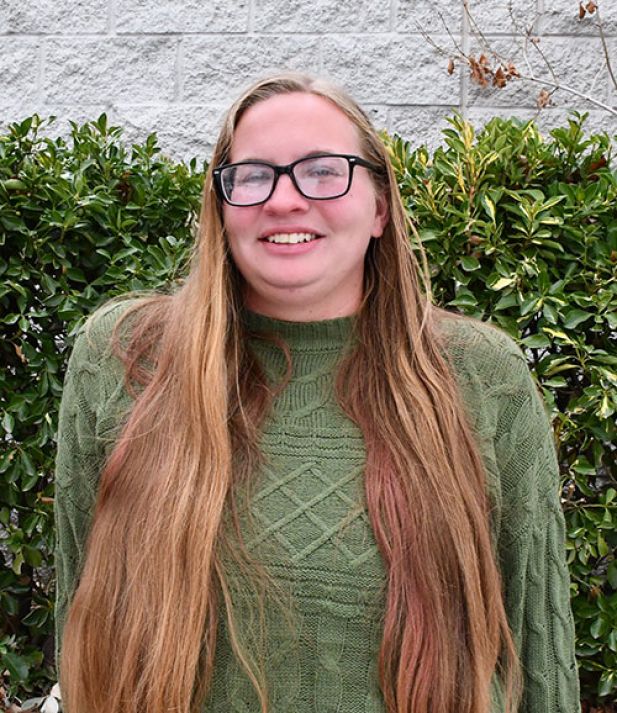 For recipient Ashlyn Dighans, life hasn't been easy. Both of her parents were middle school dropouts who spent most of their lives incarcerated due to drug-related problems. Dighans spent her childhood in and out of the foster care system and was passed from home to home and from one extended family member to another. In high school, she was fortunate to attend Orme, an international co-ed boarding school located outside of Flagstaff where she had roommates and developed friendships with students from diverse cultures all over the world. Dighans relates, "I realized from an early age that I had to be self-reliant to survive and make a better life for myself. A lot of people in my life told me I would end up like just my parents. I was determined to prove those people wrong."
Dighans has been passionate about horses her entire life. Her childhood best friend was a horse whom she learned to ride and care for from an early age. She developed an interest in equine medicine after visiting "Options for Animals," one of the few equine chiropractic colleges in the United States.
As a young adult, Dighans had an opportunity to participate in an internship through AmeriCorps with the Bureau of Land Management (BLM) Wild Horse and Burro advocacy program where she conducted field monitoring, assisted with a wild burro birth control project, and responded to emergencies involving wild and stray horses and burros.
In 2020 she moved to the Navajo reservation and became involved in equine and animal advocacy. Dighans volunteered with several animal advocacy groups assisting in the medical treatment and the rescue and rehoming of abandoned and mistreated dogs and livestock on reservation lands. She became a leader in the effort and began drawing attention to the need, educating residents within the communities, and pursuing approval from tribal leaders to take further action.
Dighans always knew she wanted to help animals and after attending several classes at NPC she became inspired by the support the college and faculty offered. "I realized for the first time in my life that I had a chance to go somewhere, be something, and make a difference," she said. Dighans attends classes in Holbrook and currently lives off-grid on two and a half acres near the Petrified Forest in a home powered by solar electricity. Ashlyn hauls her own water for everyday use. She has two donkeys Effie and Cinna, two horses Moses and Folsom, and a dog named Atlas. Most of her animals are rescues. "My favorite animals right now are definitely my donkeys," she notes. "They make my life better."
Dighans will graduate from NPC this May among the top of her class. She plans to attend the University of Arizona and study at the Al-Marah Equine center in Marana. She hopes to one day become a veterinarian and equine chiropractor specializing in orthopedic surgery and work with equine athletes. After realizing that wild horses are affected by colic at a much lesser rate than domestic horses, (which her childhood horse and best friend died of last May), Dighans would also like to pursue scientific and medical research. She wants to investigate why the disease affects horses in domicile habitats more often than those living in the wild.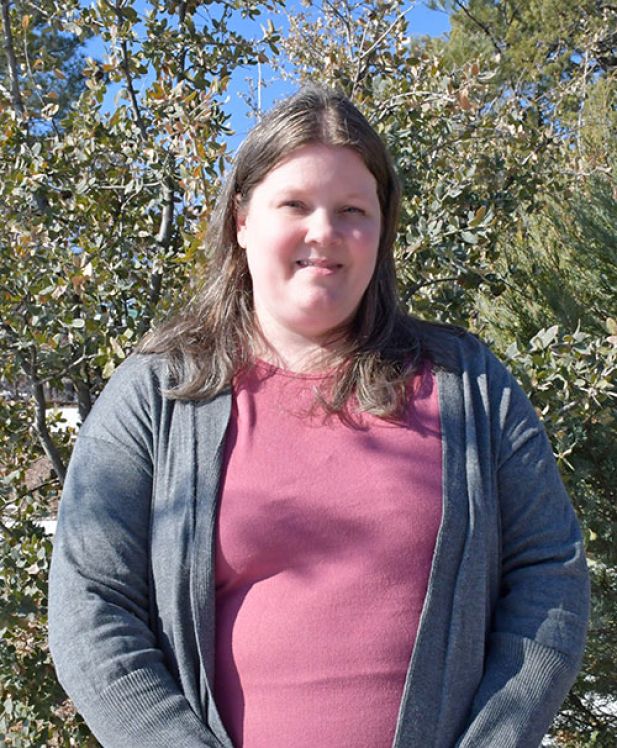 Fellow teammate Emily Harris has also had her fair share of struggles. She married shortly after graduating high school and took a 20-year hiatus from education while raising children and building a family. During that time, she suffered the tragic loss of one child and gave birth to four more. As her marriage grew toxic and riddled with domestic violence, she finally summoned the courage for a divorce. She took her four children and found safety. Harris notes "we were lost for a very long time. We had no direction, no drive other than basic survival."  She soon realized that something needed to be done and began taking steps to better herself and her family. She sought therapy for herself, and her children, and a bright new journey began. "We started to become a family; to communicate, to laugh again, and to love." She witnessed the substantial change it made in her children. "They were smiling more readily; their anxiety had greatly reduced. I started seeing a huge improvement," she said. Harris then realized her purpose – she too wanted to help children improve their mental health and well-being.
She became motivated to go back to school and show her children that someone can go from rock bottom, climb out, work hard, do well, and triumph. Harris explains, "We are survivors, no longer victims, and we are going to succeed together."
She credits her and her family's bounce back to her therapist's support. "She helped me learn coping skills, mindfulness, trauma processing, and the ability to handle the stresses that life throws at me." She said, "Our community has been rattled by teen suicides, and as a mother, I feel driven to do something about it." Harris has started a text message community mental health outreach project in which she, along with several other mothers, built a support system for their children, their children's friends, family members, and others. "I spend several hours each week researching coping skills, mindfulness skills, and grounding techniques," she explains. "After adapting them to meet their individual needs, I create messages that are uplifting and helpful and share the information with the participants." She said, "We serve as a support system for ourselves and our children." Harris also provides resources for professional help including mental health crisis hotline numbers, as well as therapy, rehabilitation, and trauma services. "We had to gain the children's trust and maintain deep relationships with them; let them know that we are here for them and that it is safe for them to talk to any of us," she said.
Harris is now closer to realizing her dream of becoming an influential force in the lives of children and communities. She will graduate from NPC this May and will attend ASU next Fall. She is pursuing a degree in behavioral health and psychology and plans to work with at-risk adolescents and trauma survivors in a clinical setting one day. She also hopes to extend her community outreach efforts by leading mental health projects in local high schools. "I have surprised myself with my leadership," she said. "I am discovering a new me and love her." She continues, "As a leader, I want to see others succeed. I celebrate when they celebrate. When I get involved in a project, I jump in with dedication and commitment. I make the sacrifices needed and have zero regrets."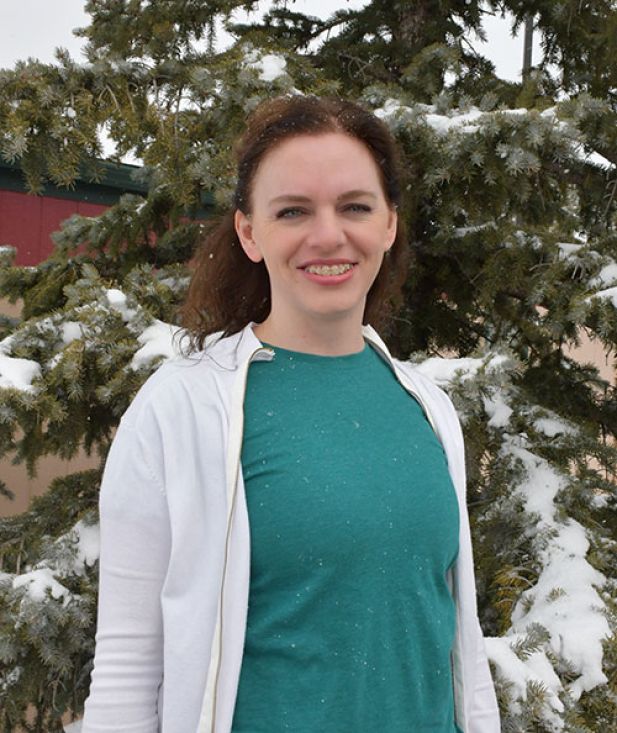 Like Harris, fellow All-AZ awardee Deedra DeWitt is no stranger to hard work and dedication. DeWitt is married and is the mother to four children, twin girls, and two boys. She is enrolled in NPC's nursing program and currently works in the obstetrics department at Summit Hospital with mothers and their new babies. 
DeWitt's third child was born with a genetic mutation. "We spent eight years trying to find a diagnosis and get him the help he needed," she explained. "We spent hours in therapy sessions because we wanted him to have the best chance possible in life," she said. He's been in physical and occupational therapy since he was eight months old. "We have learned so much through the experience. I have learned so much as a person." She related, "It involves a lot of hands-on effort and working with him, learning new things, and researching and studying ways to help him."
Her experience with her son led to a desire to fill the critical needs in the nursing profession. DeWitt looks forward to training as a labor and delivery nurse. "Having a baby is a beautiful process," she said. "I love talking to families and getting to know them. The reality is that just as in any medical field, anything can happen in a labor and delivery unit. While the goal is to have a healthy and smooth journey, sometimes there are challenges and bumps along the way." She admitted, "I've held babies who weren't born alive for a variety of reasons. I've held hands with the mom who had an unplanned emergency cesarean. It takes compassion and care, a lot of hard work, and immense determination. That's what we are here for, to do our very best for mothers and their babies." She continued, "Most of the time it is a family's best day, but sometimes it can be their worst day too. Regardless, at the end of the day, if you do your very best to make a difference, it's worth every second." She explains that one of her favorite quotes by Jocko Willink; 'discipline equals freedom,' is her family's motto. When we are disciplined, we can accomplish so much. When we take ownership of our life, we have the power to change and improve."
DeWitt said, "I have four children who are watching me. They are my greatest motivator for success. I want them to understand that they can do anything if they put their mind and effort into it. I love that they get to see that and be a part of it with me." She adds, "There is no way I could do this without my husband and his support. He has taken on everything at home so that I can focus on school. He does it all."
DeWitt is also involved in music and theatre and previously worked as a music director for a small local performing arts center in Snowflake. She enjoys helping youth in the community gain confidence in themselves. "Music is one of my passions" she explains. "I like to help students learn how to prepare for and perform in front of audiences without fear. It's something that can be very intimidating for many." 
DeWitt will pursue her studies at ASU and complete training to become a labor and delivery nurse. She hopes to continue her education and become a registered nurse and practice in women's health. Ultimately, she hopes to attain her master's degree and teach future nurses.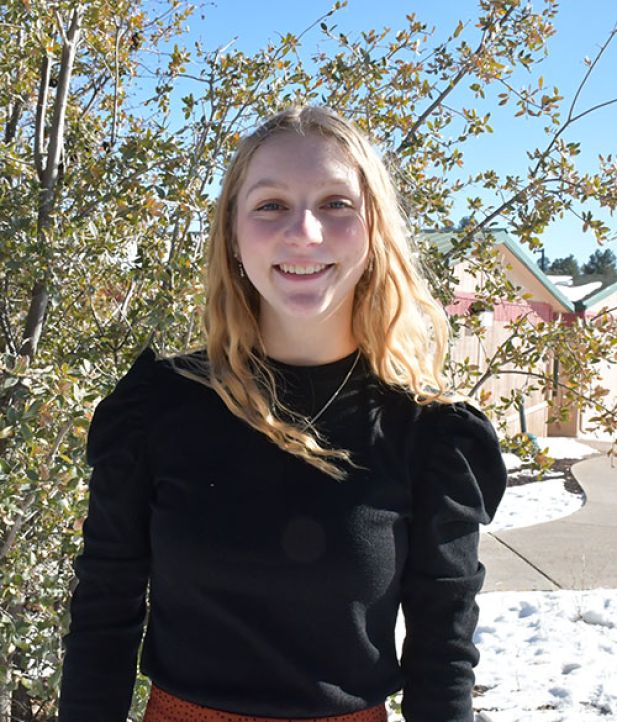 Like DeWitt, All-AZ recipient Paige (Teresa) McKenna is an avid music enthusiast and is all too familiar with performing under pressure, serving as a leader, and pursuing her passions. She loves the performing arts and anything having to do with music and theatre. Paige currently attends Show Low high school and will graduate in May at the top of her class. Having completed her degree requirements while attending high school, she will also graduate from NPC with her associate of arts degree this spring. She is active in the high school choir and theater programs and is the section leader and student director for Show Low High School's top choir group, "ShowBiz." She is also the managing editor of the school's yearbook and is president of the National Honor Society at Show Low High School. She has performed in multiple local musicals and theatrical productions, and recently played the role of Beth in NPC's production of "Little Women." Somehow managing to find time in her busy schedule, McKenna also volunteers in the local "Teen Court" program and works as a nanny part-time.
McKenna stated, "I have always had a passion for history and writing and I really want to travel." She plans to study history and foreign languages while pursuing a degree in journalism and the media arts. "I believe it blends my ambitions and talents quite well." She hopes to become a journalist delivering information on impactful events from around the world. When asked what her "dream job" would be, she laughed, "Realistically - to make a true impact as an investigative journalist. Ideally – Broadway."
These NPC students, along with other top community college scholars from around the state, will be honored at a luncheon and awards presentation held in their honor on Wednesday, February 22, 2023, in Tempe AZ. For the past 27+ years, Arizona has separately recognized the state's top two-year college students as a part of the All-USA Academic Team program, co-sponsored by the American Association of Community Colleges, Phi Theta Kappa International Honor Society (PTK), Follet Higher Education Group, the Coca Cola Scholars Foundation and USA Today.
To learn more about NPC's All-AZ academic team program, details on the scholarship, and a complete list of past NPC recipients, visit www.npc.edu/past-AllAZ.