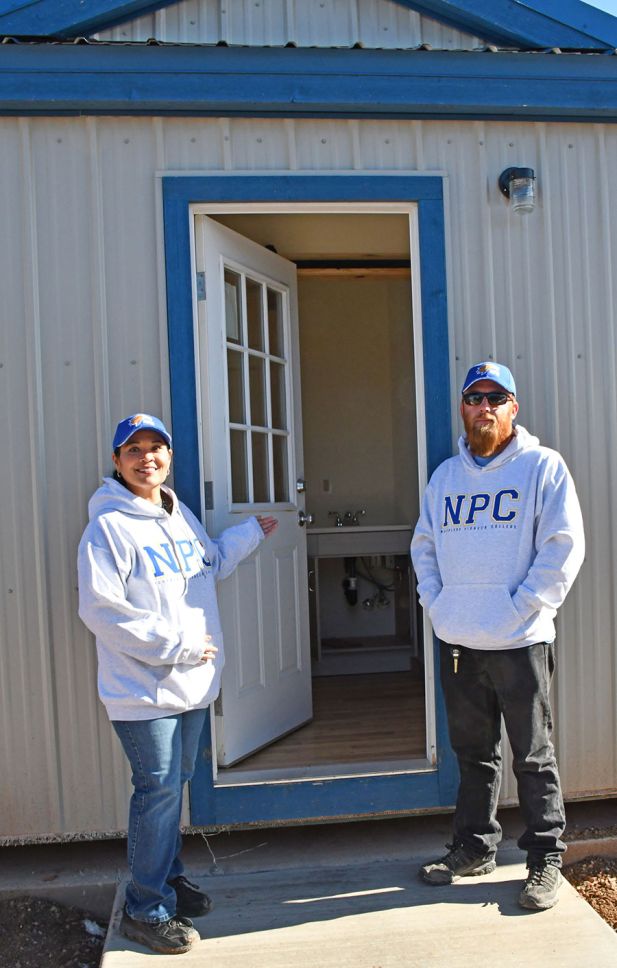 Tackling home improvement projects became a lot less intimidating for four community members who recently took part in a special class offered through Northland Pioneer College's (NPC), community and corporate learning department. Thanks to that course and those students, housing for recruits enrolled in the Northern Arizona Law Enforcement Training Academy (NALETA), based at the Northeast Arizona Training Center (NATC) in Taylor Arizona has become reality. NPC offers a fully accredited two-year Construction Technology program for students at the Painted Desert Campus Skill Center in Holbrook. However, for the first time this past fall, the college introduced a new hands-on non-credit class for members of the community who wanted to learn how to install home and finish trim projects, including plumbing and electricity. Students installed toilets, sinks, faucets, water supply lines, interior, and exterior light fixtures, base molding, door jambs with case molding, and barn doors with tracks.
Several years ago, NPC began building what will eventually be nine fully finished and ready-to-live-in tiny homes at the NATC. The homes will provide temporary housing for police academy recruits enrolled in the intensive 21-week Peace Officer Standards for Training (AzPOST) course offered through the college. The construction of the tiny homes has been and continues to be completed by NPC students who are enrolled in the construction program. However, Jorge Meza, faculty in construction at NPC, explained the homes are not "ready to go" upon delivery to the site. He said, once they are transported to the facility and placed on the foundations, there is still work to be done. Finishing trim and installing doors, lighting fixtures, and plumbing are required to make them livable. He explained that there are no toilets, sinks, vanities, lights, or heat and hot water systems in the 'shells' of the tiny homes.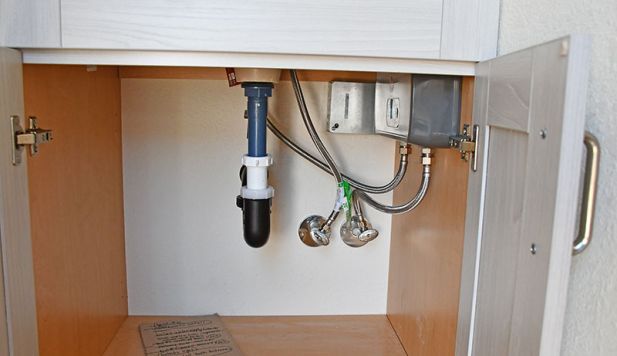 Meza, with the assistance of NPC's community and corporate learning department, developed the new nontraditional student-oriented non-credit DIY home improvement class to not only help the NATC facility and incoming cadets (by getting the project finished and the homes livable) but to also teach home improvement skills to the community. The eight-week class convened Tuesdays, Wednesdays, and Thursdays, October through November for nine hours per week. "It was amazing how much work was completed in such a short amount of time," Meza said. The students completed four out of the five homes currently at the location, and the fifth is near completion. Meza notes, "It was a really good group, and they did a lot of really great work."
Dale Click and Cecilia Larsen were two of the students enrolled in the class. Larsen said that upon hearing about the class she signed them both up immediately. "It was right up our alley. We were wanting to do some handyman work for family and friends, and I wasn't confident with electrical work, plumbing, and such. I'd just never worked with it. Once I found out the class was completely hands-on, I was in." Through the course, Larsen said, "I've learned a lot. I've become more empowered and confident, and I now know I can do it." The projects had to be completed to code and students learned what the county, state, and professional compliance specifications entailed. This included wiring and electrical work for installing on-demand cost-effective hot water systems, as well as water supply lines and wiring for lighting. "Those were new skills and things that I had never worked on before," notes Larsen. "We're now in a position where we can help with handyman work for our family and friends, and maybe even start a little handyman business ourselves," she said. "If it hadn't been for this course, I wouldn't have the confidence to do a lot of this by myself."
"This worked out really well for everyone involved," Meza said. "The college, the construction department, the students, the NATC facility, the NALETA program, and our community as a whole. It was a win-win for all who were involved." Larsen and Click are excited and proud to have finished the tiny homes for the new police cadets knowing the recruits will one day serve and protect our white mountain communities. "Now that I've worked on this, I want to be involved in all of it. I am excited to see the project through to fruition; to have the homes used and lived in by future officers," Larsen said.
To learn more about NPC's Construction Technology program and any upcoming community construction DIY classes at NPC, contact Jorge Meza at (928) 524-7456, or email Jorge.meza@npc.edu. Additionally, NPC offers a variety of non-credit classes. To see the spring 2023 offerings visit www.npc.edu/ noncredit-classes, call NPC's Community and Corporate Learning Department at (928) 536-6244, or email ccl@npc.edu.