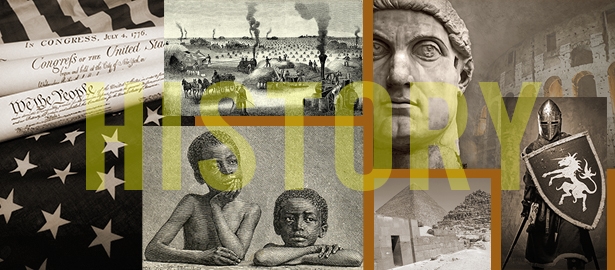 Why study history?
Are you:
always searching for "the facts"
never content to just accept what someone else says, but have to look it up yourself
insatiably curious
able to look at events in context
a lover of oral history and remembering the past?
Then you'll love studying history!
History is the study of the past, which is a vast and vital laboratory of human experience. Informed citizenship, critical thinking and awareness of far-reaching social and political issues are the basic benefits of studying history.
Northland Pioneer College history classes emphasize building communication, writing, analytical and research skills vital for success in college and careers. The study of history is an ideal foundation for the pursuit of careers in education, business, politics, public administration, law, journalism, libraries, archives, museums and parks.
Why Choose NPC?
At NPC you'll receive a high quality college education with small class sizes and dedicated professors who are committed to your success.
Contact Us
Dr. Amy Grey
Snowflake/Taylor – Silver Creek Campus, Student Center
(928) 536-6248  |  Email
Andrew Hassard
Show Low – White Mountain Campus, Goldwater Center, Room 126
(928) 532-6128  |  Email
Studying history provides essential training in basic research and communication skills that are central to so many careers today. If you decide to continue on to a university and major in history, career path options vary from education, law, journalism, public relations, technical writing, fundraising, administration, research, domestic and foreign government service and politics – just to name a few!
NPC offers five different transfer associate degrees that all meet the general education requirements of the Arizona General Education Curriculum (AGEC), of which history is a part. This means that general education courses completed at NPC transfer as a block, without loss of credit, to Arizona State University (ASU), University of Arizona (UofA) and Northern Arizona University (NAU). Find out more at the AZtransfer website.
World History: Prehistory to 1450 CE (HIS 101)
Survey of the rise of complex societies, the formation of classical civilizations worldwide, cross-cultural exchange, technological and environmental change, oceanic exploration and the origins of the modern world.
---
World History: 1450 CE to Present (HIS 102)
Survey of world history from 1450 CE to the present, including such topics as: empires, globalization, colonization, nationalism, slavery, exploration, global economic changes, industry, revolution and world wars.
---
U.S. History to 1877 (HIS 105) 

​SUN # ​HIS 1131Shared Unique Number - assigned to all guaranteed transferable NPC courses. See www.azsunsystem.com
Study the political, social, economic and cultural development of the United States from pre-European contact through post-Civil War reconstruction. Explore the interactions between Native Peoples, Africans, Europeans and the developing creole Americans in colonial and national contexts.
---
U.S. History Since 1877 (HIS 106) 

SUN # HIS 1132Shared Unique Number - assigned to all guaranteed transferable NPC courses. See www.azsunsystem.com
Study the political, social, economic and cultural development of the United States from the Civil War up to the present. Focus on the lives of individuals who were active in making the history of the United States in the 19th, 20th and 21st centuries.
---
Southwestern History (HIS 110)
This course explores the multiple histories of the U.S. Southwest, with an emphasis on Arizona. Connect prehistory to the historic Pueblo cultures, study the arrival of the Spanish, the development of the Republic of Mexico, the Mexican-American War, arrival of the Americans, the establishment of U.S. territories and end with exploring the 20th century character of the Southwest.
---
Western Civilization to 1700 (HIS 155)
Learn about the beginnings of "civilization" with the first known agricultural societies of Mesopotamia and Egypt, as the foundations for what is considered "Western" civilization. Then study early European-centered civilizations, Greece and Rome, the "Middle Ages" and into early modern Europe with the Renaissance and Enlightenment.
---
Western Civilization since 1700 (HIS 156)
Study the changes in Europe that resulted from the Renaissance and Enlightenment, and the exploration and "discoveries" of places outside of Europe, which, once conquered, provided the resources and wealth that allowed Europeans to further dominate and either shape, acquire or limit the potential of the rest of the world.
---
History of Women in America (HIS 201)
Thematic survey of women's lives in North America with an emphasis on the impact of gender across lines of race, ethnicity, religion and nationality.