Dr. Richard Harris
Faculty in Spanish & Education
Arts & Sciences
Rich joined the NPC faculty in 2011.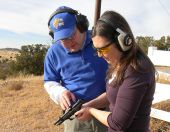 Harris is a certified NRA instructor in pistol, rifle and shotgun and is an NRA Certified Range Safety Officer. As a full-time Spanish, humanities and education professor for NPC, he understands the various learning styles of students, and adapts his training to meet the needs of students. These courses, while noncredit, still maintain the high standards for instruction required by NPC's national accrediting agency.
Harris is a Distinguished Graduate of Front Sight Firearms Training Institute, and has earned a Distinguished Expert rating in Pistol, Trap Shotgun and Light Rifle in the Winchester/NRA Marksmanship Qualification Program. As an active United States Practical Shooting Association (USPSA) member and competitor, he holds local club rankings in Limited, Unlimited, Production and Single Stack Pistol divisions. He actively competes in 3-Gun competitions, where he holds a Master Class club ranking in the Heavy Metal Division. He also competes in Cowboy Fast Draw competitions with his children.
Education:
A.A., Mesa Community College;
B.A., M.A., Arizona State University;
Ed.D., Northcentral University