Current high school and home school students can earn up to 28 college credits tuition free with the College Bound scholarship!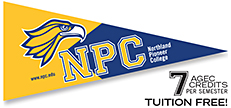 Open to all high school and home school students in Navajo and Apache counties. Must be an Arizona resident and at least 14 years of age. Students must have at least a 3.0 grade-point average or meet required placement test scores.
Criteria
Applicant is required to take a placement test(s) before enrolling in NPC classes.
Submission Requirements
Students must submit a new application form for EVERY semester they apply.
Students should contact their high school guidance counselor and have them print out, complete and sign the scholarship Application Form.
Student should then bring the completed application form to any NPC location and meet with an NPC academic adviser who will help you complete the application process.
Funds are limited and awarded on a first-come, first-serve basis.
Awarded
Scholarship is available in the fall and spring NPC semesters for classes AFTER 2:30 p.m. Summer semester availability is contingent upon any remaining scholarship funds.
About
Scholarship covers up to 7 general education (AGEC ) credits per semester, with a total award cap of 28 credits per student (see application form for qualifying classes). All other expenses including fees and textbook(s) are paid by the student. Scholarship is a tuition waiver, not a cash award. Scholarship only applies to courses taken after 2:30 p.m.
Final Deadline Text
Spring 2020 – Friday, January 17, 2020
Summer 2020 – Friday, May 29, 2020
Fall 2020 – Friday, August 21, 2020
Late start courses – Day before class starts
Questions
Questions Contact the NPC Financial Aid Office at (928) 524-7318.  |  email
Cumulative Grade Point Average (GPA)
3.0