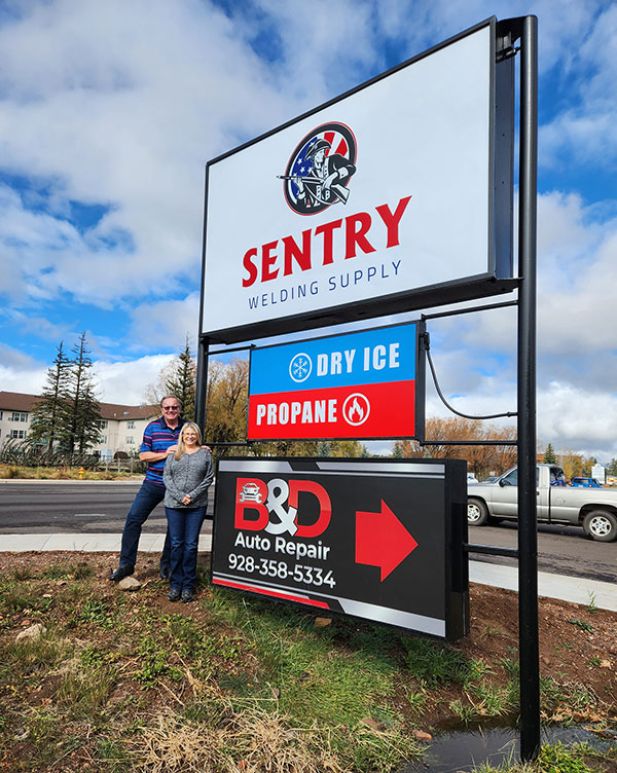 Douglas Seaman, owner of Sentry Welding Supply in Lakeside demonstrated his passion for, and commitment to, post-secondary education this fall, when he provided three scholarships to NPC Friends and Family for Northland Pioneer College (NPC) welding students. Applications were accepted from students at all three welding program locations; Show Low, Holbrook, and St. Johns. Seaman explains, "My goal is to encourage more businesses to join NPC's effort to help as many students as possible." NPC Friends and Family is delighted to congratulate the three inaugural awardees.
Two students at the Painted Desert Campus in Holbrook each received the $500 Sentry Welding Supply Scholarship. Farrell Baldwin is Salt People Clan, born for Big Water Clan. Originally from Klagetoh, Arizona, Farrell commutes from his home in Ganado to the Holbrook campus, a round trip of 102 miles, three nights per week. He began to pursue an Associate of Applied Science in Welding during the summer of 2022. When he completes his fall-semester classes, he will have earned Level I and II Welding certifications. He earned a 4.0 for his first nine credits. He still has Level Ill to complete and has sixteen credits of general education to take. Baldwin wrote in his scholarship essay about overcoming poverty, depression, discrimination, domestic violence, substance abuse, and health issues, he states he is "….learning to love myself for who I was and who I am now." He plans to complete his degree in May 2024 and start a career as a welder.
Alan LeSueuer of Snowflake has been the locksmith at the Arizona State Prison Complex in Winslow since 2016. He began taking classes toward his Associate of Applied Science in Welding in the spring of 2021. LeSueuer wrote, "I work 40 hours a week most weeks, but some weeks there are emergencies that require attention, and I'm easily getting eight hours of overtime." Like Baldwin, LeSueuer attends his welding classes in the evenings. He reports that he is already using the skills he is learning in the welding program at his current job. Alan aspires to start a welding business after earning his degree.
David Cummins, a student in the St. Johns Welding program, shared in his essay that he grew up living off-grid in a canvas army tent, while he and his siblings worked with their father to build the family home. Cummins and his siblings learned how to lay a foundation, frame a house, wire electricity, and install plumbing from their father. They built a house that was fully self-sustaining with wind and solar power. Cummins's experience in helping to construct his family's house led him to a lifelong love of building and working with his hands. He is a young father who cares for his children while his wife works during the day and takes classes toward his degree in the evenings.
Since the Fall of 2014, NPC Friends and Family has awarded over 500 scholarships to NPC students, making a tremendous difference in their pursuit of post-secondary education. To learn more about NPC Friends and Family, and how you can help to transform a student's life, contact Betsyann Wilson at 928-536-6245 or betsy.wilson@npc.edu. You can also make a tax-deductible donation at www.npcfriendsfamily.org.