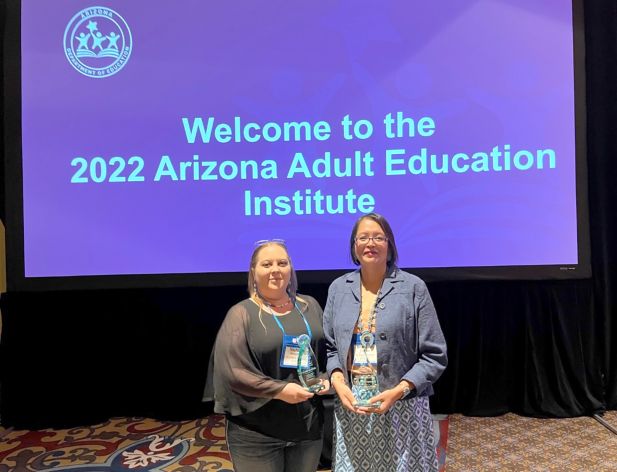 Northland Pioneer College (NPC) employees received topmost distinction among their peers at the 2022 Adult Education Institute, Arizona Association for Lifelong Learning (AALL), and Arizona Department of Education (ADE) awards ceremony held Saturday, September 10, in Tucson AZ.
Nichole Hendricks leads NPC's English Language Acquisition for Adults (ELAA) program and was named AALL's Educator of the Year. She was also awarded an EdTech Maker Space leadership badge by the Arizona Department of Education.
NPC Faculty in College and Career Preparation (CCP) Shandiin Deputee received AALL's Lifetime Achievement Award in Honor of Francis E. Blake. Fellow CCP faculty member Harishika Bhatt received EdTech Strategy Toolkit; LEAD Institute; and EdTech Maker Space leadership badges from the Arizona Department of Education.
As the Educator of the Year Award recipient, Hendricks has worked in adult education for 16 years. She is currently obtaining her master's degree in organizational leadership. The award honors an educator that has four or more years of active service in the field of adult education as either a full or part-time instructor and has displayed leadership, demonstrated professional excellence, and contributed to the field of lifelong learning.
Henricks first joined NPC in 2006 as a learning assistant entering data and providing student support. She has since worked her way up, furthering her education and experience, and now plays a critical leadership role as the ELAA Instructor and Success Coach for NPC's Adult Education program. "Nichole is a wonderful example of 'grow your own,'" states NPC Associate Dean of College and Career Preparation Gail Campbell. "She has certainly come through the ranks to become a faculty member held in high regard by her students, staff, and peers."
Campbell explains, "As an educator, Nichole is the first to embrace new technology and works hard to stay current with best practices in adult education." She provides her students with opportunities to practice in real-world settings. Prior to the pandemic, she routinely held field trips and outings with her students to expose them to English-speaking events while providing a safety net - supporting them in practical learning. Hendricks works closely with employers to support students with their careers, building their vocabulary and the skills that apply directly to their individual needs.
One such student and current NPC employee Reina Arizmendi agrees. "I started taking English classes with Nichole, and ever since she has been an important part of my growth as a student and now as an NPC employee. She has given me the motivation I have sometimes needed to continue my growth. I am grateful to have her in my life."
Like Hendricks, awardee Shandiin Deputee is also a veteran of lifelong learning. Deputee has devoted over 18 years to her students, their families, and the Apache and Navajo county communities. She took home the Lifetime Achievement Award in Honor of Francis E. Blake. This coveted award honors an educator who has given a minimum of five years of contribution to the field of Adult Education and has positively impacted or added value to the concept of learning as a lifelong process. In addition, the awardee must have served the field and their colleagues in diverse ways and demonstrated professional excellence in this arena.
Covering a service area of over 21,000 miles in both Navajo and Apache counties, Deputee certainly goes above and beyond to develop relationships with her students, learning more about them to help them succeed. Campbell notes, "Shandiin works to engage students in their family's lives, fully understanding that this level of caring is what is required to assure student success and persistence." She reaches out to the communities, attending events and social functions to assure that education is part of the culture, and she is active on committees with local school boards, NPC, and adult education to spread the word about education.
A fellow co-worker of Deputee's, Tiffani Martin, states, "Shandiin has always led by example and is continuously encouraging those around her to strive for more. It is apparent that she wants people to succeed, and she gives that opportunity to her students, staff, family, and friends by being supportive, intuitive, and knowledgeable. She donates her time, resources, and heart to her community and brings more to the table than just an education for her students. She checks to see that her students are fed, that they have the basic supplies needed to survive, and that they can attend class either virtually or in person. She not only does this for her students, but for her coworkers as well, and when she finds that needs are not being met, she endeavors to find a solution."
These awards are two of nine given each year to educators from around the state by the AALL. The mission of the organization is to highlight and improve opportunities for educational growth by promoting and inspiring lifelong learning and adult literacy in Arizona. For more information on the AALL visit https://aafll.wildapricot.org/.