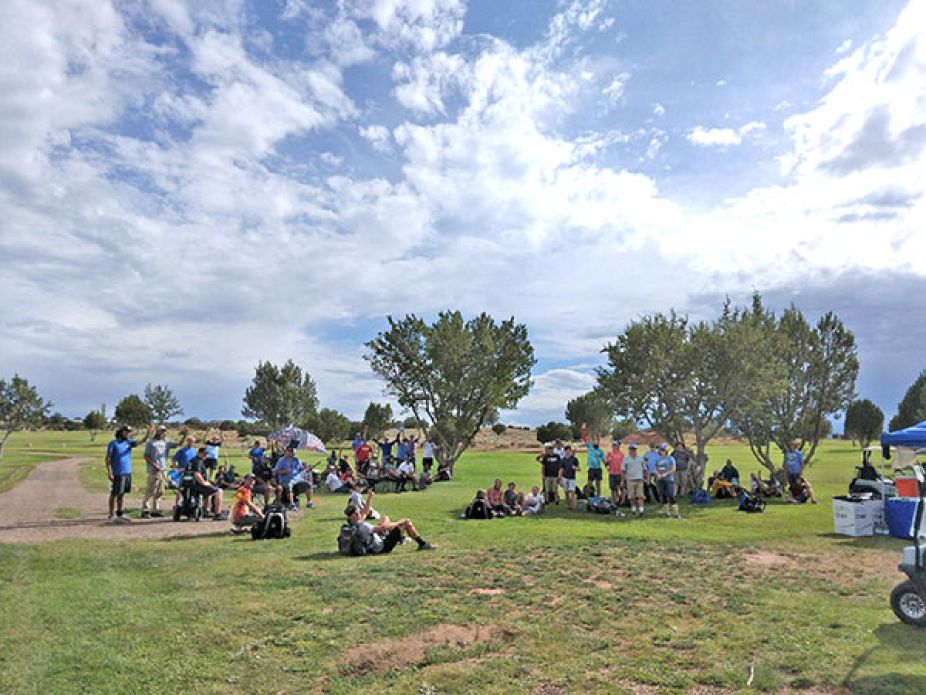 A beautiful day of disc golf competition at the Four Seasons Disc Golf Course on Saturday, June 25, brought in over $2,500 for Northland Pioneer College Friends and Family scholarships for US military veteran students at NPC.
This annual tournament was the first since COVID put the event on hold in 2020 and was the first disc golf tournament Friends and Family has hosted that was sanctioned by the Professional Disc Golf Association (PDGA). It was produced in partnership with the towns of Snowflake and Taylor and brought professional and amateur disc golfers from around the southwest, with players vying to qualify for the PDGA Masters (Pro & Am) Disc Golf World Championships, which are scheduled for July 11-15, 2023 in Flagstaff. Of the 80 players who registered, 58 (73%) traveled over 100 miles to participate. The Four Seasons Disc course is nestled nicely within the Snowflake Municipal Golf Course and was designed by Disc Golf Hall of Famer Dan Ginnelly and "Snowflake" Steve Johnston, two pioneers of the sport.
The tournament's hefty pro purse was sweetened by $2,000 through donations of $1,000 each from the Towns of Snowflake and Taylor and drew the attention of well-known disc golf professionals, noted for throwing distances well over 600 feet plus. There are over 226,000 disc golfers registered with the Professional Disc Golfers Association, (PDGA) worldwide, a figure that has nearly doubled in the past four years. Pros playing in this year's tournament rank among the top 1% of that elite group.
The Men's Pro Open class was hotly contested. Those in this category included Zach Lyons-Wade of Glendale and Tanner Patoni of Gilbert who tied as the overall leaders in the division, each with a score of 100. Par for the pro course was 58 on 18 holes, so with two rounds (36 holes) played, Lyons-Wade and Patoni were 16 under par. The tie required a playoff, which was ultimately won by Lyons-Wade. There was a three-way tie for third place, between Joshua Johnson of Flagstaff, Mike Lassuy, also of Flagstaff, and Nicholas Duran of Lakeside, each of whom posted a score of 101. Per PDGA tournament rules, the three split the third-place purse.
In a highlight of this year's tournament, two players, Derick McCabe of Flagstaff and Matt Ripley of Glendale threw "aces," the disc-golf equivalent of a hole-in-one. Both accomplished the feat on the same hole, requiring a tricky throw that would either land the player's disc in the basket, leave it short in a sand trap, or off the edge of a small embankment. Both players had opted into a $5.00 ace pool. They split the winnings, and Ripley generously donated his half, over $120, to NPC Friends and Family for scholarships. NPC Faculty in History and Geography, Andrew Hassard, won second place in the MP55 division and also donated his winnings.
Players competed in categories for both men and women, pro and amateur, as well as under the age of 15. Gift bags given to participants included custom tee-shirts and bright tournament discs among other goodies. Winning players also received custom slate trophies designed and built by Falling Putt. In addition to the towns of Snowflake and Taylor, major sponsors of the event included Summit Healthcare, and the Professional Disc Golf Association, who waived all tournament sanctioning fees for the charity event.
"This is a tournament that is growing in size and recognition year to year," noted Betsyann Wilson, Executive Director of NPC Friends and Family. "Money raised goes directly into scholarships. Since 2014 we have awarded over 500 deserving students an opportunity to transform their lives by opening a path to a college education with scholarship assistance through Friends and Family. This particular tournament raised scholarship monies exclusively to assist veterans of the armed forces who are enrolled at NPC, a segment of our society that is in undeniable need these days."
NPC Friends and Family will be hosting their next fundraising event, "Pedal the Petrified" Saturday, October 1 at the Petrified Forest National Park outside of Holbrook. More information about the event can be found at www.npc.edu/pedal4scholarships.
To learn more about NPC Friends and Family, visit their website, www.npcfriendsfamily.org, or contact Wilson at (928) 536-6245.
Top Pro and Advanced Am Scores by Division (Par 58 on 18 holes; two rounds played):
MPO (under 40 male):
*Won the tie-breaker
1– Zach Lyons-Wade, Glendale, AZ – 100*
2 – Tanner Patoni, Gilbert, AZ – 100
3 – Joshua Johnson, Flagstaff, AZ – 101
4 – Michael Lassuy, Flagstaff, AZ – 101
5 – Nicholas Duran, Lakeside, AZ – 101
MP40 (over 40 male):
* Won the tie-breaker
1 – Ryan Johnson, Flagstaff, AZ – 105*
2 – Aaron Verhoff, Flagstaff, AZ – 105
3 – Ija Kothrade, Mesa, AZ – 108
4 – Steven Carillo, Flagstaff, AZ – 111
5 – Rick Kinkle, Flagstaff, AZ – 112
MP50 (over 50 male):
1 – Bradley Brice, Tucson, AZ – 110
2 – Benny Serna, Lakeside, AZ – 122
3 – Steve Johnston, Snowflake, AZ - 129
MP55 (over 55 male):
1 – Scott Carle, Tucson, AZ – 112
2 – Andrew Hassard, Lakeside, AZ – 113
3 – Ken Swafford, Pinetop, AZ - 122
FPO (under 40 female):
1 – Crystal Begay, Chino Valley, AZ – 146
MA1 (Advanced Men)
1 – John Aday, Whiteriver, AZ – 102
2 – Joshua MacNaughton, Flagstaff, AZ – 114
3 – Kristoffer Popp, Pinetop, AZ – 116
4 – Robert Paull, Mesa, AZ – 116
5 – Nash Robinson, Snowflake, AZ – 117
FA1 (Advanced Women)
1 – Stephy Reeves, Mesa, AZ – 147
2 – Grace Cassady, Flagstaff, AZ – 153
Top Am Scores by Division (Par 56 on 18 holes; two rounds played):
MA2 (Intermediate Men)
1 – John Flores, Chandler, AZ – 113
2 – Garrett Goodrich, Snowflake, AZ – 114
3 – Ty Boone, Snowflake, AZ – 117
4 – Milford Belin, Flagstaff, AZ – 125
5 – Devin Montoya, Show Low, AZ – 126
MA3 (Recreational Men)
1 – Kristofer Jonson, Phoenix, AZ – 110
2 – Weston Ress, Queen Creek, AZ – 118
3 – Evan Joseph Kolander, Fort Apache, AZ – 120
4 – Kevin Reynolds, Tucson, AZ – 121
5 – Gabe Manci, Flagstaff, AZ – 121
FA2 (Intermediate Women)
1 – Kristine McLean, Globe, AZ – 142
FA3 (Recreational Women)
1 – Karen Hendricks, Flagstaff, AZ – 148
2 – Bonnie Flores, Chandler, AZ – 192
MJ15 (Men 15 and Under)
1 – Damian Brown, Tuba City, AZ – 133