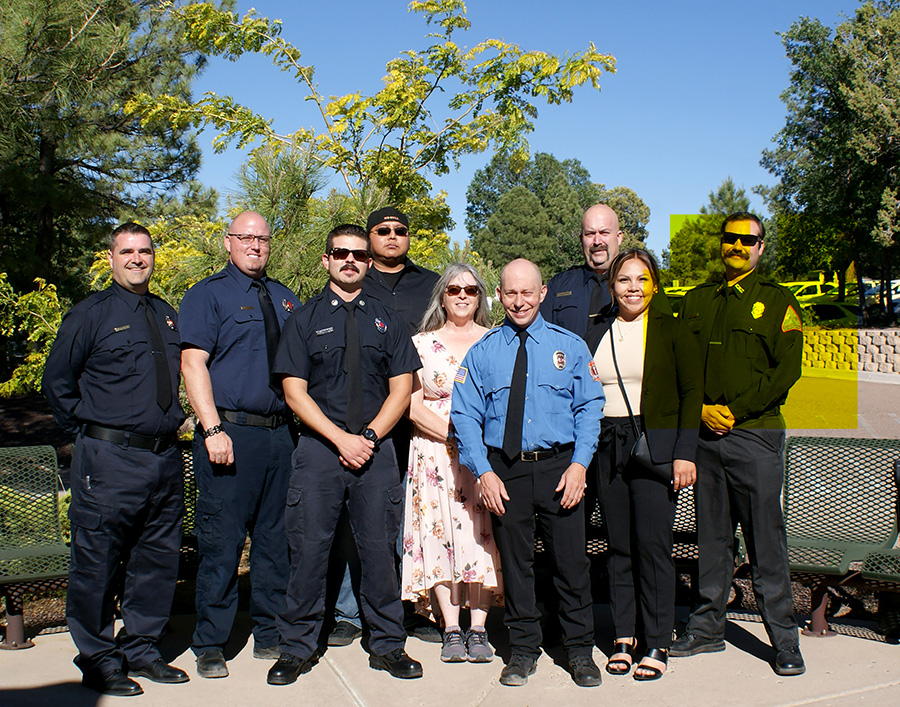 Northland Pioneer College (NPC) celebrated eight new Emergency Medical Technician-Paramedic graduates at a ceremony at the White Mountain, Show Low campus on Wednesday, June 1, 2022.
Graduates included Edker Ahasteen of the Whiteriver Emergency Medical Services, Benjamin Altop of Pinetop Fire, Kimri Hurtado of White Mountain Ambulance Services, Wade Johnson from Snowflake/Taylor Fire, Diego Martinez of Heber-Overgaard Fire, James Meek of Pinetop Fire, Keith Plympton of Pinetop Fire and Ian Wilgus of Saint Johns Fire. Graduates were joined by family, friends, and colleagues to celebrate.
Bringing a somber reality to these brave graduates' weighty accomplishments and the path that lay before them, the slogan, "We Race the Reaper" adorned the ceremony's congratulatory cake and printed program.
NPC EMS Coordinator Michelle Prentice addressed the crowd acknowledging the student's hard work and dedication to the rigorous program. "I am really proud of each and every one of you. We started this class when COVID-19 was still here. We were some of the only students on campus and strictly adhered to wearing masks and social distancing, all the while not really knowing if there would be clinical sites to work with. It took a lot of dedication. The only way I know how to explain paramedic class is to take all the prereqs for nursing school – blocks one two three and four, and shove them into a period of nine months. That is the amount of education these students have received. It is no small feat."
Jason Johnson, EMS program medical director, and an emergency physician at Summit Healthcare addressed the graduates virtually citing a 2010 speech given to EMS graduates by lawyer David Huet, a former paramedic. "Today is the day, now is the moment that you ask yourself not only what kind of paramedic you want to be or will be, but how you will change the world – because for paramedics, changing the world is not some ethereal or esoteric question, it is what you will do every single day." Johnson continues, "Right now someone somewhere is going about their daily life…. they are happy and relaxed because they don't know that one day next week, next month, or maybe next year their entire existence is going to be hanging by a thread. Their breath may be short, their heart may be defibrillating, their lungs may be filling, their limbs may be convulsing, or they may be staring helplessly at the bloody lifeless body of their child and the twisted metal that once was a bicycle. And there you will be." He continued, "Your senses, your hands, and your decisions at that moment will be the difference between another morning, another birthday party, or a child's funeral. What you do at that moment will change the world for them." Johnson concludes, "So I ask you who will you be at that moment? Will you be prepared or will you be preoccupied, will your passion for perfection carry the day or will it be too little too late? Being a paramedic is the single most important job there is."
Northland Pioneer College offers two levels of EMT training. The training provides basic certification preparation and training providing a two-step pathway to achieve certification as an emergency medical technician. Students who complete the first step become Emergency Medical Technician's-Basic. Students completing the second step become Emergency Medical Technician Paramedics. Upon completing the program, graduates will be eligible to take the certification tests for the National Registry of Emergency Medical Technicians and upon successful completion will be certified by the Arizona Department of Health Services. NPC also offers a certification renewal program. For more information please contact EMS Coordinator Michelle Prentice at 928-532-6139 or email her at michelle.prentice@npc.edu.