After a two-year stint of going virtual, NPC Friends and Family's Pedal the Petrified is back live by popular demand! On Saturday, October 1, 2022, the tenth annual Pedal the Petrified, a non-competitive cycling tour through the Painted Desert and Petrified Forest, will be presented by NPC Friends and Family in partnership with the Petrified Forest National Park. All proceeds support scholarships for the students of Northland Pioneer College (NPC). Early registration numbers for this year's event indicate that riders from around the country are eager to be back on their bikes, together and in-person, for Pedal the Petrified 2022!
The ride features a choice of both Metric Century and Metric Half-Century routes, with stops for food and water approximately every five miles. A team of over 50 volunteers, mostly made up of NPC employees, make it all happen, assuring riders enjoy themselves and feel appreciated along the route with everything from homemade goodies to photo booths.
Registration for the last live event held in 2019 was filled to capacity. Two hundred fifty riders from all over the United States signed up to participate, which particularly pleased NPC Friends and Family Executive Director Betsyann Wilson. Since taking on the coordination of the event in 2014, Wilson has sought to make the ride a nationally-recognized destination event, introducing people from outside the area to the beautiful Colorado Plateau and the White Mountains and enticing them to return year after year. Riders' are given bags with information about all the things to do and places to visit in Navajo and Apache County. Local restaurants and hotels are invited to sponsor the ride in exchange for direct promotion to riders. Wilson's efforts have paid off. In 2014, only 81 riders took part in the event; but in 2015, there were almost 200, and in 2016 the ride was filled to capacity and has been ever since, with the vast majority coming from outside Navajo County.
Registration for this year's event is open now at www.npc.edu/Pedal4Scholarships, with a limit of 250 riders. Many of this year's registrants are returning riders, and about a third of them have ridden Pedal the Petrified every year since it began in 2013. The 2014 event raised almost $12,000 for scholarships, while the 2019 event saw that figure more than quadruple!
A pre-ride event will take place on Friday, September 30, in the parking lot of Northland Pioneer College's Painted Desert Campus, 2251 E. Navajo Boulevard in Holbrook. Riders can check in between 3:00 p.m. and 9:00 p.m. and learn about the college and the many students who have benefitted from the scholarships raised by the ride. Volunteers will be on hand to provide campus tours and answer questions. All are welcome. Please join us and find out how you can transform your life at Northland Pioneer College and how NPC Friends and Family can help you along the way! For more information, contact Betsyann Wilson at 928-536-6245 or betsy.wilson@npc.edu.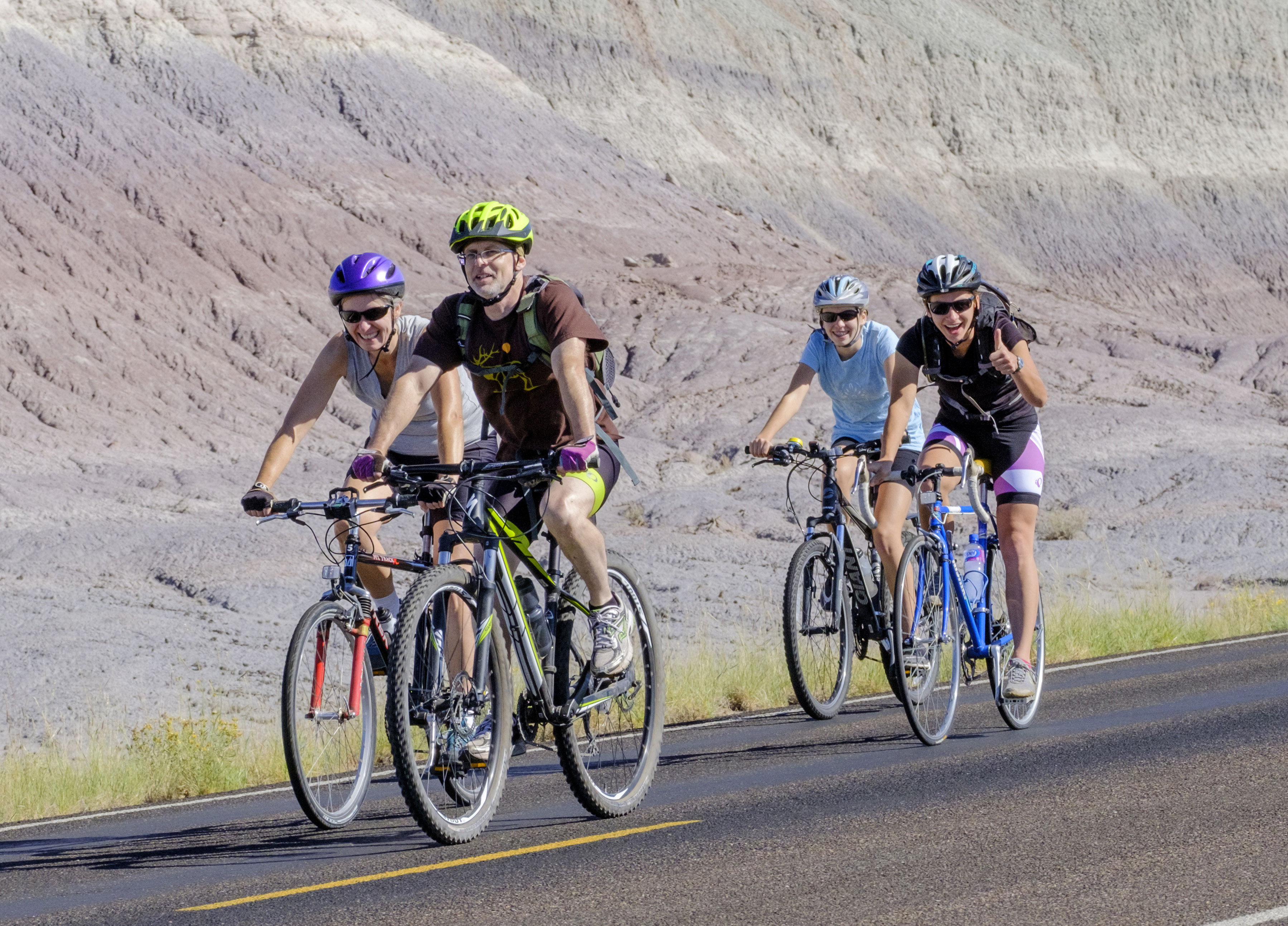 Caption
NPC Faculty in Biology Pat Lopez (front far left) and friend Dave Dorum (front right) join Lopez's daughter Catalina (back left) and friend Sally Petre (back right) on a journey through the Petrified Forest's unique landscape.