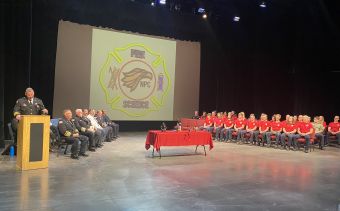 Northland Pioneer College (NPC) celebrated fire science graduates in the first ceremony of its kind post COVID, at the Performing Arts Center in Snowflake, AZ, on Wednesday, May 18, 2022. Having not had the opportunity for in-person celebrations during COVID, graduates from NPC classes dating back to 2019 were recognized for their achievements. On hand to offer support and encourage the next generation of firefighters were family, friends, colleagues, instructors, Northeast Arizona Training Center (NATC), and staff. Also included were members of the region's fire and police departments, the United States Forest Service, APS, the Salt River Project, and NPC college administration and staff.
Guest speaker for the evening, Chief Bryan Savage of the Timber Mesa Fire and Medical District, addressed the graduates saying, "You have all chosen to embark on a career that will be both challenging and rewarding for as long as you choose to pursue it. The fire service has a rich history, but you people here today are its future. You have just completed the rigorous process of becoming a firefighter. You have studied hard; you have pursued your dreams, you have worked until you are exhausted, and you've been successful. For your efforts, you have earned our respect, our congratulations, and our welcome as our newest members of the fire service family."
But, he continued, "If you think you've made it, you are wrong." Savage explained that your job from this point forward is to learn more and work harder. "Be wary of the firefighter or officer who claims to have figured it all out. He or she has demonstrated in their words that they have stopped learning and stopped trying to improve. Do not become like this firefighter," Savage said. "Lives depend on the fact that we always find a better way to do our job," he said. "Your job from this point forward is to be the best firefighter and public servant you can be. As you move toward the future, do not forget this academy experience. We have found that we all succeed when we succeed together. We have found that none of us is as strong and as capable as all of us and that no organization can stand alone when a big event comes our way." Savage, who has announced he will be retiring at some point soon, closed by saying, "I thank you for your willingness to serve your community, I welcome you to the family, and I congratulate you all on your current and future successes. Thank you. Good luck, and may God bless you and your family."
NATC is the base for the Northeastern Arizona Law Enforcement Training Academy (NALETA). The NPC Fire Science Academy Center features include a 10-acre defensive driving course, shooting range, 6-story burn tower, flash chamber, roof ventilation simulator, and numerous props for confined space training.
Northland Pioneer College owns and operates the NATC facility with assistance from the Northeast Arizona Fire Chiefs Association, Northeast Arizona Police Association, Town of Taylor, Navajo County, U.S. Forest Service, and Arizona Public Service.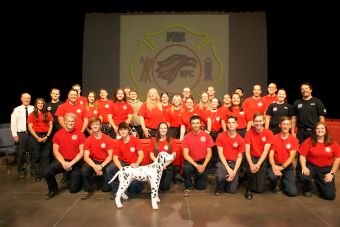 Fire Science Graduates:
NPC Navit 2021-2022
 Dillan Huett - Show Low
 Ernie Maxwell - McNary
 Savannah Osborne - Pinetop
 Ky Owens - Taylor
 Trace Pena - Show Low
 Tyler Rees - Eagar
 Stephen Rose - Overegaard
 John Roznovcak - Overegaard
 Dakota Russell - Snowflake
 Ty Solomon - Taylor
  Spring 2022
 Bridger Ashcroft - Eagar
 Kendell Benton - Show Low
 Peter Bird - Concho
 Rebekah Daniels - Show Low
 Amber Doyle - Show Low
 Andrew Flores - San Tan Valley
 Janlynn Kessay - McNary
 Mason Lancaster - Show Low
 Trevor Overson - Show Low
 Daniel Riley - Snowflake
 Jake Willis - Eagar
Fall 2021
 Todd Bittick - Show Low
 Jacob Flake - Lakeside
 Sabrina Gomez - Show Low
 Ethan Jackson - Show Low
 Seneca Martin - Show Low
 Jalen Romero - Pinetop
 Isaac Tudor - Overgaard
 Brenna Moring Turner - Show Low
 Jeremy Williams - Pinetop
NPC Navit 2020-2021
 Micah Heisler - Pinetop
 Jayk Kelton - Heber
 Kaiden Kerr - Show Low
 Elizabeth Moses - Snowflake
 Bryce Reidhead - Show Low
 Xannady Reidhead - Snowflake
 Rico Riley - Whiteriver
 Agen Vogann - Show Low
Spring 2021
 Jake Ball - Flagstaff
 Daniel Brubaker - Show Low
 Amanda Cauthen - Vernon
 Everett Cauthen - Vernon
 Kandace MacArthur - Snowflake
 Jacob Padilla - Phoenix
 Samantha Weller - St Johns
Fall 2020
 Bryce Badertscher - Lakeside
 Brandon Entrekin - Lakeside
 Jonathan Hendrix - Lakeside
 Johanna Jessop - Conco
 Jake Jessop - Show Low
 Daniel Johnson - Lakeside
 Loyal Kasey - McNary
 Michael Martinez - Show Low
 Hunter McKibbin - Show Low
 Marcus Pompe - Show Low
 Buddy Wagoner - Sun Valley
NPC NAVIT 2019-2020
 Cai Cimini - Pinetop
 Thaddeus Coryell - Show Low
 Wyatt Dokey - Snowflake
 Tanner Fellows - Show Low
 Presley Flake - Snowflake
 Marc Irigoyen - Eagar
 Emerald Kizzar - Clay Springs
 Ethan Marler - Show Low
 Chase Sorenson - Pinetop
 Levi Titsworth - Eagar
 Tyler Wade - Eagar
 Taryn Ward - Snowflake 
Spring 2020
 Christina Ashcraft - Lakeside
 Ryan Bigelow - Show Low
 Jordan Flake - Show Low
 Elihu Harrington - Pinetop
 Blain Hebuck - Taylor
 Brian Maxwell
 Michelle Solomon - Snowflake
 Brian Waller - Tucson 
Fall 2019
 Chris Allman - Show Low
 Maxwell Decker - Mesa
 Jennifer Faux - Sanders
 Ryan Maher - Pinetop
 Diego Martinez - Show Low
 Art Munoz - Show Low
 Austin Reaves - Show Low