Canyon Coker, a senior at Blue Ridge High School, Mykenzie Monroe, and Sherman Kee, seniors of Ganado High School, and senior Jake Perry of Many Farms High School, are the top awardees in NPC Talon Gallery's 36th Annual Juried High School Art Exhibit. These students captured Best of Show art scholarships in the exhibit which can be enjoyed virtually at the NPC Talon Gallery webpage https://www.npc.edu/talon-art-gallery/current-exhibition.
"We received a stunning number of entries this year with 146 submissions from 13 high schools within our region," notes Magda Gluszek, NPC art faculty and gallery director. "It was impressive," she reports. "Overall, we found the work to be very high quality." Best of Show winners receive NPC art tuition scholarships for the 2022-23 academic year. Certificates are also presented to all awardees, including those of honorable mention.
Three NPC art faculty members made up this year's panel of judges. "We realize that participants put a lot of work into composing the artwork and your creativity is exceptional. The judges put a lot of time and consideration into making our choices for this show. When you enter a juried show and your artwork is accepted, it is truly an honor," she explains. "Congratulations to all who submitted entries."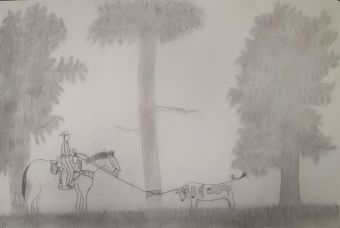 NPC Art Faculty and juror, Peterson Yazzie comments on Ganado High School senior Sherman Kee's drawing/painting titled "Summer Rodeo." "The use of a full composition makes this piece effective and complete. The pencil techniques, from the use of the fine lines to the soft blending…, allow this piece to stand out," he explains. "The soft shades sit back in the distance to create a misty morning or afternoon effect, while the fine lines bring our attention to the rider, the horse, and the steer in the foreground. The artist did a wonderful job of capturing our emotions with subject and technique. We hope to see Sherman at NPC soon," concludes Yazzie.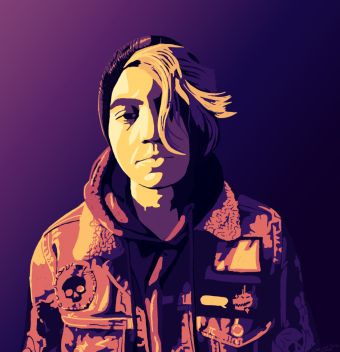 Patrick Day, technical designer and production manager for NPC's Performing Arts department and fellow juror of this year's show, describes Canyon Coker's, winning digital art entry, "View of the Self," as a "truly arresting self-portrait." The piece is notable, he explains, "for the excellent use of color and contrast to create form, texture, and lighting. Background shades from the medium to deep violet both immerse the subject and reveal it in shadow detail." He says, "note the economy of line used to describe the broad features of the face and hair and the minor details of the clothing. Congratulations Canyon, well done."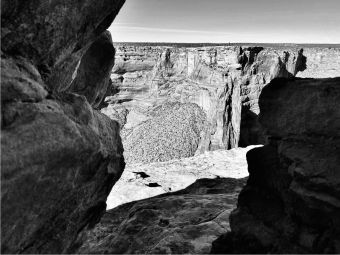 NPC Faculty in Film and Digital Video, Nathan Kosub, describes Mykenzie Monroe's winning photograph, "Navajo Wonders." "Black and white photography allows us to think about not just physical spaces, but also the form of those spaces. It allows us to see something from the natural world in a more abstract perspective," Kosub explains. The photo "approaches the canyon, not just as a space to visit, but as a particular way of looking at the world. There's a great idea here." He says, "from the time I've spent in the southwest, the way you watch the day move across the sky in canyons here… you get a sense, of that tremendous geologic time at work." This photo taken at any other time of day would look completely different, notes Kosub. It "exists as a very precise moment in time and gives me a great sense of being there and of having time to think about the world around me. It's a wonderful photograph," he concludes.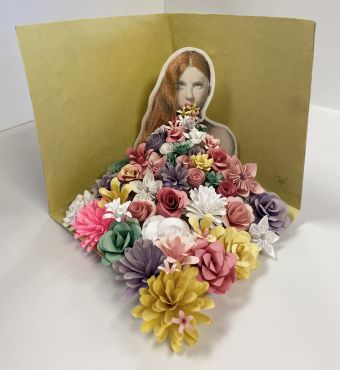 Jake Perry, of Many Farms High School, received a scholarship for the 3-D piece titled "Forget Flowers." As Juror Magda Gluszek explains, "What stood out to us about this artwork, is the fluid and seamless combination of both 2-D and 3-D imagery. There's a very finely rendered image of a figure in the background and a nice illusion of implied mass that's being created with some intricate and elaborate shading." She says, "In front of this figure "is an assemblage of what appear to be hand-formed paper flowers. These are very intricate, and all the forms are different," she notes. "We can tell that a lot of work went into creating all the different textures. There's a sense of unity in this piece that is happening with the addition of color," she explains. For example, Gluszek points to "the flat gold background, that's then repeated in the various yellows, which are very carefully spaced. They create a sense of rhythm as they go back into the depth - which appears to be coming from the figure's mouth." There is also unity created in the warm pink and purple tones, she continues, "there's a lovely sense of depth in the way that space is considered in this piece. The flowers that are closer to us, appear to have been handcrafted to be slightly larger, and then get smaller as they approach the figure's mouth. The look on the figure's face is puzzling, cryptic, a little bit haunting," she acknowledges. "I think that's another aspect of this piece that asks you to keep looking at it again and again," she says. "Congratulations Jake, this is a lovely piece."
Other top award winners were Blue Ridge High School junior, Alex Rowell, Leeondria Williams, a senior at Show Low High School, junior Zoey Kee of Ganado High School, and Autumn Tsosie, a junior at Many Farms High School. They earned first-place awards in each category. Second-place awards went to Ellie Bateman of Snowflake High School, Micah Irene Olayvar, of Cibecue Community School, and Zack Thomas of Ganado High School. Arlin Tso, a senior at Many Farms High School, joined Dale Koopee of Winslow High School and Mackalee Williams of Holbrook High School with third-place awards. Honorable mention went to Evelyn Marrufo of Show Low High School, Amanda Edison of Blue Ridge High School, students Skye Carroll, Thiya Parrish, and Collyn Johns of Many Farms High School, as well as Zach Thomas of Ganado High School, Cooper Wyatt Dickson of Winslow High School, and Titus Bert of Pinon High School. Tylinn Mclaws of Mogollon High School and Round Valley students, Menelanna LeSueur, Addie Martin, Chloe Downer, and Lex Stanton, rounded out the honorable mention awardees.
Comments on these artists and the pieces mentioned above, as well as the selection of student entries, are available for public viewing on the Talon Gallery's webpage at npc.edu/talongallery/current-exhibition.

For more information on this and upcoming NPC art exhibitions, please contact Magda Gluszek at (928) 532-6176 or (800) 266-7845. ext. 6176 or email magda.gluszek@npc.edu.