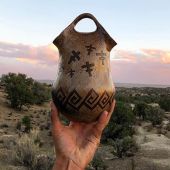 Adrian Herder is a Diné ceramic artist who resides in the Flagstaff area. He derives his unique inspiration from his native landscape of the Black Mesa region of the Navajo Nation to create earthenware and ceramic stoneware pottery in a process known as pit firing. He is welcoming the NPC community and members of the general public to join him in this exclusive experience on March 25, 2022, at the Northland Pioneer College's (NPC) Holbrook Campus.
The process of pit firing has a long-standing history, particularly in the Native American tradition. Adrian, who owns the small business Na'niłkaadii Pottery in Flagstaff, explains, "Na'niłkaadii is the Diné word for pastoralism. My family are known pastoralists of Navajo-Churro sheep in our community of Hardrock on Black Mesa, and I have carried those teachings as a sheepherder over into my pottery work. My pottery pieces are traditionally handmade using locally sourced materials found no more than a half-mile from my home on Black Mesa.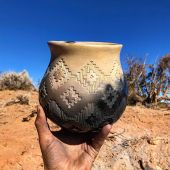 The clay I use is either yellow clay that fires red or grey clay." He notes, "I pit fire all my pottery pieces and glaze them with piñon-pitch to enrich the clay's natural color and create a seal to resist/hold liquids. My designs are heavily influenced by the natural landscapes, elements, and creatures on Black Mesa." For example, he says, "the step pattern designs represent the precious storm clouds that bring sustenance to the land. My designs are how I chose to reflect and tell my story of growing up on the beautiful Black Mesa."
According to NPC Talon Gallery's Director, Magda Gluszek, "Adrian's pieces seem to have been created by nature itself. Each piece rises from the ashes with totally unique and unpredictable beauty." She adds, "I encourage you to participate in this remarkable process." You can make a clay object for the pit firing event. After the firing is complete, the object will be returned to you. No prior clay experience is needed, and anyone within the NPC service area may participate. You do not need to be enrolled as a student.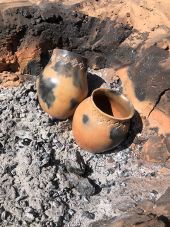 Those interested in creating their piece should visit www.npc.edu/talon-art-gallery/current-exhibition to meet Adrian, learn about the pit-firing process, and view tips on making objects out of clay. Then, visit any NPC campus or center front office to pick up a bag of clay now through February 25. Supplies are limited, so you are encouraged to call ahead of time to ensure availability. The object you create should be no thicker than one inch in any direction (larger forms can have walls, but they must be less than 1 inch thick). See the video on the Talon Gallery webpage for further explanation. Participants will need to return their objects to the main office of any NPC campus or center by February 28, 2022, to be collected and fired in the pit. All objects must be signed with participant initials and a campus code so that they can be returned to the maker after the pit firing.
For more information, visit www.npc.edu/talon-art-gallery or contact Gallery Director and NPC Art Faculty Magda Gluszek at magda.gluszek@npc.edu or call (800) 266-7845, ext. 6176.