Northland Pioneer College's (NPC) construction program is flourishing despite the pandemic challenges. As faculty and Construction Department Chair Jorge Meza explains, "We worked diligently, even during the Covid-19 lockdown. It was hard, but we were able to finish our training and study." He continues, "we are now at full capacity in terms of student registration for the Holbrook Skills Center's spring 2022 programs. As I have believed for a long time, vocational training really does transform lives."
NPC's Construction Technology program covers many areas of basic building fundamentals for various career fields, including masonry and concrete systems, framing, roofing, thermal and moisture protection, and electrical, mechanical, and plumbing systems. Effective communication and job success strategies are emphasized throughout the two-year hands-on program. "In the program's last year, we even incorporate construction management into the curriculum. After completing both the instructional and hands-on requirements, NPC students are employable anywhere in the United States." Currently, all of Meza's second-year construction students have received their OSHA-10 certificates and NCCER (National Center for Construction Education and Research) certificates.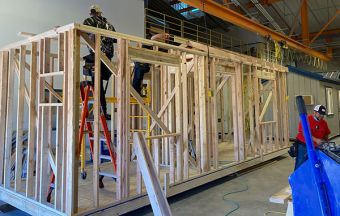 "The skills center in Holbrook shows the working construction world what we are all about. It's a place where students literally build on everything they have studied and use all the tools and skills they have learned to finish a real project. As a result, NPC's program gives students a leg up in employment and confidence that they can do the job."
In addition, for the fourth year in a row, area high school students enrolled in NPC's dual credit Northern Arizona Vocational Institute of Technology (NAVIT) program have been building tiny houses. These housing units will soon be placed at the Northeast Arizona Training Center (NATC) in Taylor, AZ. Initially, the NATC housing units will be available for police academy recruits to reside in during their twenty-week academy classes. Fire and Police personnel from around the state who come to the facility for ongoing and re-certification classes will have rooms available. "The addition of this housing option will offer agencies from our service area and around the state significant cost savings for sending recruits to the academy," states Meza.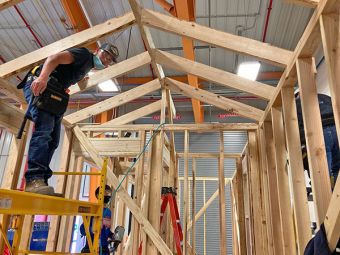 According to Meza, skilled labor is always in demand, and with the rocky environment caused by the pandemic, now perhaps even more so. Providing quality training in the construction field is vital to NPC because workforce shortages are a reality. NPC's program combines hands-on skills with digital construction technology like 3D printing and artificial intelligence (AI) software that can identify potential safety hazards, compile information on building specs, and create a digital replica of a physical structure. The use of this technology, along with state-of-the-art hardware and tools, sets the bar for construction graduates to build smarter.
"NPC is ready to graduate students and fill the market demand," says Meza. "Our program has a real impact on local communities; we often see disadvantaged students who have had a rough time in their lives and do not have much of a support system. This program has truly turned their lives around. I am genuinely proud of all of my students' accomplishments and of being able to give them a purpose and a career."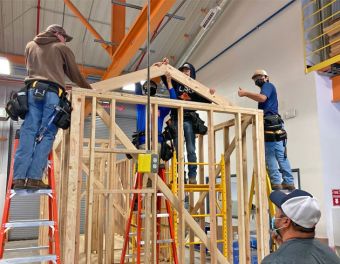 In addition to the skills center in Holbrook, which houses construction, welding, energy and industrial technician, and computer repair programs, NPC is currently building a new 28,820 square foot skills center facility on its Show Low campus. "The new center will be a real asset for Show Low and the surrounding area," notes Meza. The Show Low skills center will house energy and industrial technician, welding, and automotive programs. Combining affordable tuition and small class sizes with caring and professional instructors like Jorge Meza, students at NPC will graduate with bright futures in industries that are desperate for skilled workers.
To learn more about NPC's Construction Technology program, speak to one of NPC's academic advisors, visit www.npc.edu/construction, or contact Jorge Meza at (928) 524-7456, email Jorge.meza@npc.edu.