SHOW LOW — The thoughtful, creative talent of local artists from throughout Navajo and Apache counties is evidenced in the works currently on display at Northland Pioneer College's (NPC) Talon Gallery's Locally Grown 2022 exhibition.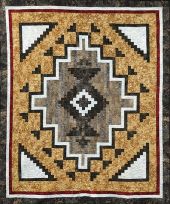 The Locally Grown art show runs through February 18 at the Talon Gallery, located on NPC's Show Low campus, and is viewable at the gallery's webpage www.npc.edu/talongallery. This year's Locally Grown exhibition was juried by Shasta Krueger, a ceramic artist who uses clay to investigate ideas about cellular structure, accumulation, and repeated patterns. Krueger currently lives, creates, and teaches in Salt Lake City, Utah.
"This exhibition shows a sampling of techniques and media including drawing, quilting, ceramics, sculpture, photography, and painting. Art and fine craft have long traditions of expression throughout human existence," Krueger explains. "Each piece is a form of self-expression; collectively, those expressions connect and define a community." On judging the entries, Krueger adds, "In addition to exceptional technique and design, I gravitated to work that seemed to capture a moment. A moment can be captured through a specific person, place, feeling, or sentiment. Those moments define an aspect of the individual that together shapes a community. This work exemplifies thoughtful and creative voices within your community."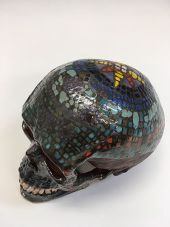 For the show's top accolades, Krueger selected pieces demonstrating particular craftsmanship of their medium and quality design. The first-place award went to Jodi Moses for the quilted work "Two Gray Hills." Krueger notes the entry "uses structured geometry and soft colors to create a balanced composition." She continues, "The softness of material and design gives a sense of community and connection." 
A ceramic piece titled "Goliath" by Tammy Keen received the show's second-place honors. Krueger explains, "Goliath uses a defined and proportioned form balanced with a decorative surface.  The human figure is relatable to all of us; this skull also portrays a bit of mystery."
The third-place award went to Jarom Lewis's watercolor painting "Far from Home." Krueger relates, "This watercolor painting uses muted tones and an atmospheric quality to capture a sense of wonder, excitement, and a bit of unease that a new landscape and environment can bring."
"It was an honor to see so many pieces of art and craft created by artists and makers eager to share their work," states Krueger. To the artists who entered this year's exhibit, Krueger says, "Thank you all for sharing your artwork, your stories, and a bit of yourself!"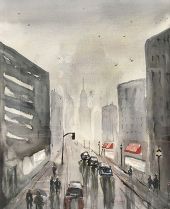 For Talon Gallery Director Magda Gluszek, installing the Locally Grown exhibition was an excellent way to start the spring semester. "The gallery is bright and vibrant," she announces. The public is invited to visit the gallery in small groups. "I hope you visit the Talon Gallery to see this stunning variety of local artworks." Due to NPC's current Covid-19 mitigation policy, a public reception will not be held for the show this year. Please note that face coverings are required in all indoor spaces on NPC's campuses. A video of the exhibition is also available at www.npc.edu/talongallery for those who may prefer to experience the gallery virtually,
For more information or if you are interested in participating in Locally Grown next year, please send an e-mail to magda.gluszek@npc.edu. Any artist over the age of 18 may enter artwork in any media.