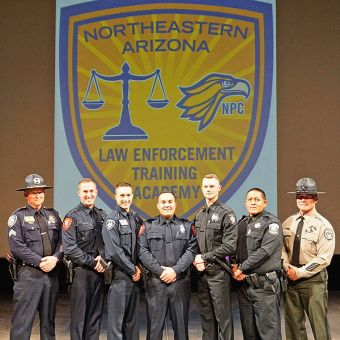 SNOWFLAKE — The "Thin Blue Line" in Northeastern Arizona is a little stronger with the December 9, 2021 swearing-in of five new peace officers. They completed the intensive 21-week Arizona Peace Officer Standards for Training (AzPOST) training at Northland Pioneer College's (NPC), Northeastern Arizona Law Enforcement Training Academy (NALETA).
Navajo County Superior Court Presiding Judge Michala M. Ruechel administered the oath to new Holbrook Police Department's Officers: Ryan Larson and Joseph Montemayor; Snowflake-Taylor Police Department's Officer Ramon Mercer; White Mountain Apache Police Department's Officer McTevious Victor; and Globe Police Department's Officer Jon Rosser.
"NALETA is a true partnership with regional law enforcement agencies, who assign sworn officers as instructors at no charge to the college," explained Jon Wisner, NPC's Director of Public Safety Education.
Class Supervisor Sgt. Jason Spear (SLPD) and Recruit Training Officer Terry McCarthy (NCSO) guided the recruits through the academy. RTO McCarthy presented the Physical Fitness award to Officer Mercer, the Defensive Driving award to Officer Montemayor, the Top Firearms award to Officer Rosser, and the Academic award and the "David Kellywood Top Recruit Award" to Officer Larson.
Law enforcement representatives from the local sponsoring agencies and family members of the recruits were on hand to witness the ceremony.
If you are interested in becoming a certified Arizona peace officer, contact the agency you would like to work for to begin the process. "It can take four to eight weeks, so if you are interested, you should start as soon as possible," urged Wisner. "By recruiting and training locally, the agencies know the individual already has ties to the community, through family and housing. This has been shown to improve the success rate for our cadets."
NALETA Class 2022-1 is scheduled to begin on January 24. Centrally located at the Northeast Arizona Training Center in Taylor, NALETA is a fully accredited AzPOST "closed" academy which means students can only enroll under the sponsorship of a law enforcement agency.
At a minimum, a prospective recruit must be at least 21 years of age by the end of the academy and be able to pass a variety of testing processes, including physical agility, firearms, and written tests, as well as a background investigation and a polygraph.
"To succeed, a recruit must be dedicated and willing to endure the intensive academic and physical training required," explained Wisner.
More information concerning AzPOST eligibility requirements can be found online at post.az.gov by clicking on the "Certification Process" link in the top navigation bar or by contacting the police or sheriff's office with which you would like to begin your law enforcement career. Tribal officers, Game and Fish wardens, and agricultural inspectors are also sworn peace officers.
Information can also be obtained by contacting Jon Wisner, NPC's director of public safety education and NALETA director, (928) 536-6265, email jon.wisner@npc.edu, or on NPC's website, http://www.npc.edu/law-enforcement-training.