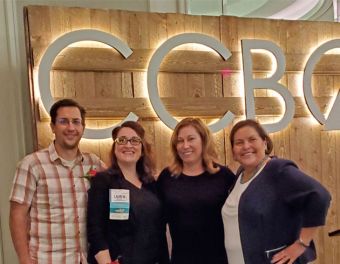 Northland Pioneer College (NPC), was one of five award recipients announced during the Community College Business Officers (CCBO) annual conference held Oct. 24-26, 2021, in Nashville, Tenn. The college earned the CCBO's 2021 Exemplary Practice Award for collaborative payroll and finance system implementation, led by NPC's Director of Budget and Payroll, Lauren Maestas. The award category recognizes outstanding innovative or collaborative practices in business or operations.
Maestas attended the awards ceremony along with several of her coworkers. "The experience in Tennessee was awesome," she notes. "I have attended CCBO conferences for many years now and the conferences and colleagues are always amazing. It is a great opportunity to network with other community colleges on similar issues or projects and get feedback and input. I never thought that I would be nominated for such an award and win."
"CCBO Awards recognize the important contributions business officers are making at their institutions and in their communities," said incoming CCBO President Chris Wodka. "Both the recipients and institutions can be proud of the achievements these individuals have attained."
Having recently managed the implementation of a new payroll system for NPC, Maestes states, "This was my first time as a lead on a project this big. It took a ton of dedication, time, hard work and stressful nights and weekends. It was a great learning experience and opportunity. I am super proud of the entire implementation team and all our employee's willingness to learn the new system. If it wasn't for their help, dedication and effort, this project would not be successful."
Established in 2013, the CCBO Awards recognize the leadership and financial impact made by individuals and departments within community college business offices throughout North America. Dedicated to continuing education for individuals in the community college business office, CCBO trains the next generation of chief business officers and provides current leaders with updated information on national issues facing community colleges. Visit ccbo.org for more information.