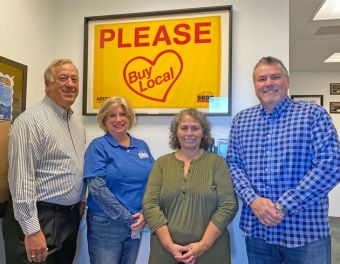 Northland Pioneer College's (NPC) Small Business Development Center (SBDC) brought home the Arizona Association for Economic Development's (AAED) top statewide honor with the "Best of Arizona" award at the association's annual conference held in Flagstaff on October 28, 2021.
Numerous and many much larger state, city and regional entities were considered for AAED's top award and the SBDC, the "little engine that could," came out with the top honor.  According to Rich Chanick, director of NPC's SBDC, the award was given for "our network's response during the pandemic in getting out information, answering questions and ultimately getting money out to our local businesses." Chanick continues, "I can confirm that our wonderful staff of Craig Boston, Laura Singleton, and Socorro Ruiz spent many late nights and weekends walking business owners through the process of receiving assistance when they needed it most. I am extremely proud of our team."
The AAED has served as the leading statewide advocate for responsible economic development in Arizona. The foundation, established in 1974, is rooted in three fundamental pillars that continue to affect positive change and increase Arizona's competitive position to attract investment and create jobs. The AAED holds educational conferences statewide and advocates for business-friendly policies while collaborating with other organizations throughout the state.
NPC's Small Business Development Center is funded by the Small Business Administration and the college, with the mission to help local businesses start, grow, and sustain economic success. The SBDC offers individual guidance, educational programs, and resources at no cost to assist prospective entrepreneurs and existing business owners.  For more information on NPC's SBDC, visit www.npc.edu/sbdc or call (928) 532-6706.