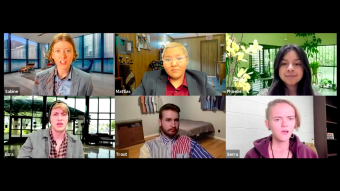 Bringing the live theatre experience directly to your favorite digital device, Northland Pioneer College's (NPC's) Performing Arts Department is proud to present its 2021 Fall Theatre Festival. The festival will run November 13 – 27, 2021 on YouTube and can be accessed at any time during that window.
The exciting, emotionally varied series consists of one-act plays featuring NPC's fall theatre students. "Every season's plays bring their own set of artistic, technical, and personal challenges and this season was no exception," states series director Patrick Day. "These students took all the challenges in stride and have achieved remarkable results in a series of entertaining and thought-provoking plays. These are live performances, recorded in a single pass without editing. Although we are disappointed that we were unable to offer our Fall Dinner Theatre experience, we are extremely grateful for the support our communities give our students. We've blended technology and theatre in a series that demonstrates some real-world scenarios somewhat telling of our times." Day was aided in the production of the virtual presentation by Jackson Kittrell, actor and assistant director.
The plays include Nail Biter by Elisabeth Giffin Speckman, featuring newcomers Mason Clark and Bianca Soto, in which two freshman girls sort out their differences when one's bad habit threatens to sabotage the other's first-ever boy-girl party. In Closing Doors, an award-winning play by John Minigan, fourth-grade teacher Sandra (KayBree Raisor) is called on the carpet by old friend and Assistant Principal Valerie (Anna Smith) for breaking protocol in an active shooter drill. They must decide how they can save both their friendship and their students. Suicide Hotline by Kelly McBurnette-Andronicos, featuring Jackson Kittrell and Reece Harris, is a dark comedy in which Jim can't seem to let go of a wrong-number call to the suicide hotline. In Focus: A Zoom Play by Daniel Prillaman, members of a focus group, hoping to make a few extra bucks, get more than they bargained for when they agree to test a new product for two eccentric Petras employees. This play features NPC's entire fall acting ensemble.
To access the virtual series, visit YouTube and search "Northland Pioneer College, 2021 Theatre Festival" or go to https://www.youtube.com/channel/UCp6yzFzViIZqvrQA-Bn1Kyw/videos. Questions can be addressed to Patrick Day at (928) 536-6267 or email patrick.day@npc.edu.