Pedal the Petrified is an annual, non-competitive bicycle tour of Petrified Forest National Park, produced by NPC Friends and Family, Northland Pioneer College's (NPC's) non-profit foundation. It has taken place every September since 2013 and has raised over $100,000 for NPC student scholarships.
Due to COVID, last year's ride became a virtual event. Registrants from around the country rode their favorite routes, and posted photos of their adventures on a dedicated Facebook group page. Many created fund-raising pages and donated to the cause.
Although plans were in place for a live 2021 ride, citing rising COVID numbers, the Petrified Forest would not issue a special use permit for the event. Therefore, once again, NPC Friends and Family held a virtual Pedal the Petrified, but this time, with a very special focus.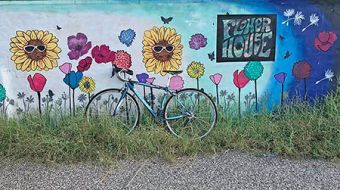 Dr. Jon C. Graff, of San Jose, California, first rode Pedal the Petrified in 2014. He reveled in the ride, and fell in love with the cause of supporting NPC students through scholarships. After 2014, his sponsorship of the ride assured that all the funds raised went to those scholarships.
On the corner of the Pedal the Petrified logo are the initials "JG." NPC Friends and Family added them in 2018. Over that summer, the cancer Graff had fought for over six years had become very aggressive. Nevertheless, his oncologist permitted him to attempt the 50-km ride. On Saturday, September 18, 2018, Graff went on to complete the entire round-trip – all 100 kilometers. He didn't even think he'd be able to make the trip to Arizona. And yet, he rode on.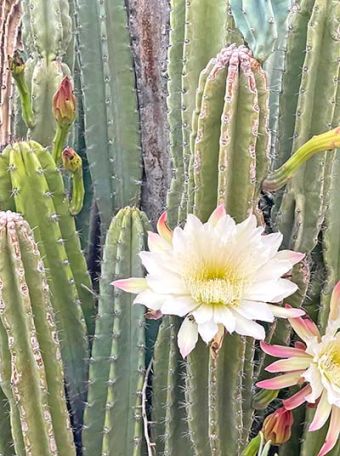 His spirit was, and is, indomitable. Since learning his prognosis was terminal, Graff began "bucket listing", and sending his "reports from the field" to close friends - emails and photos of his adventures, always including at least one study of a flower. Graff ended his life's journey, peacefully and with dignity, surrounded by friends on Friday, January 29, 2021. This year's event was a celebration of his life and spirit.
In homage to Graff, the 2021 event was renamed "Petal" the Petrified. Registrants chose their rides, their routes, their distances, and their ride dates – any time between September 1 and October 18, 2021.
All registrants received an invitation to the event's Facebook group page, where they were asked to post at least three photos of their adventure, with at least one being a photo illustrating the study and appreciation of a flower.
Forty-six riders took part in this year's virtual tour, raising $6,000 for NPC student scholarships. The riders posted photos of flowers from all over the country. Jennifer Haddock shared wild sunflowers from Palo Duro Canyon in Texas. Mike and Emily Gaffney took photos of grapevines in the California Wine Country. Mike Smith rode from Easton, Connecticut to Yale University in New Haven, posting shots of colorful potted flowers on the Yale campus.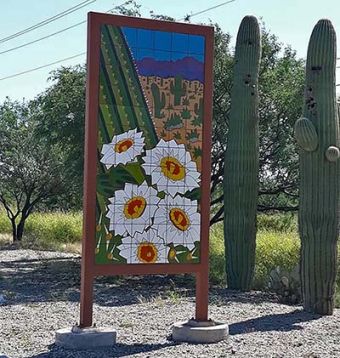 Cheryl Levkoff shared Mexican Bird of Paradise flowers from Scottsdale, while Bill Beverage took photos of a bee visiting a beautiful, night-blooming Cereus Cactus on his early morning ride. This year, Tucson rider Sarah Herr added a creative twist to her mural documentation (which she started during last year's virtual tour), taking pictures of flowers as components in the colorful murals she found in multiple bike trips around the city. Fellow Tucson resident, Jamie Robinson, discovered a lovely tile mosaic of Saguaro Cactus blossoms on her 63-mile ride. The "bad hombres" of Albuquerque, Steve Glass and Jim Goodding, posted wildflowers they came across during their self-described "Pedal the Petroglyphs," a 27-mile ride through Petroglyphs National Monument.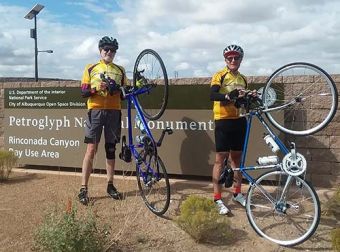 On September 20 a group of riders from the Cottonwood Owls bicycle club, including Pedal the Petrified event veterans Mike Owen, Jim Graham, Andy Bailey and Mark Luffman rode the live event's route through the Petrified Forest National Park. They were joined by first timers Richard Pollnow, Helen Jones, Ruth Wells, Bob Formhals, Denise DeKeuster, Chuck Combs, Tony Macias, Denise DeKeuste, and Besty and Jeff Macy. A fellow event veteran, Damian Fairbanks, also chose to ride the event's original route, recruiting two of his former students, Jessica Barajas and Faye Daniels, to ride with him.
Warmly coining an oft used Jon Graff adjective, the event's producer, NPC Friends and Family Executive Director Betsyann Wilson, states the spirit, ingenuity, and enthusiasm of these riders was, "delightful." Wilson celebrated her 58th birthday by riding 58 miles on October 4, with her close friend, Steve Buck, who was a mutual friend of Graff's.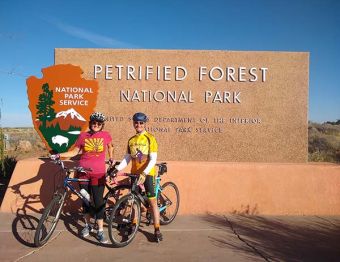 They dedicated the ride to his memory. Traveling from the north entrance of Petrified Forest National Park, through the south exit, they headed west to Holbrook and finished their tour at NPC's Painted Desert Campus, where a bronze plaque is displayed in Jon Graff's honor. "It could not have been a more perfect day for a long bike ride," Wilson states, adding, "Jon was very much with us in spirit."
Since Fall 2014, NPC Friends and Family has awarded over 350 scholarships to NPC students, making a tremendous difference in their pursuit of a post-secondary education. Over 95% of awardees have either completed an NPC degree or certificate program, or are still enrolled at the college. To learn more about NPC Friends and Family, and how you can help to transform a student's life, contact Betsyann Wilson at 928-536-6245 or betsy.wilson@npc.edu. You can also make a tax-deductible donation at www.npcfriendsfamily.org