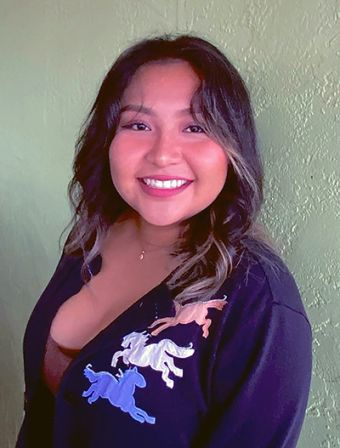 Celena Ambrose, a graduate of Northland Pioneer College (NPC), and current early childhood educator with Holbrook AZ's Headstart, was recently named as one of only eleven PBS Kids Early Learning Champions nationwide. The award, established in 2018, recognizes and celebrates passionate educators who work with our nation's youngest students, from infants to second graders.
In 2020, under the leadership of NPC Faculty Chair, Dr. Allison Landy, Ambrose completed her Associate's Degree in Early Childhood Development. This past December, Ambrose was elected to Arizona's Early Childhood Alliance (AZECA), an advocacy and awareness group that fosters positive change in the field of early childhood education. As a PBS KIDS Early Learning Champion, she will further immerse herself with professional learning and networking opportunities to benefit the youngest students in our rural area. Ambrose is focused on becoming an accomplished teacher and plans to broaden her own education this spring by beginning a bachelor's degree program in Early Childhood Studies.
According to PBS, the Early Learning Champions program represents the diverse teaching community impacting young learners today. As children move through the pandemic-impacted learning territory, they need tools and resources from educators and PBS Kids to build skills in and out of the classroom. This year's honorees were chosen for their passion and devotion to early education, as well as their desire to foster relationships with their students and local PBS stations.  
On the announcement of this year's champions, PBS Senior Director of Education, Lori Brittain states, "The past 18 months have shed a necessary light on just how critical these educators are to our nation's children, especially in the area of social and emotional learning, which is core to our mission."
Kristine Nishimura, PBS Kids' regional outreach coordinator for education and community impact in southern AZ, notes Ambrose was selected for, "her intense ability to network and give the youngest children the possibilities and opportunities to learn through a variety of resources on a state and now, on a nationwide level." Nishimura facilitates PBS Kids for Cochise, Pima and Santa Cruz counties as well as for the Pascua Yaqui Tribe and Tohono O'odham Nation. She adds, "Celena is so deserving of this award."
Of the eleven honorees, Ambrose was one of only two selected from small, rural communities. When asked how she feels about being recognized with the national honor, she laughed and remarked: "It is still pretty mind-blowing to me! It feels very surreal!" She says she has been pleased to meet her peers among the select group of champions, reporting that, "They are all doing amazing things!"
It is safe to say that there will be many more firsts for Ambrose, whose talents and determination are part of many successes yet to come. She joins an excellent group of early learning champions, and the tiny students at Holbrook Headstart are in excellent hands.