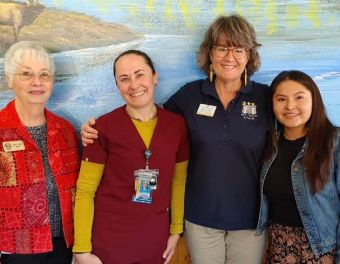 The White Mountain Women's Club recognized the achievements of two outstanding Northland Pioneer College (NPC), students at its monthly luncheon meeting on Thursday, October 14 at the Show Low Café. Both students were winners of the Fall 2021 Doris Powers Memorial Scholarship, provided by the club in memory of one of their distinguished former members. The students took the opportunity to speak to the group, talked about their college and career goals, and thanked the women for the generous, $1,200 scholarships.
Tyler Allen of Show Low is a second-year nursing student in NPC's Associate Degree in Nursing (ADN) program. She is dual-enrolled with Arizona State University's (ASU's), Bachelor of Science in Nursing (BSN) program, an academic challenge that is reserved for only a few very capable students each semester. In addition to her full-time studies, Allen, who lives off the grid in the Concho area, works full-time as a licensed massage therapist at Spa Estique in Pinetop, and serves as president of NPC's Alpha Gamma Tau chapter of Phi Theta Kappa, an international honor society for community college students. She plans to continue her educational journey through a Master of Science in Nurse Education with an Acute Care Gerontology specialty from Grand Canyon University (GCU), followed by a doctoral degree in Public Health Policy and Leadership from the University of Arizona (UofA). Most notably, she maintains a perfect grade point average of 4.0.
Jolie Selestewa is Hopi and White Mountain Apache, and until just recently, she resided on the Fort Apache Reservation with her two small children. When she obtains her associate degree from NPC, that will make her the first in her family to graduate from college.  Selestewa aspires to then pursue Public Health Administration at ASU, and use her knowledge to improve the lives of Native people. She was accepted into ASU's public health program for the Fall 2021 semester, so like Tyler Allen, she is dual-enrolled at both NPC and ASU. She lost her job in Whiteriver mid-semester. Undaunted, she found a position as a Licensed Nursing Assistant at the Indian Health Services hospital in San Carlos, Arizona. She purchased a used RV and moved with her three-year-old son and one-year-old daughter to a trailer park in San Carlos, where she continues to provide for her family while taking classes remotely.
Betsyann Wilson, executive director of NPC Friends and Family, who administers the Doris Powers Scholarship, spoke at the White Mountain Women's Club luncheon, expressing her deep appreciation to them for funding the valuable scholarships. She expressed her ongoing gratitude and respect for the resilience and determination of NPC students to succeed in spite of the many barriers they face. She stated that she did not know if she could have completed a post-secondary educational program if she had been confronted with the same kind of challenges as those faced by the students she serves through the college's foundation. "They inspire me to do my job every day," she noted.
The White Mountain Women's Club has donated another $1,200 scholarship for the upcoming spring 2022 semester. The application deadline is Wednesday, November 10 at 12:00 noon, MST. Information and instructions on how to apply for the scholarship can be found at https://www.npc.edu/scholarships/white-mountain-womens-club-doris-powers-scholarship.The site includes the required application form as a fillable pdf document. All applications must be submitted electronically. Please contact Betsy Wilson at betsy.wilson@npc.edu or 928-536-6245 with any questions.