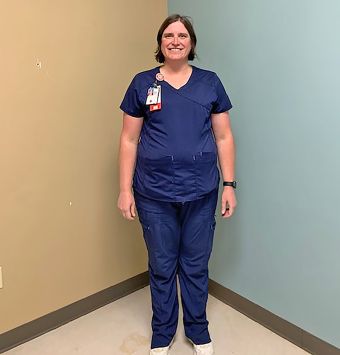 An alumni par excellence, Emily Sharp, graduated in 2010 with her degree as a registered nurse from Northland Pioneer College, (NPC). Sharp came to the NPC with two years of military experience in the Air Force, a young daughter, and a burning desire to be the best registered nurse she could.
Sharp who has aspired to become a nurse since the 6th grade, never lost focus on her goal. She joined the Air Force at the age of 20 along with her twin sister. Upon completing her military service, she then embarked on fulfilling her dream, and was accepted into NPC's nursing program in 2004.
NPC was a perfect fit for Sharp. The college offered an affordable, convenient option for furthering her education. Struggling as a single mother, Sharp worked at Summit Hospital and was able to receive tuition assistance from them in return for having worked as a nurse at Summit for two years following her stint in the military. She was then easily able to transfer her credits from NPC to Arizona State University (ASU) and used G.I. Bill benefits to help pay for her continued education. Sharp went on to earn her Bachelor of Art in Nursing in two years. More than 60% of all transfer students from a two-year community college like NPC, complete their bachelor's degree within 2-4 years. Sharp expanded on that statistic by earning her Master of Arts in Science/Nursing Management and Leadership from Western Governors University in another two years.
As Sharp discovered, going to NPC and transferring her credits to a four-year state university was indeed the "smart" way to go to college. In a comparison of 2021-22 tuition costs, NPC will save you nearly $20,000 in tuition alone during your first two years. Earning an associate degree from NPC and moving on to four-year university for a bachelor's degree is a win-win endeavor. NPC is the most affordable community college in Arizona and graduates are able to earn a college degree debt-free.
For Sharp, attending NPC and transferring to continue her education has certainly paid off. She is currently fulfilling her dream and earns a good living as a registered nurse at Show Low's Veterans Clinic, where she has been employed for six years. The clinic provides primary care services and some urgent care assistance to area veterans. Sharp explains, "We have one doctor, two nurse practitioners, four registered nurses, and five licensed practical nurses on staff. A mental health specialist and a social worker are also available part time. It is all the things I had hoped for." She continues, "helping people is always a great objective."
In an area of the state where high paying jobs are somewhat hard to come by, Sharp has found a perfect fit. Combining her military experience with her professional nursing skills to help veterans has tied nicely into her reaching the pinnacle of her professional and personal goals.
A recent report from the AZ Department of labor states that workers with a bachelor's degree (and no additional degree) earn a median weekly income of $1,281. Workers with an advanced degree like Sharp's, (master's, professional, and doctoral degrees) earn an average of $1,559 weekly. In comparison, those without a high school diploma had weekly median earnings of only $606. High school graduates earned slightly more with $749 weekly (no college), and those with some college or an associate's degree made $874. In fact, the highest 10 percent of workers have obtained college degrees and earn a weekly average wage of $3,089,
For students like Sharp, who are interested in the transfer process and pursing options for obtaining a bachelors or master's degree after attending community college, NPC is offering two AZ Transfer days. The college's "transfer tri-University days" will be held on October 20 and 23, 2021 during AZ Transfer week. All three of the state universities, the University of Arizona, Northern Arizona University, and Arizona State University are inviting those interested to join in this incredible opportunity to learn more about admissions, the transfer process, degree pathways, financial aid and more. The sessions are virtual through Zoom and accessible via computer, tablet or your smart device. For more information visit https://visit.asu.edu/tri-university or contact an NPC Academic Adviser at www.npc.edu/advising.
NPC also currently has 18 All-Arizona Academic Team scholarships available to NPC students. The scholarships provide tuition waivers for up to 60 credit hours at the state's four-year universities. Two students from each NPC center and campus location are awarded each fall. The application period is going on now and closes November 14. Learn more at https://www.npc.edu/scholarships/all-arizona-academic-team.
As Sharp proudly shares, "you can have anything you want if you work hard." She is an advocate of education and her young daughter also plans to one day attend NPC's Northern Arizona Vocational Institute of Technology (NAVIT), program and take college classes while in high school. According to Sharp "education and reaching for your goals are all in the family."
In addition to transfer opportunities such as the All-AZ Academic team scholarships and learning more about university transfer, NPC offers financial aid, veterans' assistance and a multitude of scholarships that provide free and reduced university tuition to NPC graduates. Learn more about the opportunities available to you by visiting at www.npc.edu or call 1-800-266-7845 and speak to an NPC academic advisor.