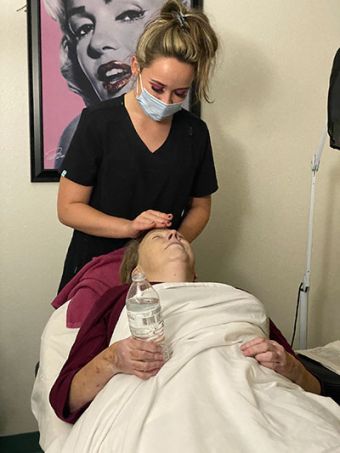 A sign in the lobby of Northland Pioneer College's (NPC's) cosmetology center says: Dare to be Remarkable! Walk in and you will experience the buzz and energy of students and their instructors, not to mention clients, who are receiving hair and scalp treatments, coloring and facials, chemical texturing such as perms and wraps, and nail care. NPC's cosmetology services are available to the public, supervised by a faculty instructor, and the pricing is very affordable.
As Client Mary Markus can attest, you will walk out feeling extraordinary. "It's just fabulous," she exclaimed after recently receiving a facial. Like many, Markus had put her "beautifying" on hold due to the COVID-19 pandemic. She just learned that NPC offers facial treatments and immediately booked an appointment. "I will be taking my first vacation in recent ages in a few weeks and wanted to get pampered," Markus explained.
NPC's cosmetology program prepares students to work in an important profession. For those interested in pursuing a career in cosmetology, the licensure programs can be completed as early as high school, where students can earn their certificates before graduating as seniors. The Northern Arizona Vocational Institute of Technology (NAVIT), program allows students to complete both high school and college credits at the same time. Enrollees train at NPC's campus half a day, while also attending classes at their local high school.
Cosmetology degrees aren't just for female students. NPC currently has a male adjunct faculty instructor and several male students in the program. The program allows graduates to go directly to work, and if they wish, to continue on to a four-year university. All with the training and credentials to make a living in the field while continuing their education.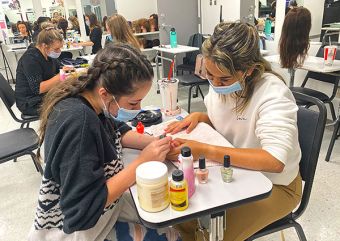 Chloe Fagotti, NPC faculty in cosmetology notes, "These students are prepared to immediately provide skills that are in high demand in our communities. When registering, students purchase a complete professional lab kit to use in the trade, and take it with them when they are done. They take ownership of their tools and of their success. Cosmetology offers many training options and will jump start you into a well-paid, fun career." Fellow instructor Autom Christensen agrees, "Our program changes lives…high school students come in as young students and leave as men and women ready for employment. It's an extraordinary transformation."
One former NPC student has even found worldwide success in the industry. Cindy Sterling began NPC's cosmetology program at the age of 16. She now represents her own popular international cosmetics line and travels the globe promoting her beauty products.
NPC's cosmetology program has one of the highest pass rates for the AZ State Board of Cosmetology's licensing exam and one of the lowest tuition rates and program costs in Arizona. It takes 1,600 hours to complete the full-service cosmetology licensing program. With full time enrollment, it will take 10 ½ months to complete. Part time students can earn a certificate within two years.
NPC also provides individual licensure options. The 1,000-hour hairstyling program covers shampooing, haircutting, styling, coloring, chemical texture services and safety requirements. Students can also opt to complete the 600-hour nail technician program, which covers manicuring, pedicuring, nail enhancements, salon management and customer service. Additionally, NPC offers the training required to become a cosmetology instructor. The 350-hour instructor program requires that applicants have a current Arizona cosmetology license prior to applying.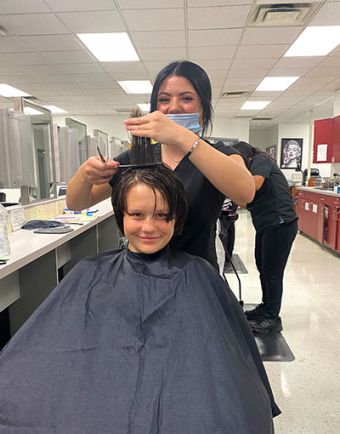 Cosmetology services and training are offered at three NPC locations: Show Low's White Mountain Campus; the Little Colorado Campus in Winslow; and at NPC's St. Johns Center. Appointments can be made in advance and walk-ins are welcome; as are tips for the students. Expanded services such as toenail clipping, for those who are unable to do it themselves, are also available for only a couple of dollars.
NPC's spring cosmetology classes begin January 4, 2022. Interested students need to apply now as it can take four to six weeks to complete the online financial aid process. You must be at least 16-years old and present a high school diploma, GED® or proof of at least completion of 10th grade to begin. Applicants to the program must also present an Arizona state ID or picture identification and verify their U.S. residency status (social security card etc.). Contact an NPC advisor at 1-800-266-7845 to complete the program application and for assistance with financial aid and scholarships.
Due to the pandemic, NPC's cosmetology department is currently limiting clientele to ten per day. Appointments and walk-ins are taken Monday through Friday from 8:00 a.m. to 8:00 p.m. COVID-19 mitigation protocols including mandatory masks for students and staff, and strict hygienic standards are enforced. To book an appointment at the Show Low campus call (928) 532-6161. For an appointment in Winslow call (928) 289-6561, or you may schedule at the St. Johns location at (928) 337-4867.
For additional information about NPC's cosmetology program, visit www.npc.edu/cosmetology, call Chloe Fagotti, (800) 266-7845, ext. 6702, or drop in to NPC's cosmetology centers in Show Low at 1001 W. Deuce of Clubs; 1400 E. Third St. in Winslow; or 955 W. 13th West (by the airport) in St. Johns.