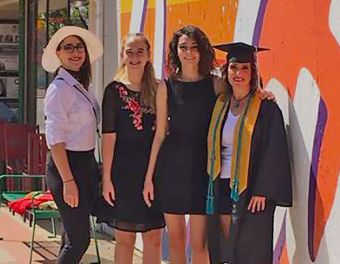 Having faced the real-world reality check many of us experience, former Northland Pioneer College (NPC), student Paula Fish realized that she needed more education and training to support herself and her children. As such, she sought out NPC and graduated with a degree in cosmetology in 1998. Fish can attest to the broad range and spectrum of classes available at NPC, and the diversity of the college's students, which she greatly appreciated as attending college was somewhat daunting for her at the time. She now highly encourages others to continue their educational path and consider attending NPC, even if it means taking only one class a semester. "You don't have to be on a timeline, as long as you finish what you start." Fish's mantra is, "No matter how long it takes, don't give up on your dreams. Asking for help shows that you are committed to your goals and sets you on a path for growth." She explains, "We all have choices to make; give up, give in, or give it all you've got! Make the right choice."
After graduating from NPC, Fish went on to work on obtaining a Bachelor of Science degree in sociology from Southern Utah University. She will graduate in December of this year among the top of her class, maintaining a 3.9 GPA.
In the spring of 2022, Fish plans to enter graduate school at Utah State University to pursue her Master's degree in social work. She is familiar with overcoming obstacles. Having dealt with a learning disorder from an early age, Fish says it was often difficult for her to process numbers and keep up with her classmates. She is also a single mom to three teenage daughters, who all plan to follow her example and attend college as well.
Seeking a career as a clinical therapist has taken time, but for Fish, "The best things in life are worth waiting for and working toward." Born and raised in the White Mountains of Arizona, she attended Show Low High School and has indeed come a long way. "It wasn't until I was older that I realized I was smart enough to go to college. Without my experience at NPC, I don't think I would have had the courage to continue on to a university."
Fish's goal is to one day become a clinical therapist and guide and support teenagers and children as they deal with personal traumas and mental health challenges. She has achieved her goals, through pure determination and persistence, and encourages everyone to do the same. Her story is filled with hope and strength and reminds us that there are people out there, like those at NPC, that want to help you and see you succeed. Fish explains, "Without the resources and guidance that I received at NPC, I could not have come this far."
For more information on NPC's degree programs and the extensive range of career paths available through the college, visit www.npc.edu/areas-of-interest or call 1-800-266-7845 and speak with an academic advisor.