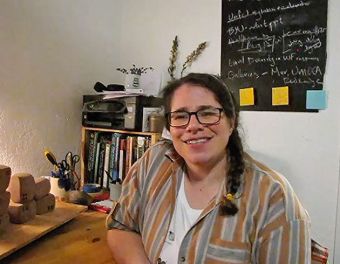 Shasta Krueger, a ceramic artist currently living, creating and teaching in Salt Lake City, Utah, is inviting the NPC community and members of the general public to collaborate with her on an installation artwork for Northland Pioneer College's (NPC's), Talon Gallery.
Originally from Washington state, Krueger spent many of her early years exploring the outdoors. Her interest in the environment earned her a biology and studio arts degree from Willamette University in Oregon. After further exposure to the clay and art community, she earned a Masters of Fine Art from Utah State University in Logan, Utah in 2015. Always seeking new ways of learning and sharing her craft, Krueger has worked and taught at various academic institutions and art organizations throughout Utah, California, Tennessee, Virginia, Oregon, Denmark, and China. Her interest in biology and in her surroundings, continues to influence her work. Whether working in the studio, hiking a trail, or cooking in the kitchen, she is eager to create and share new experiences with those around her. 
In light of Krueger's desire to share new experiences with others, she is excited to collaborate with community members on a new artwork to be enjoyed by all. "Accumulation," will debut later this year as an exhibition featured in NPC's Talon Art Gallery. According to Talon Gallery Director, Magda Gluszek, "The intention behind installation art is to alter a gallery space and affect the environment of a gallery visitor. I want to invite everyone to contribute to Shasta's installation project by making a small object out of clay, while following some basic instructions." No prior clay experience is needed and anyone within the NPC service area may participate. You do not need to be enrolled at NPC.
Reflecting on her vision Krueger reveals, "I am a maker; rolling, pinching, and pressing the clay to explore the subtle asymmetry and structure of a form." Having a profound interest in biology, Krueger shares, "Cellular structures of plants and the odd brief glimpse of a great accumulation of similar objects inspire the repeated shapes and patterns. I gravitate to small details that when compiled together begin to create a larger composition; the marks are subtle and hopefully discovered by thorough inspection." She continues, "Ridged structure balanced with the seemingly spontaneous especially draws my attention, such as cells, the systems they compose, and the organism they create. I am interested in the calculated and the casual… I am fascinated with the tactility of clay; my touch becomes the narrative of the form, unit by unit shaping the object." Krueger states, "like the calculated and intuitive nature of the wood firing process, these units create a structure that is not figured to fine measurements. Imagine the cook who diligently weighs each gram and levels each scoop versus the one who measures in dollops and globs," she says. "Within this process I adapt and problem solve, which is also reflected in the search for patterns within the rhythm of repeated units. The patterns I find lead to conclusions, shaping my actions and directing my thoughts."
Those interested in creating their own ceramic piece for Krueger's collaborative work should visit www.npc.edu/talon-art-gallery/current-exhibition for detailed instructions on how to participate. There are two short videos available for viewing and learning more, as well as instructions on building the project.  Participants are instructed to visit any NPC campus or center main office to pick up a bag of clay now through October 29, 2021. Clay will be restocked, but you are encouraged to call ahead of time to ensure availability. Gluszek notes, "You will be able to work alongside Shasta on your piece. She will guide you through the process, using an instructional interactive video which is posted to the website." Participants will need to return their ceramic objects to the main office of any NPC campus or center by November 1, 2021 in order to be collected and installed in the Talon Gallery's exhibition. The final "Accumulation" exhibit will be made available for everyone to experience either virtually or in-person later this season.
For more information visit www.npc.edu/talon-art-gallery or contact Gallery Director and NPC Art Faculty Magda Gluszek, at magda.gluszek@npc.edu or call (800) 266-7845, ext. 6176.